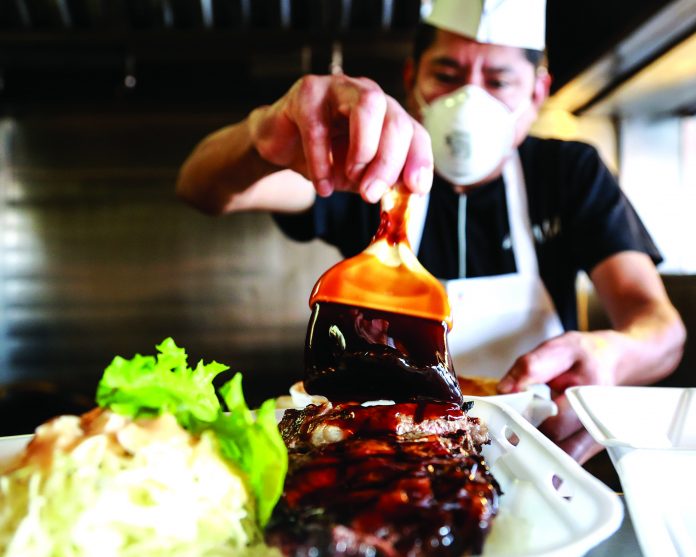 By Gary Kohatsu
Many small businesses are faced with financial collapse in wake of the coronavirus. Some family-owned restaurants, however, have the upper hand, as they can operate with take-out orders and more recently, outdoor, patio dining.
Azuma Restaurant, a traditional Japanese-style eatery in Gardena, is surviving and possibly even thriving in this new existence, if you consider how diners' habits are changing.
"We do have patio dining under a tent in our rear parking lot," said Hideki Obayashi, who co-owns Azuma with wife Genie Nakano and her brother Frank Nakano. "We also have take-out/pick-up service, which is the bulk of our business. Our patio dining is becoming popular. It is quiet, peaceful and breezy, with plenty of space between our six tables. Patio seating capacity is 22."
Genie Nakano says the patio has added an fresh, attractive ambience to Azuma's dining experience.
"The tent is magical. Brings many date night people out for outside evening dining," Nakano said. "The soft lights under the tent are perfect and the flowered potted plants make the surroundings colorful with a garden ambience. It feels fresh and can I say 'romantic.' Families with children really enjoy being outside."
–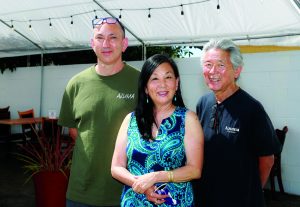 An unwavering optimist, Obayashi looks at the new normal for eateries and sees the cup half full.
"Our business is just under 50% of our pre-pandemic numbers, fluctuating up and down," Obayashi said. "However, we are doing better and better as people become used to this new way of living and dining."
Azuma's pre-pandemic indoor eating area offered 50 indoor seats, with 15 employees.
"Most of our staff continues to work with us," Obayashi said. "We have a few that are either on partial unemployment, or receiving full unemployment benefits."
Nakano added that their crew enhances Azuma's dining experience.
"The food at Azuma is the same good quality and the waitresses Mari, Jason, Lillian (and) Jenny are our top (waiters and) waitress. They are efficient, friendly and great servers. Javier is a great people person and gets along with everyone."
Before the state lockdown, 20 to 30% of Azuma's meal orders were for pick-up, Obayashi said. Now 80 percent of the meals are to-go. And dinner comprises the majority of ordered meals.
He said the federal government's help with the SBA's PPP and rental assistance from Azuma's landlord have given Obayashi and the Nakanos hope to ride out the COVID-19.
"We think we will be able to not only survive, but thrive," Obayashi said.
Nakano said she is equally hopeful of maintaining the "new" additions.
"I sure hope we can keep the tents up after the pandemic, but it's up to the landlord," she said. "The landlord is extremely kind during this time. Again we are very grateful."
Obayashi and the Nakano bought Azuma Restaurant in 2002, a year after their purchase of the Gardena Bowl Coffee Shop on Vermont Avenue.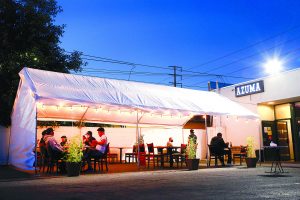 Azuma was established circa 1962 by Henry and Yone Okamoto parent's of Gardena's own Judge Vince Okamoto, Obayashi told the GVN last week.
"They named their restaurant "Akasaka" and had it for 2-1/2 years," he said. "We don't know who the owners were from 1966 to about 1980, but we purchased 'Azuma' from Goichi-san (he has 'forgotten the man's last name'). Goichi-san said he had it for about 17 years before we bought it.  When he bought it, he changed the name from "Akasaka" to "Azuma."
Shorty after purchasing Azuma, the co-owners made some quick menu adjustments. They relisted the Izakaya items, which were written only in Japanese, to English language to appeal to all customers. Many non-Japanese customers are now familiar with and enjoy Izakaya items, Obayashi said.
He mentioned that the restaurant is known for "both Izakaya (small dishes, similar to Spanish "tapas") and izakaya and Teishoku (regular Japanese dishes, such as sashimi; set plates that come with rice salad, soup).
Azuma's pandemic hours are 11 a.m. to 2 p.m. Monday to Friday, for pickup or patio dining. No lunch hours on the weekend.
Dinner hours are seven days a week, 4 to 9:30 p.m.
Reaching new customers is always a goal of all businesses and Azuma taps into a variety of promotional avenues and platforms to attract new patrons. Obayashi mentioned storefront advertising, word of mouth, all social media platforms, flyers, personal texting and emails.
"Most of our pick-up orders are (from) regulars, but judging from the new faces we've been seeing, there are about 10% that are new customers," Obayashi said.
The recipe for success might be in good, old-fashioned quality food and great service.
"We get comments all the time from old and new customers about how tasty our food is, the wide selection menu, the over-generous portions, the kindness and efficiency of our kitchen and serving staff, and the cleanliness of our facility," Obayashi said.
Nakano adds her own dash of spice to that model plan.
"Good quality food is the key and at reasonable prices," she said. "You have to have something extra special in your menu, always have fresh food. Vegetables, fruits etc. have to be fresh and sparkling. Have specials of the day to perk interest, and of course, have the stuff your regulars always come for. Make your customers feel special. They are your family. Get to know them by name of course and remember what they order — (such as, if) they always like green onions sprinkled on their egg omelet — stuff like that."
Nakano sees a new normal for restaurants and hopes cities will be allowed to retain the positives changes from the lockdown.
"Los Angeles restauranteurs have long been fighting for outside dining, but there were so many rules and regulations that prevented this," she said. "Los Angles is a car city and caters to cars, parking etc. Things might change after we see the advantages of outside dining and outside business."
Azuma is at 16123 S. Western Ave., Gardena. To learn more about this restaurant, go to http://azuma-restaurant.com.