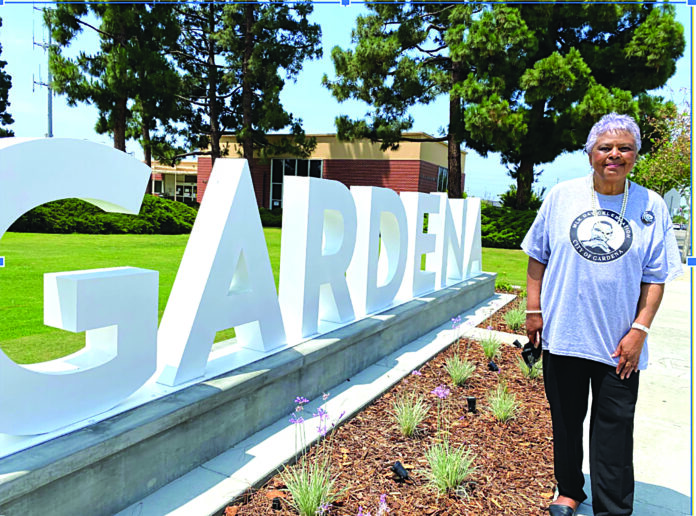 By Melany Ruiz
As a woman who lived through segregation in Gulfport, Miss. in the 1960s, Shirley McCarty still believes that the legacy of Dr. Martin Luther King Jr. remains strong today. King was at his peak in the '60s and his civil rights work was life-changing for millions.
McCarty supports and shares in King's philosophy of change through perseverance and non-violence. It is his spirit that she wants  to resonate in the Gardena community today.
She joined the Dr. Martin Luther King Jr. Cultural Committee of Gardena back in 2000. Today, she is the chair of the group's scholarship committee. Her duties include reviewing applications of students who have applied to the scholarships and helping select a winner. 
As a former educator, McCarty wants to ensure that MLK legacy is remembered and can live on for future generations. 
Throughout her years in school during segregation, McCarty recalls taking buses to 33rd Avenue School, which was racially divided between "colored" and "whites." 
The school received "hand me down" supplies and books that put McCarty and the fellow students at an academic disadvantage. 
"We knew that's what we had, and we used it," McCarty said. "The students in our schools, using what we had, they still were able to excel to become doctors, and lawyers and teachers; some even became football players." 
McCarty became a single mother at 19 and persevered to get her associate's degree at Coahoma Community College. Finance was her biggest struggle throughout her educational career. 
She picked up an office job that one of her professors offered her to pay for school and lived in a community home with other girls. McCarty also walked six to seven miles to the Jackson State campus, where she got her Bachelor's Degree. 
In 1967, McCarty moved from Mississippi to Los Angeles to be with her sisters. 
"My uncle used to come home to Gulfport and tell me, 'Oh you have to come to California, the streets are painted with gold," McCarty said, "that was the hitch to come to California to make a better living."
There, she got a job as a clerk typist for the Los Angeles Times, where she realized office jobs were no longer something she desired. 
McCarty decided to enroll in Cal State University, Los Angeles for a continued study in education, later finding her passion for teaching. She went on to teach in Gardena High School in and other South Bay schools.
After MLK was assassinated in 1968, McCarty reflected on his "I Have A Dream speech," which she found still resonated with her.
"His speech was an inspiration for me because I knew that I could make it," McCarty said, "You don't have to fall into the patterns of what society says you are, and his speech left a roadmap for [me] to follow."  
McCarty compares the work of MLK to Moses leading the Israelites out of Egypt and slavery. The biblical story tells how Moses liberated his people. 
After Moses brought all the Israelites together, God allowed the Red Sea to be split in two so that the people of Israel could walk through safely and escape the chains of slavery to start a new life, living for God. 
"Dr. King carried us through the segregated United States; he made plans where we can become a better people, a better United States, for all races," McCarty said. 
However, like the continuous rebellion from the Israelites in the bible, society has moved away from King's teachings over time. McCarty and the MLK committee hope to put those pieces back into place, and reaching today's youth is vital step. 
The MLK Cultural committee does this through events and programs large and small, headlined by the annual Martin Luther King Jr. parade held in Gardena. 
"Our objective is to make sure that the students and the young people that are coming up in today's society realize that Dr. King fought hard to make sure that we all are able to appreciate and enjoy what America has for everyone, not just for one culture or one race," McCarty said. 
The MLK Cultural Committee meets virtually at 6:30 p.m. every fourth Thursday of the month.
For more information about the MLK Committee, contact Paulette Francis, paulettefrancis729@hotmail.com.