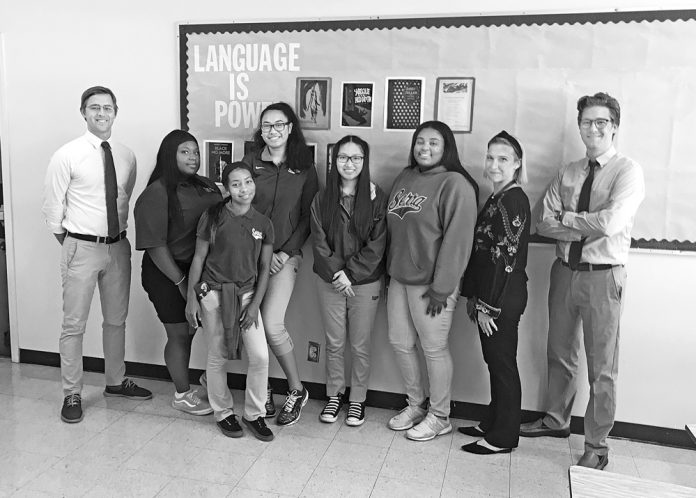 By Ronald Penh
A writing project at Junipero Serra High—founded by English department chair Gardner Stevenett—was created to meticulously cater a writing manual on the conventions of argumentative essays to address the school's ethnically and culturally diverse student body.
Argumentative writing is a fundamental pillar of academic writing that much of high school English classes are geared towards refining. It is a building block in the foundation of academia, as in-depth knowledge of the basis of an argument is vital to understand in order to succeed in the realm of academics. The practical application of understanding the basics of an argument also pertains to the everyday lives of people, as we come across this concept frequently in the media, advertisements, and in everyday conversation with one another.
Most people can recall the three argumentative tactics that were taught in school: ethos, logos, and pathos. This concept has remained prevalent since its founding philosopher, Aristotle, had invented it in the 4th century B.C.E. The thick textbook manuals that were designed to help students to better understand argumentative writing are quickly forgotten, however.
"Those college MLA handbooks have so much information that it's overbearing, it is not in language that many college freshmen can relate to let alone comprehend," Stevenett said. "For high school students, it can be a reference, but it is not going to be something the students are going to read and be engaged by."
For students that may struggle in class in trying to understand the argumentative writing style, external resources such as written handbooks can be key to help a student attain academic success. However, the highly saturated content of these books can create obstacles for students to want to use them as viable academic resources.
Stevenett's goal was to create a writing manual on the basics of argumentative writing that specifically catered to the culture of Serra's student body and include the work of other students as samples in the manual to make the content more relatable.
"How do you communicate this really bold, extremely effective method, to certain audiences?" Stevenett said. "I wanted to do some more research on creating some sort of writing project or handbook that is totally tuned to Serra students."
Stevenett began his research knowing that Serra's demographics were crucial to keep in mind. The school consists of a predominantly minority student population as African-American students make up 70% of the student body and Hispanic students make up 20%.
Upon further research, Stevenett found that teaching strategies for improving student writing abilities for urban minority populations had different approaches compared to other demographics.
"If they're going to end up being successful writers, you've got to communicate that their voices really matter and social empowerment has to be like a foundation of getting them to care about writing," Stevenett said.
In the context of a student body that Stevenett said is extremely socially conscious, understands social issues, and has plenty of experience dealing with such, understanding the basics of an argument can help refine an approach to expressing social concerns. Stevenett has had students share about experiences being followed around by security in stores, natural hair vs. braids vs. extensions, and social complications related to the living experience of minority students.
"I needed to really highlight that this is a way for their voices to be heard in their community," Stevenett said. "A lot of the social issues they care about, they can participate in the conversations. They can write compelling arguments to the mayor of Gardena, local businesses, or the chief of police department."
Connecting the culture of the student body with the platform of writing is one of the end goals of this writing project.
"You have to convince these students and show them the ways that they can have cultural power, and it comes through language," Stevenett said.
The first draft of the manual was created over the summer in which the Fall semester will be spent in collaboration with the English teachers at Serra High contributing to the handbook.
Student samples will also be collected during the Fall semester. If a student writes a strong writing piece, that piece could be included in the manual with the student providing personal insight on why it was successful and what the student would do if they wanted to improve it.
A finalized version will be available in the beginning of the Spring semester.