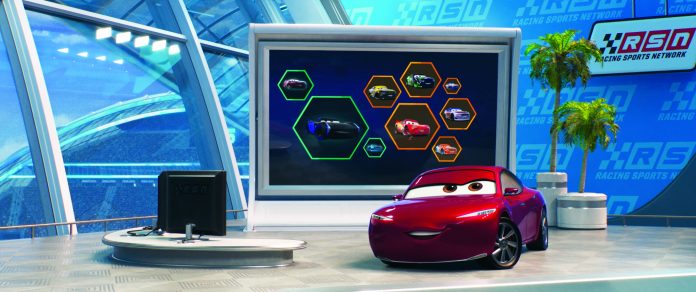 Disney DVD Fun with 'Cars 3,' and 'Beauty & Beast'
Disney DVD Fun with 'Cars 3,' and 'Beauty & Beast'
It's summertime, a time for family fun, so buckle up your seatbelts and race to see "Cars 3" at the El Capitan Theatre. What makes it so special at the El Capitan is their fast-paced, high-energy extreme dance battle on stage prior to the film which features athletic feats, BMX freestyle and LED imagery.
This show is a Wow! The experience at the El Capitan is further enhanced by their brilliant Dolby Vision Laser projection and Dolby Atmos audio technology.
The lovely theatre, built in the 1920s, was originally created for stage productions prior to its conversion to film for the world premiere of Orson Welles' "Citizen Kane."
The Disney Studios restored this lovely landmark theatre, which has now been declared an historic monument. Just looking around this beautiful cinema palace is a treat. And it is possible to take a tour of the theatre early in the day between 8:30 and 10 a.m. prior to the first show.
For more information on tours or show tickets call the theater at 1-800-347-6396 or visit www.elcapitantickets.com. Also check out the "Cars 3" Hard Rock Cafe movie and meal combination packages. Tax and tip are included in the price. The El Capitan Theatre is located at 6838 Hollywood Blvd.in Hollywood.
"Cars" first drove onto the screen about 10 years ago when Lightning McQueen (voiced by Owen Wilson) began his now legendary career under the watchful eyes of Doc, the fabulous Hudson Hornet (voiced by Paul Newman). Doc is now gone to automotive heaven, but his memory lives on for his protege McQueen. However, time has finally taken it's toll on Lightning as he now races against a new generation of speedsters, led by the confident and very arrogant Jackson Storm (Armie Hammer), dubbed number one by TV analyst Natalie Certain (Kerry Washington). After several losses and a speedway mishap McQueen is sent back to Radiator Springs for R & R. To improve his racing speeds he is paired with an eager young race technician, Cruz Ramirez (Cristela Alonzo), who once had dreams of becoming a racer herself.
With a little help from his friends and Cruz, Lightning starts his training. Eventually he no longer wants to follow her advice, but despite his resistance Cruz continues to work with him. But what really shakes them both up is their involuntary entry in a Demolition Derby where they come bumper to bumper with a terrifying school bus determined to destroy them both. That bus and her scary ways are an hilarious highpoint of this story.
In the past all the cars in this Disney-Pixar franchise were male, but this latest version is girl friendly and endearing with the addition of the lovable Cruz and her involvement with Number 95, Lightning McQueen. And the story works well on several levels. Adults will relate to McQueen's fear of impending retirement and the loss of a career he loves, while little girls will be pleased to see that if you try hard, you can succeed in a man's world. This charming, funny, fast-paced adventure is rated G. Now at the El Capitan Theatre and citywide.
                                                   *****
The perfect DVD for family viewing this summer is Disney's "Beauty and the Beast," starring Emma Watson ("Harry Potter") as Belle and Dan Stevens as The Beast. Other cast members include Luke Evans as the pompous Gaston, Kevin Kline as Belle's father, Maurice, Josh Gad as Le Fou and Ewan McGregor as Lumiere. Stanley Tucci, Audra McDonald, Ian McKellan as Cogsworth and Emma Thompson as Mrs. Potts round out the star-studded cast. Even if you've already seen this musical fairy tale, this DVD is a must own for your DVD collection.
Based on the Oscar nominated 1991 animated film, with music by Alan Menken and Howard Ashman, the new version has additional songs created by Menken and Tim Rice. A tale as old as time, "Beauty and the Beast," tells the story of Belle, who loves books, and a handsome prince who has been transformed into a beast for his lack of kindness in his youth. He now can only become human if someone is able to love him–and time is running out. The DVD and Blu-ray versions come with Bonus extras. In the Blu-ray version there is "An Enchanted Table Read"–an elaborate table read where the cast also sings and dances, "A Beauty of a Tale"–an introduction to how a beloved animated film is transformed into a live-action classic, "The Women Behind "Beauty and the Beast," "Making a Moment With Celine Dion," deleted scenes and more. Enjoy.