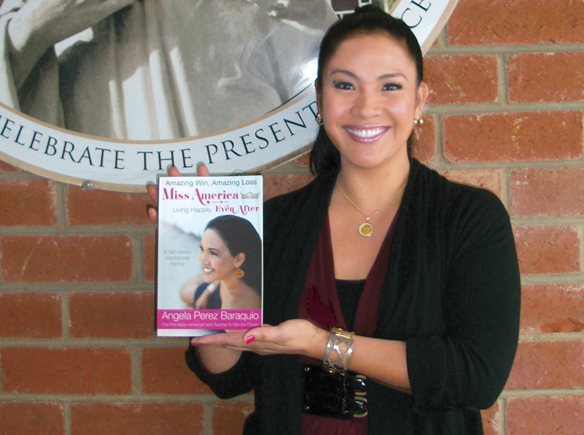 Gandhi is purported to have said, "Be the change you wish to see in the world."
While some may dismiss it as a cute slogan to put on a bumper sticker, there are those like former Miss America Angela Perez Baraquio who take that saying to heart and run with it.
Gandhi is purported to have said, "Be the change you wish to see in the world."
While some may dismiss it as a cute slogan to put on a bumper sticker, there are those like former Miss America Angela Perez Baraquio who take that saying to heart and run with it.
Baraquio recently released her first book, a memoir titled "Amazing Win, Amazing Loss… Miss America Living Happily, Even After." The book details her life in Hawaii growing up as the eighth of 10 children, through the highs of Miss America stardom through, the lows of her brother's suicide, and how she was able to weather such a great loss thanks to her strong faith in God, friends, and family.
"A lot of people will realize that when things don't go according to plan, then that's usually what it boils down to: faith, family, and friends, which are the most important things in life," Baraquio said.
Baraquio knows quite a lot about faith, family, and friends. Aside from her strong relationship with God, Baraquio has strong relationships with Tini Grey, her former high school sweetheart and husband of 12 years as well as with their four children: Isaiah, Micah, Jonah, and daughter Keilah.
The book, which was unveiled by Cerritos Mayor Mark Pulido at a Nov. 16 book launch in the Cerritos Library, was 13 years in the making, according to Baraquio, who helped put it together from journals and itineraries she kept during her year-long reign as Miss America, from late 2000 to late 2001.
Baraquio, who was the first Asian-American woman to be crowned Miss America, was originally paired up with a ghostwriter, but realized that she wanted to do more than just recount her life story to a stranger.
"If I'm going to write my story, then it has to be in my voice," she said.
So the mother of four set out with a deadline, began with the end in mind, set her goal for the book and for one year, put everything she had into the book including photos.
But while her time as Miss America was special for her, she says that she cherishes her time as a teacher even more.
Baraquio is in the middle of her first year as vice principal of St. Anthony of Padua School, a Catholic school in Gardena that cultivates a school culture of kindness and respect.
Baraquio says she came to St. Anthony because of her strong belief in a faith-based curriculum and how that can help students find the right path to success in life.
"We want our children to be socially aware and successful and statistics say that people who believe in something bigger than themselves tend to do better in life and become more successful and are healthier and happier," she said
In fact, she believes so strongly in making God part of school life that she went on the road as part of her national speaking tour during her Miss America days, traveling 20,000 miles per month across 40 states, giving numerous speeches across the country as part of her platform "Character in the Classroom: Teaching Values, Valuing Teachers."
"I really believe in character building in our schools and making sure we have a safe environment and where people feel that they're loved and cared for and that we have concern for them," Baraquio said.
Baraquio's concern for character education began in 1999 when she was a student teacher and saw the Columbine shootings making news all over the country.
"I thought: 'What happened at the school? There was a breakdown and a real lack of something. How could teachers be put in this situation? How could the students be put in that situation? Was there a way to prevent it?'"
As part of her Miss America platform to introduce character education into the nation's schools, Baraquio went into classrooms talking to students from kindergarten on up to college stressing the importance of character in the classroom. She also testified before Congress on the issue and even worked with senators from Tennessee and North Carolina to push a $50 million funding bill for character education nationwide.
"You get to really make a difference," she said. "When you're Miss America and you've got that kind of platform, there's a lot you can do. The girl makes the crown, the crown doesn't make the girl."
So now Baraquio carries that same urgency for character education into her current career where, in addition to being vice principal, she also teaches 6th and 7th grade English.
Known around campus as the unofficial counselor, Baraquio takes pride in being someone with whom the students can share their personal and sometimes traumatic experiences. Having been though a lot herself, Baraquio hopes that sharing her own experiences will help students emotionally cope with difficult situations they face at home.
"Every child I have in school is dealing with something at home," she said. "Whether it's only a one-parent household, or they're struggling with parents who are going through their own personal issues and they'll share those personal things with me so I have to kind of help them through it by saying 'Hey, I've been through it, you can get through it too.'"
Although God is often seen as a dirty word in public schools, Baraquio believes that more schools would benefit from instituting a more faith-based curriculum.
"You have lessons of love and kindness and this is what you're surrounded with and then we go out into the world and hopefully, we're a light to others," she said.
Baraquio is very distressed at the practice of public schools trying to keep God out of the classroom. She says this lack of faith in schools as well as in the culture is often what leads to depression and even suicide.
"People are looking for hope," she said. "They're looking for something to believe in and if you don't have anything to look forward to, then what do you really have?"
Which goes back to why she wrote the book. She said it was her way to share her experiences with others who need that extra push to make life worth living.
"There are people who read the book who said, 'I laughed, I cried, and I was so inspired that after reading the book, I feel like I can do anything,'" Baraquio said.
The one message that Baraquio wants people to get from the book is the idea of never giving in to the daily frustrations and struggles of life.
After her brother committed suicide in 2006, Baraquio was devastated but had the strength to get beyond her pain thanks to her belief in a higher power.
"Sometimes life feels like it's bogging us down so much that we can't get out of it," she said. "There's always hope. God's love is immense. He is merciful and he's loving and when you know that and feel that and you have that kind of love, it permeates your heart and soul."
Baraquio, though her book and her work with her students continues to be the change that Gandhi talked about.
She has come a long way from the girl who once scoffed when her mother told her of the importance of having God in her life. In fact, she still remembers the exact words her mother told her.
"She told me, 'Angie, if you obey God and do his will, then your life will be better than a fairy tale," she said.
Mom was right and Baraquio is the living proof.
NOTE: Angela Perez Baraquio will have a book signing from 5 to 7 p.m. Wednesday, Dec. 3 at the Gardena Mayme Library, 1731 W. Gardena Blvd., Gardena.
Baraquio is promoting her new book, "Amazing Win, Amazing Loss, Miss America, Living Happily, Even After." Signed books will be available for purchase at $25. Gardena Mayor Paul Tanaka will be a special guest speaker at the event. Visit stanthonygardena.org or AngelaPerezBaraquio.com.
For more information on Angela Perez Baraquio, you can visit her web site at www.angelaperezbaraquio.com.