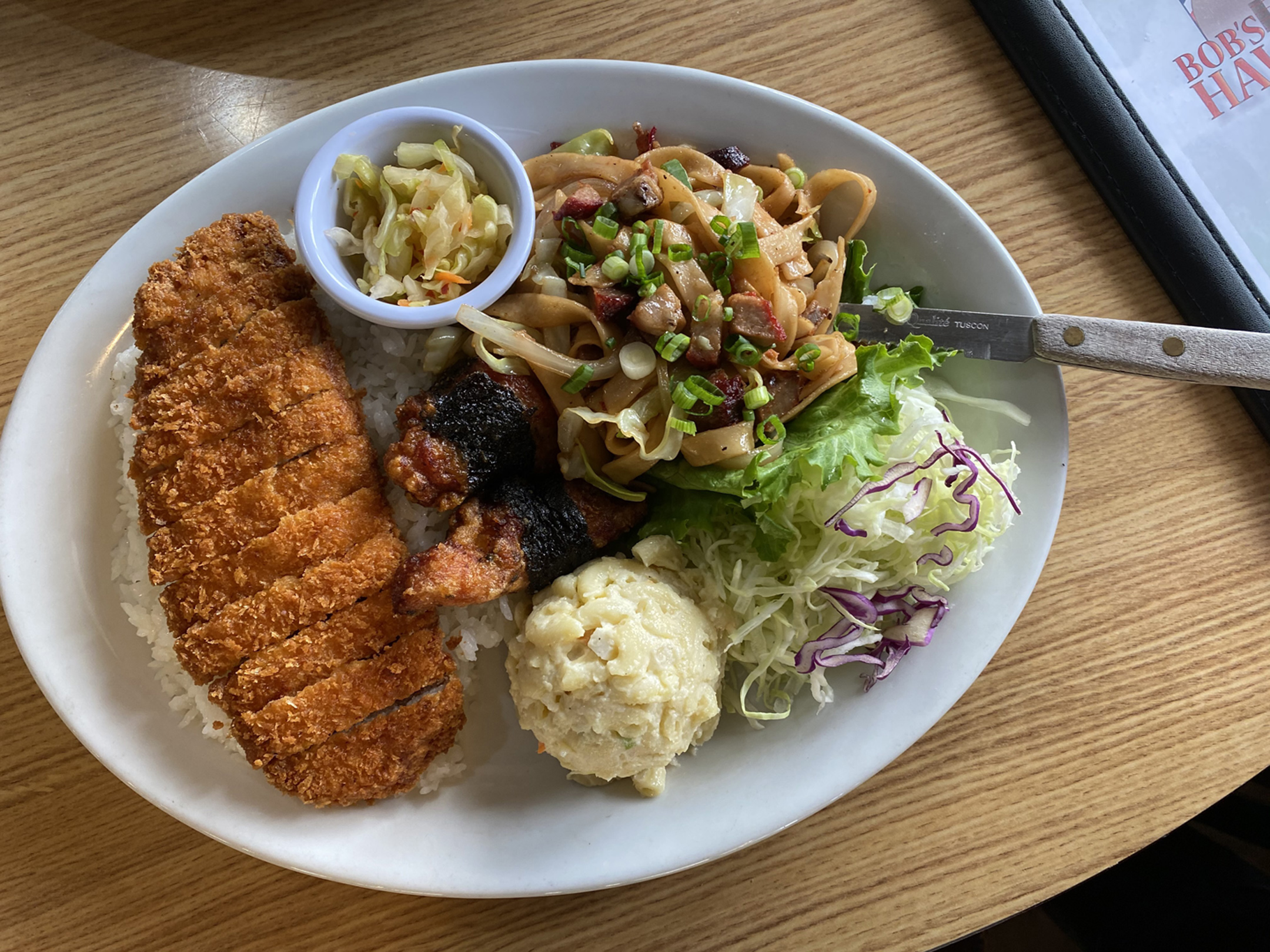 By Ronald Penh
My exposure to Hawiian food has been quite limited. Fast food hawaiian chains such as L&L and Ono were the only types of Hawaiian food that I have tried which consisted of chicken katsu and beef ribs, rice, and macaroni salad plates with the sweet tonkatsu sauce.
But at Bob's Hawaiian Restaurant, I was introduced to a much larger and authentic array of Hawaiian dishes.
The meal I tried was the "Go For Broke," which was a huge portion of food that consisted of pork katsu, nori chicken, chowfun, macaroni salad, and rice. The meal came with a sweet tonkatsu sauce and a special dark gravy that tasted very meaty, thick, and delicious. I covered some of the katsu chicken with the gravy and let it seep into the rice which was also a tasty mix.
My favorite food of the dish was definitely the nori chicken which was something I've never tried before or have seen on a menu. It was a fried food that had a nice, delicate crisp to it while the meat remained tender and flavorful. The nori chicken is wrapped by a thin layer of seaweed and I did not need to dip it with any sauce for its flavor on its own was already rich.
The restaurant is also well-known for their traditional Hawaiian breakfast options. Their most popular breakfast dish is ordering the Portugese sausages and eggs which is served with Portugese sausages, two eggs served however you like (scrambled, overeasy, etc.), fried potatoes, either two scoops of rice or two slices of bread, and fried potatoes.
Pablo had ordered something similar but with a larger variety of meat and consisted of Portugese sausages, fried spam, fried Vienna sausages, eggs, macaroni salad, and rice. The Portugese sausages had a savory appeal to it and also had more of a light, spicy kick.
For dessert, Pablo let me try the restaurant's homemade coconut syrup with their pancakes, a flavor of syrup I have never tried or even seen at a grocery store before.
The coconut syrup had a natural sweetness to it, a settling and satisfying flavor in which its lack of intensity compared to maple syrup is compensated for its smooth richness. I call this type of sweetness dangerous, because its gentle sweetness camouflages the syrup's actually high sugar content and captivates you to want more and more.
Beware, however, if you finish your whole meal in one run. Upon arriving at home, I immediately took a nap as I had what one would call a "food coma."
Overall, dining at Bob's Hawaiian Restaurant was a very positive experience. I would describe Bob's Hawaiian food as appetizing, abundant, and resourceful. Beyond the delicious dishes I tried, I learned a lot about Hawaii's culture and traditional foods.
A lot of popular hawaiian dishes seem to come about from a nature of resourcefulness and creativity.
"You do the best you can with whatever you have." Arakaki said. "You have rice, you have spam, you have seaweed, what do you do? You make spamasubi."
This simplistic and relaxed approach to cooking is what makes Hawaiian dishes some of the best comfort foods out there.
Not to mention, the abundant amount of food on each plate will leave your belly full or be transported away in a plastic to go box that you can enjoy later.
Bob's Hawaiian Restaurant was opened in 1995 by Bob and Mae Morita in which Bob had passed away and the restaurant was eventually picked up by Pablo.
Bob's Hawaiian Restaurant is located on 15926 S Western Ave, Gardena, CA 90247.
From Monday to Friday, they are open from 7 a.m. to 2 p.m. and then from 5:30 p.m. to 9 p.m. On Saturday, they are open from 7 a.m. to 9 p.m. and on Sunday from 7 a.m. to 3 p.m. For more information, you can call the restaurant at 310-515-2250.