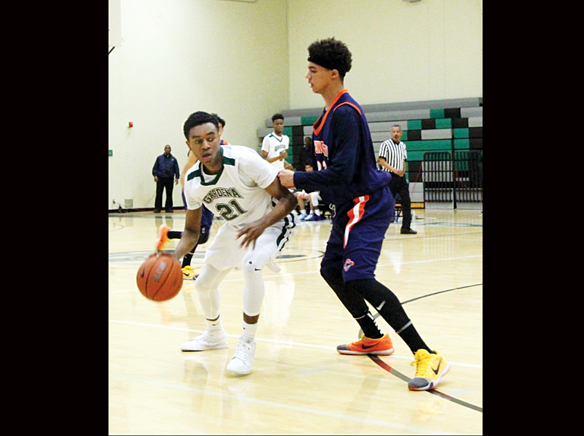 In several of its games, Gardena High's boys' basketball team fell behind early but found some way to come back and pull out victories.
In several of its games, Gardena High's boys' basketball team fell behind early but found some way to come back and pull out victories.
It was the case in the Panthers' first two rounds of the CIF-Los Angeles City Section Division I playoffs. In the first round last Thursday at Gardena, the Panthers fell behind by 18 points late in the second quarter, then rallied for a 53-44 win over Chatsworth. That put the No. 7 seed Panthers into the quarterfinals at View Park Prep last Saturday. In that game, View Park surged to a 17-10 first quarter lead but a big second period gave Gardena the lead as it went on for a 65-57 victory.
The Panthers showed that they would not quit. In the first round, Chatsworth, which finished in fourth place in the West Valley League and ended its season at 11-21 overall, dominated the first half, behind forward Tawan Funches, who scored 18 of his 22 points in the first two quarters. The Chancellors surged out to a 17-6 first period lead then stretched it to 32-14 with 2:35 left before halftime. Gardena scored the first half's final four points and it could have shown what was to come in the second half.
The Panther defense dug in limiting Chatsworth to just 12 second half points, six in each quarter. Gardena outscored the Chancellors 14-6 in the third period to get within six at 38-32. The Panthers finally caught Chatsworth with a 43-43 tie when Jordan Howard hit a three-point basket with 3:41 remaining in the game. Howard led Gardena with 15 points, 11 of those in the fourth quarter that included three three-pointers.
A free throw from Jorge Arthur gave the Chancellors a 44-43 which would be their last. The Panthers scored the contest's final 10 points to send them to the quarterfinals at View Park.
"We finally dug in," Gardena assistant coach Sydney Simpers said. "We had trouble with Funches in the first half. In the second half, we put focus on him and limited his offense. We had a better chance and we took 10 points off their lead."
At View Park, the Panthers, again, started slowly. This time, though, Gardena responded in the second quarter outscoring View Park 21-9 to take a 31-26 halftime lead. The Panthers led by two (45-43) after three periods but put the game away with a 20-14 fourth quarter.
Gardena, which improved to 18-9 overall after finishing third behind champion Narbonne (second seed in the City Open Division) and Washington (eighth seed in the Open Division) in the Marine League, will face No. 3 seed Hamilton in the semifinals Saturday at 10 a.m. at the Roybal Learning Center in Downtown L.A.
________________________________________
Serra falls to Windward in Open Division
By Joe Snyder
Sports Editor
After rolling to the Del Rey League championship, Serra High's girls' basketball team entered the prestigious CIF-Southern Section Open Division playoffs as the No. 12 seed as it traveled to take on fifth seed Windward in the first round last Saturday in Mar Vista.
The Cavaliers, though, already edged the Wildcats 63-61 in the Redondo Battle at the Beach Tournament in early December but things were not quite as successful against the Wildcats. A fast start and finish enabled Windward to defeat Serra 55-46.
The Wildcats got things going with four three-point baskets for a 17-6 lead during the first six minutes of the game. Serra was able to score the first quarter's final five points to get within five points.
Windward went on to lead 32-25 at halftime and 42-37 after three periods. The Cavaliers, who fell to 19-7 overall, managed to get as close as two points (47-45) with five minutes left in the game on two free throws from Rachel Duru. From there, the Wildcats used their physical play to put the game away.
"We didn't execute well," Serra head coach McKenzie Hadley said. "I feel this was our worst game of the season. A lot of physical play from there determined this game. However, we missed a lot of fast break lay ups. Everything went wrong."
The Cavaliers were led by Briana Johnson with 12 points but she made only five of 25 from the floor. Lowendie Laporal added seven points.
Doing the most damage to Serra was Windward standout Charisma Osborne who scored 19 points, 14 of those in the first half.
The Cavaliers went on to face Harvard-Westlake from Studio City in the consolation quarterfinals last Tuesday at a site to be determined. Serra hopes it can win out the rest of the playoffs for a possible spot in the CIF-Southern California Regional Open Division playoffs but, if not, it will still get a spot at Division I. Last season, Serra also lost the opening round of the Open Division playoffs and fell in the consolation final to Oaks Christian. The Cavaliers, however, won the regional Division I title with a 61-45 overtime win over Ventura, before falling in overtime to Sacramento McClatchy in the state championship.
___________________________
Serra Boys' Basketball-Basketball Roundup
Serra romps in Division IVAA playoffs
By Joe Snyder
Sports Editor
Serra High's boys' basketball team easily made it into the CIF-Southern Section Division IVAA quarterfinals after blowout victories over Desert Hot Springs and Nipomo.
At Serra on Jan. 17, the Cavaliers blew by Desert Hot Springs 92-44. At Nipomo in North Santa Barbara County, Serra continued to have little trouble with an 86-44 rout.
Durien Guyton led the Cavaliers with 24 points in their easy win against Nipomo. Sophomore Kobe Smith added 18 points.
The Cavaliers were involved in a battle of Serra's last Tuesday. They hosted Junipero Serra from San Juan Capistrano. The semifinals will be on Friday at 7 p.m. at a site to be determined, if the Cavaliers won on Tuesday.
The Torrance schools were swept out of the Southern Section playoffs in the first round on Feb. 17. Pioneer League champion Torrance lost to Lawndale 74-72 in overtime. North Torrance was routed by host San Marcos 80-52 in Santa Barbara. West Torrance lost to host Pasadena 75-49.
In the boys' CIF-Los Angeles City Section Open Division playoffs last Saturday at Narbonne, the Gauchos got by Birmingham 76-69. Narbonne, the second seed behind No. 1 Westchester, will face Fairfax in the semifinals Saturday at 6 p.m. at the Roybal Learning Center in Downtown L.A.
For the girls, West Torrance, which won the CIF-Southern Section Division IA title last season and the IIA crown in 2014, moved to the quarterfinals by downing Great Oak from Temecula 44-27 Saturday at West. The Lady Warriors visited No. 2 seed Valencia Wednesday, looking to advance to Saturday's semifinal against the winner of Wednesday's quarterfinal against either nearby Redondo (last season's IIAA champion) or Culver City. The Centaurs upset No. 3 seed Long Beach Millikan 72-69 in the second round, while the Sea Hawks romped to a 52-20 home win over Eleanor Roosevelt High from Eastvale.
Last season's Division IIIAA champion North Torrance was eliminated in the second round by host Alta Loma 51-46 on Saturday.
In the girls' L.A. City Section Open Division last Friday, Carson was ousted by defending champion Palisades 81-53. The Colts were led by Serena Rendon with 13 points.
In the girls' L.A. City Section Division I playoffs, Narbonne moved to the semifinals with a 35-30 win over University.