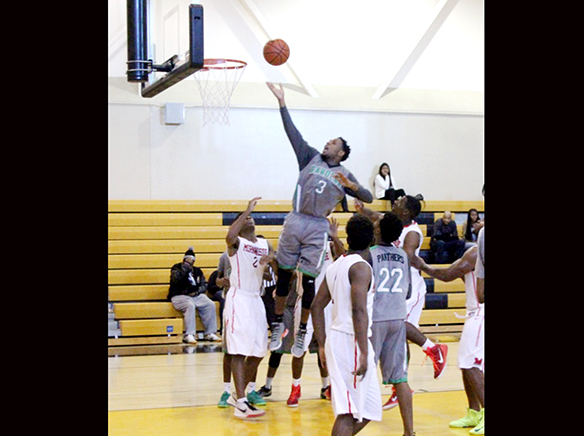 Gardena High's boys' basketball team did not do what it wished to by splitting four games to place ninth in the San Pedro Pirate Shootout Classic last week.
Gardena High's boys' basketball team did not do what it wished to by splitting four games to place ninth in the San Pedro Pirate Shootout Classic last week.
The Panthers, who are 10-4 overall, began the classic with a 66-49 loss to Executive Prep Academy of Finance from Hawthorne on Dec. 26. Gardena bounced back to defeat South Tahoe 65-51 on Dec. 28. A day later, Gardena played a very good Morningside team but fell on the short end of a 65-62 score. With a 1-2 pool record, the Panthers ended up playing in the ninth place game against Locke and won handily 60-34 on Dec. 30.
Against the Saints from southeast Los Angeles, Gardena had little trouble as it surged out to a 32-12 halftime lead.
Clarence Bookman sparked the Panthers with 18 points. Issac Green added 15 points.
Against Morningside from Inglewood, which went on to capture the tournament title with a 60-57 overtime win over Bay League foe Rolling Hills Estates Peninsula on Dec. 30, Gardena trailed 15-5 after the first quarter but came back to grab a brief 62-61 lead. The Panthers, however, committed two critical fouls as the Monarchs (10-3) made all four free throws and held Gardena scoreless for their three-point win.
Jordan Howard led the Panthers with 16 points. Bookman chipped in 15 points and Cameron Cunningham contributed 10.
Morningside was led by Charles Akanno with a game-high 20 points.
In Gardena's second game of the tournament, the Panthers were able to handle an improved South Tahoe squad that came down from the Northern Sierra Nevada Mountain town on the California-Nevada border.
Gardena is currently playing in the Granada Hills Kennedy Pre-league Round Robin Invitational where it opened last Monday against Chatsworth. The Panthers close out the invitational against Grant High from Van Nuys today at 4 p.m.
Gardena (1-0 in the Marine League after a 68-63 home win against Washington on Dec. 15) resumes league at Carson next Wednesday at 5:30 p.m.
_______________________
Serra splits games in San Diego
By Joe Snyder
Sports Editor
Serra High's girls' basketball team split its four games in the Southern California Invitational Tournament last week at the Bishop's School in San Diego.
The Lady Cavaliers began the classic with an 80-40 rout of Garces Memorial from Bakersfield on Dec. 26. Two days later, Serra lost to CIF-San Diego Section power La Jolla Country Day 58-47. On Dec. 29, the Cavaliers came back to top San Marcos Mission Hills 48-43, but Serra lost in the fifth place final to Bishop O' Gorman from Las Vegas, Nev. 66-61.
Against O' Gorman, Alexis Tucker led the Cavaliers (9-5) with 25 points and six rebounds. Lowendie Laporal added 11 points and 11 rebounds, and Briana Johnson contributed 11 points and four assists.
O' Gorman jumped out to a 17-10 first quarter lead, but Serra came back with an 18-11 second period to tie the game at 28 at halftime. The two teams continued to stay tied at 45 after three quarters before O' Gorman outscored the Cavaliers 21-16 in the final period.
Against Mission Hills, Serra took a 26-22 halftime lead in the mostly close contest. The Cavaliers extended the advantage to seven (37-30) by halftime, then held on.
Brooke Bayman led Serra with 18 points and seven rebounds. Johnson finished with 10 points and four assists.
La Jolla Country Day surged out to a 21-8 first quarter lead, then led 35-18 at halftime. The Cavaliers cut Country Day's lead to nine (43-34) after three quarters but Country Day put the game away.
Serra has a pair of tough non-league games this week. After visiting Etiwanda Wednesday, the Lady Cavaliers travel to Sierra Canyon in Chatsworth to face the host squad at noon.
_____________________________________________
Serra gets routed by North in fifth place game
By Joe Snyder
Sports Editor
Serra High's boys' basketball team ended up in sixth place in the Nike Division of the prestigious Maxpreps Holiday Classic last week at Rancho Mirage High in Palm Springs.
After edging St. Mary's High from Phoenix, Ariz. 56-55 on Dec. 26, the Cavaliers fell short of Etiwanda, last year's CIF-Southern Section Open Division runner-up to Torrance Bishop Montgomery, 56-50 on Dec. 28. Serra came back to slip past Franklin High from Portland, Ore. 56-54 on Dec. 29. The Cavaliers, though, could not handle J.W. North High from Riverside as they were routed 81-45.
The Nike Division is the second strongest division behind the more prestigious Open, which was won by the United States' No. 1 ranked team in Chino Hills which downed Redondo 96-80 last Saturday. The Huskies (14-0) were led by Lonzo Ball with 33 points and 12 assists.
The Sea Hawks, who are 11-3 after topping Santa Margarita 72-65 in their own Jordan Brand Take Flight Classic last Saturday at Redondo, were led by Chris Williams and Leland Green with 16 points, apiece against Chino Hills.
During the week before Christmas, Serra played in the Mission Prep Tournament in San Luis Obispo where it ended up in 11th with a 2-2 record. The Cavaliers began with a 65-62 loss to Troy High from Fullerton on Dec. 19. Coming back two days later, Serra defeated Windward High from Mar Vista 63-58. On Dec. 22, the Cavaliers fell short of Dorsey 56-51, then in the 11th place final on Dec. 23, Serra rolled over Weston from Cypress Bay, Fla. 71-42.
The young Cavaliers are led by Mason Chipley, Ray Knight, Jr., along with freshmen Doctor Bradley and E.J. Jordan.
The Cavaliers' big Del Rey League rival, Bishop Montgomery, won the classic going away by rolling over Bellarmine Prep from Tacoma, Wash. 64-40 on Dec. 23. The Knights, who improved to 15-0 after a surprisingly easy 73-51 Jordan Brand Take Flight Classic win over Corona Centennial last Saturday at Redondo, also enjoyed easy victories over defending California State Division III champion San Ramon Valley 69-32 on Dec. 19, 65-40 against last year's CIF-Southern Section Division IIIAA champion Beverly Hills on Dec. 21, and 77-48 over Reedley Immanuel on Dec. 22.
Bishop Montgomery went on to capture the Division I Bound Southern California Tournament, held from Dec. 26-30 at Dorsey High. The Knights began by crushing Trinity Classical Academy of Valencia 80-25 on Dec. 26, defeating the host Dons 75-62 on Dec. 28, rolling over Valencia West Ranch 86-40 on Dec. 29 before easily winning the title over Calabasas 73-38 on Dec. 30.
The two teams will square off at Serra next Wednesday at 5 p.m.
The Cavaliers also host their own classic on Saturday where they face Diamond Ranch High from Pomona at 6 p.m.
______________________________________________________________
Sports Scoop
UCLA, USC have disappointing showings in Bowl games
By Joe Snyder
Sports Editor
With no National Football League team in the Los Angeles area, at least as of yet, L.A. fans have to settle to follow the two NCAA Major Division I college teams in UCLA or University of Southern California.
The PAC 12 was doing well in the Bowl games but the Bruins ended their season at 8-5 after falling to a now 6-7 University of Nebraska squad 37-29 in the Foster's Farms Bowl on Dec. 26 at Levi's Stadium in Santa Clara.
UCLA started out well taking a 21-7 lead midway in the second quarter but the Cornhuskers took advantage of an inexperienced Bruin defensive line, which was plagued with several major injuries including an earlier season ending one to Myles Jack, to score 30 unanswered points enroute to the win. Since the key injuries, the Bruins' defense struggled against the run and Nebraska, as a team, rushed for 326 yards to just 67 for UCLA. Bruin quarterback Josh Rosen threw for 319 yards and three TD's but was intercepted twice and sacked four times.
In San Diego on Dec. 30, the Trojans fell short of University of Wisconsin, 23-21.
USC, with several ex-Serra High standouts, saw Cody Kessler's pass to the end zone intercepted late in the game and the Trojans ended their season at 8-6.
Last Saturday, University of Oregon was stunned when it blew a 31-0 halftime lead in a 47-41 triple overtime loss to Texas Christian University in the Alamo Bowl in San Antonio, Texas. In the Cactus Bowl at Bank One Stadium, home of the Major League Baseball Arizona Diamondbacks in Phoenix, Arizona State lost a wild see-saw game to West Virginia University 43-42.
Stanford won the Rose Bowl by routing University of Iowa 45-16 on New Year's Day in Pasadena.
All-South Bay Football: North Torrance High's dominant all-around player Mique Juarez captured the Daily Breeze South Bay Football Player of the Year, named last week.
Juarez, who de-committed from University of Southern California after the firing of head coach Steve Sarkesian in November, started at quarterback and linebacker. He had 3,028 total offensive yards that included completing 122 of 239 passes for 1,658 yards and 23 touchdowns, and rushed for 1,370 yards and a school record 36 TD's.
Defensively at linebacker, the 6-foot-3, 220-pound senior had 146 tackles, including 91 solo. He had 21 tackles for losses and had a school record 397 yards in his four years at North.
He keyed the Saxons to a co-Pioneer League title with cross town rival West Torrance, but North got the better end of the league crown with a 35-17 win over the host Warriors, who won the Pioneer and made the CIF-Southern Section Western Division semifinals a year earlier, on Oct. 16. North advanced to the Western Division quarterfinals where it lost to host Mira Costa 35-21 on Nov. 20 in Manhattan Beach.
Serra swept the Offensive and Defensive Players of the Year. The Cavaliers dominating quarterback Khalil Tate was top offensive player. Tate, a senior headed to University of Arizona, had 4,166 total offensive yards that included 2,130 yards and 26 touchdowns rushing and 2,036 yards and 17 TD's passing.
Tate keyed Serra to the better part of the Mission League co-championship with La Puente Bishop Amat (The Cavaliers topped the Lancers 41-38 on Oct. 16 at Serra.) and the quarterfinals of the prestigious CIF-Southern Section PAC Five Division quarterfinals where it fell short of Santa Ana Mater Dei 28-27 on Nov. 20 at Serra.
Defensive end Oluwole Betiku, who will be playing next fall at University of Southern California shortly after de-committing at UCLA, was top defensive player. The 6-foot-4, 250-pound senior had 70 tackles, including 17 quarterback sacks.
Senior wide receiver Isaiah Diego-Williams made first team all-South Bay offense.
The Cavaliers had San Jose State University-bound senior linebacker Blake Wells, senior defensive back Brandon Burton and USC-bound senior defensive back C.J. Pollard make first team defense. On second team defense was sophomore linebacker Merlin Robertson.
North had senior defensive back Justin Allmond make second team defense.
For South Catholic League champion Bishop Montgomery, senior quarterback Brandan Marafino and senior running back Patrick Smith landed on second team offense.
For California State Division IA champion Narbonne, senior quarterback Roman Ale, Arizona-bound running back Sean Riley, Arizona-bound wide receiver DeVaughn Cooper and UCLA-bound Alex Akingbulu made first-team offense.
King James Taylor made second-team offense at lineman.
The Gauchos had junior lineman Anthony Pandy make first team offense and sophomore Raymond Scott landed on second team defense as a linebacker.
Serra kickers top Pacific Lutheran: On Dec. 11, Serra High's boys' soccer team defeated South Bay Lutheran 3-1 in a Gardena cross town private school rivalry at Columbia Park in Torrance.
The Cavaliers begin the Camino Real League at home against Bosco Tech from Rosemead next Tuesday at 5 p.m.