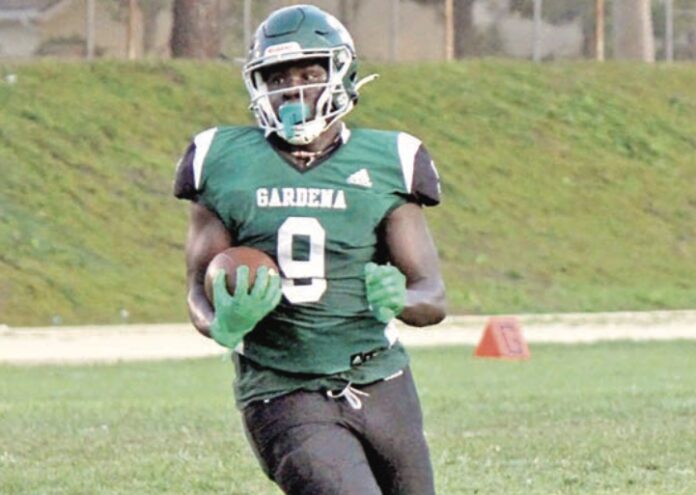 By Joe Snyder
Last season, Gardena High's football team started at 6-0 before losing all four games from the prestigious Marine League then the first round of the CIF-Los Angeles City Section Division I playoffs to Dymally.
This year, the Panthers are, again, off to an impressive start at 3-0 after a 64-0 home victory over Centennial High from Compton last Thursday.
It was a match up between teams with small rosters with Gardena having 34 players but the Apaches even smaller with just 18 suited up.
Centennial, which had its football program along with virtually every sport struggle for the past few decades, had numerous problems handling the ball with countless amount of mistakes and turnovers and the Panthers were able to constantly cash them in.
The game started with the Apaches having the ball but Gardena being able to hold them down as they were forced to punt deep in their own territory. The punt was blocked as Centennial recovered the ball in its own end zone but, for awhile, the officials were confused of the play and took time before finally declaring it a safety. The Apaches had the free kick and Gardena drove 50 yards in five plays capped by a 9-yard touchdown run by junior running back Xavier Grant as Gardena led 9-0 with 8:12 left in the first quarter.
The Panthers, in fact, scored on all but just two drives in the game, including all in the first half, along with two on defense and one on a blocked punt in the end zone that was recovered by junior defensive tackle and end David Franklin in the end zone that gave Gardena a 22-0 lead with 4:58 remaining in the first period.
That TD came shortly after middle linebacker/defensive end Zakye Marcus scored on a 20-yard interception return with 7:15 to go in the first quarter. That was his first of two defensive scores of the game. His second came on a 30-yard fumble recovery that enabled the Panthers to grab a 43-0 lead with 3:41 to go before halftime.
Gardena built a 29-0 lead by the end of the first period as Grant scored his second touchdown on a 38-yard run 39 seconds earlier.
The Panthers added 21 points in the second quarter behind 45-yard TD run from running back Keyshawn Hood, the 30-yard fumble recovery by Marcus and a 17-yard scoring pass from junior quarterback Isaiah Kim to senior wide receiver Desmon Wright for a 50-0 halftime bulge.
In the running time second half, Gardena added two third quarter touchdowns by junior Myles Mason (18-yard run) and junior D'maj Longley (6-yard run) for the final score.
"Our defense played great," Gardena head coach Monty Gilbreath said. "It was the best defensive game we played since I was here."
The Panthers continue non-league play at Jordan High in the L.A.-Watts District Friday at 4 p.m.
ECC men, women start soccer year unbeaten
El Camino College's men and women's soccer teams are both undefeated after non-conference wins over Santa Monica City College last Friday at ECC.
The day began with the Lady Warriors outlasting the Corsairs 3-2. After that, El Camino's men took the field and shut out Santa Monica 4-0 last Friday.
In the men's match, ECC surged out to a 3-0 halftime lead behind one goal each by Franco De Luna, Steven Alvarenga and Marvin Gomez. The score remained the same until the 89th minute when Orlando Valencia-Jimenez completed the scoring after a free kick.
The Warriors dominated the Corsairs, out shooting them 21-9.
Three days earlier at Irvine Valley College, El Camino recorded a 3-0 shutout. Gomez sparked the Warriors with two goals and Jovanny Mejia added one.
In the women's match against Santa Monica, Allison Sibley scored all three goals for ECC, which is 3-0.
On Aug. 25 in Van Nuys, El Camino defeated host Los Angeles Valley College 3-1. On Aug. 29, the host Warriors rolled over West L.A. College 5-0.
After visiting Norco last Tuesday, El Camino's men host Moorpark College Friday at 3 p.m. ECC will be at home against Cypress next Tuesday at 1 p.m.
ECC's women hosted San Diego City College last Tuesday.
Serra rolls to second straight win
After losing its season opener to Orange Lutheran, Serra High's football teams put things together with back-to-back easy road victories over host Downey Warren and Los Angeles Cathedral.
Last Friday at Cathedral High, Serra used a big second quarter and had little trouble with the Phantoms in a 47-14 victory.
In the period where the Cavaliers let loose for four touch- downs, senior running back Cincere Rhaney scored two rushing touchdowns of 38 and 35 yards and junior quarter- back Jimmy Butler threw for two TD's; both to senior Zachary Williams from 57 and 12 yards that saw Serra build a 34-0 halftime lead.
In the third quarter, Serra added two more rushing touchdowns by Nick Johnson of 46 and 42 yards to increase its commanding lead to 47-0 before clearing the bench that saw Cathedral score two fourth period concession TD's. Johnson finished with 111 yards and three touchdowns rushing, while Rhaney ran for 94 yards and two TD's.
After opening the season with three consecutive road games, the Cavaliers have a home non-league showdown game against Long Beach Poly Friday at 7 p.m. Sources are that, due to a very large crowd that could see many fans turned away from Serra's 4,500-seat stadium, it could be moved to the nearly 8,000-seat El Camino College Murdock Stadium or even the Dignity Health Sports Center on the Cal State Dominguez Hills campus, home of the Major League Soccer Los Angeles Galaxy and former temporary home of the National Football League Los Angeles Chargers, currently sharing So Fi Stadium with the L.A. Rams. When the Cavaliers hosted the Jackrabbits in the Southern California Regional Division IA championship Bowl game in early December 2021, approximately 2,500 fans were turned away after the capacity was reached. Serra won that game 21-17 and went on to win the CIF-State Division IA crown over Bakersfield Liberty High a with a 21-16 victory a week later at Saddleback College in Mission Viejo. Last season in both teams' non-league contest, there were an estimated 12,000 spectators to see the rivalry at Long Beach Veterans Stadium as Poly downed the Cavaliers 17-3.
The Jackrabbits, who are like Serra are 2-1, are ranked seventh in California and sixth in the CIF-Southern Section by MaxPreps. Serra is rated 14th and the state and 11th in the Southern Section. Last week at Veterans Stadium, Poly outlasted Mission Viejo 32-28. The Jackrabbits began the season early on Aug. 11 with a trip to Hawaii to defeat 2022 Hawaii state champion Konavaena 60- 28.
After a week off, Poly traveled to the Nike Headquarters Stadium in Beaverton, Oregon only to get blown out by Las Ve- gas (Nev.) Bishop O' Gorman, ranked second in the United States behind No. 1 Santa Ana Mater Dei, 60-15. It continues to be a match-up between both programs who have among the most alumni who went on to play NCAA Major Division I college and in the National Football League and this year is no exception. The Jackrabbits have some who committed to Major Colleges such as University of Southern California and Oregon and Serra has Dakoda Fields bound for Oregon and Williams who committed to UCLA, both who will play in the prestigious Big 10 next season.