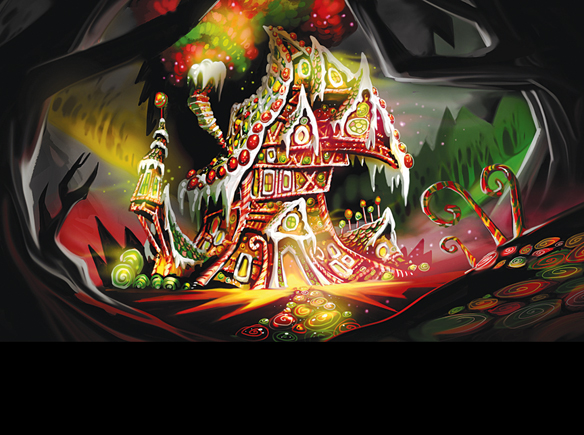 The year 2017 has arrived, and already one week has passed by. Let's hope it doesn't slip away as quickly as 2016 did. But no matter how fast time flies, it's always fun to spend quality time with the family, so here are a few entertaining suggestions for the new year
The year 2017 has arrived, and already one week has passed by. Let's hope it doesn't slip away as quickly as 2016 did. But no matter how fast time flies, it's always fun to spend quality time with the family, so here are a few entertaining suggestions for the new year
"Hansel and Gretel" an all-ages rock musical, is a wickedly delicious treat for the whole family with music and lyrics by Grammy-nominated children's music artist Justin Roberts, book by Ernie Nolan, animations by Micah Chambers-Goldberg and 3-D animations by Gaspard Lacroix. The show will be performed at the Valley Performing Arts Center (VPAC) for one afternoon performance only on Sunday, Jan.w 22 at 3 p.m.
According to Thor Steingraber, Valley Performing Arts Center's executive director, "Justin Roberts has adapted this Grimm's fairy tale for a modern audience. His message is resounding and positive and his score is infectious. The animated backdrops by Micah Chambers-Goldberg are captivating, like a modern day "Fantasia," backing a young, energetic cast of actors."
In the story, set in Germany's Black Forest, young Hansel and his older sister Gretel set out on an icy adventure, hoping to find their missing mother. "The Grimm Brother's Band" brings the story to life with a rock and roll score in an animated wonderland inspired by the whimsy of Lemony Snicket and Roald Dahl. The result is a sparkling tale of humor and heroism that's anything but grim.
Critics nationwide have praised Roberts' sophistication and lyrical depth. In "USA Today" Cathy O'Connell called Roberts "the Paul McCartney of children's music. "And "Chicago Tribune" critic Chris Jones described the music as"…a great score, witty, melodic, varied and most important of all, fresh and alive."
This charming musical, directed by Michael Matthews, will be in town for one performance only, Jan. 22, so get your tickets before the show moves on to theatres across the county.
Tickets for "Hansel and Gretel" are available at the theatre box office, online at ValleyPerforming ArtsCenter.org or by calling 818-677-3000; The Valley Performing Arts Cener is located at 18111 Nordhoff St. in Northridge.
**
This past Friday I finally caught up with the film, "Miss Peregrine's Home for Peculiar Children," directed by Tim Burton. It came out much earlier in the year so it will probably be coming out on DVD in the very near future. Based on a 2011 young adult novel by Ransom Riggs,the story begins in the present, but morphs back in time to Sept. 3, 1943 during WW II. It begins when Jake Portman is a small boy living in Florida with his parents. He Is very close to his grandfather (Terence Stamp) who regales the young boy with adventurous tales he insists are true. He also has pictures of the people he describes which he keeps in a small box.
Then one night during an impending storm, Jake, now a teenager, decides to spend the night with his grandfather. However he is told not to come because his grandfather is certain something bad is about to happen–and it does. When Jake can't find the old man, he goes outside and finds him dead. The traumatic experience so upsets Jake, he is taken to a psychiatrist (Allison Janney) by his worried father. She urges them to go to Wales and visit Miss Peregrine's Home, the place where his grandfather, as a young boy, had been sent during the war.
The story is rather convoluted, and shifts back and forth through time. It is also too intense for very young viewers. However teens, familiar with the book, will find Tim Burton's take on the strange happenings that take place in Miss Peregrine's Home for Peculiar Children both exciting and deliciously weird. The peculiar children who dwell there include an invisible boy, Olive, a girl who can generate fire through her fingers and Bronwyn, a youngster with superhuman strength.
The prettiest girl is a blonde who wears weighted shoes to keep her from floating off into the air, and there is a young man who is able to reanimate the dead. Add to the mix horrible monsters controlled by a very creepy Samuel L. Jackson with white opaque eyes who has been stalking Jake's grandfather and "peculiar" children through time and space. Personally I found myself getting lost in the plot details, but basically I understood the outcome.
Director Tim Burton creates some truly peculiar "peculiar children" and some pretty scary monsters. He is in his element. The story is best suited for teens and is rated PG-13 for frightening scenes of peril and violence. Young fans of the novel should be on the lookout for the film when it arrives on DVD.
***
DVD Update:  Check out the playful "Finding Dory."  Other animated Disney films available on DVD include the truly clever and hilarious "Zootopia," "The Jungle Book," and "Pete's Dragon."
Two other animated films now out on DVD are "The Secret Life of Pets" and "Storks."
For the adults, "The Accountant," an action-packed thriller starring Ben Affleck, J.K. Simmons and Anna Kendrick will be available on Blu-ray Jan. 10 from Warner Bros.