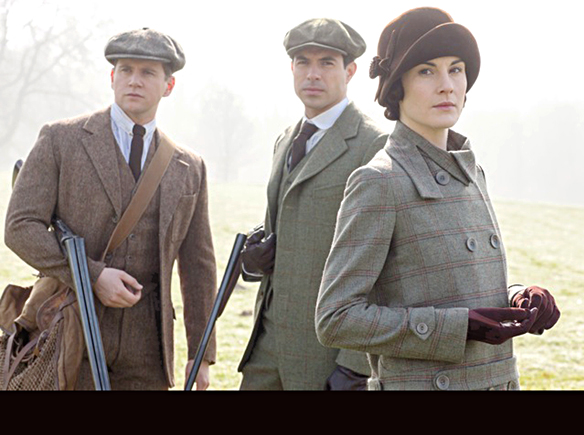 I must confess, I am not usually a mystery fan, but this season PBS aired a six hour "Masterpiece Mystery!" entitled "Grantchester," and I was hooked. The series, based on "The Grantchester Mysteries" by James Runcie, takes place in Grantchester, a village just outside Cambridge, England. It's 1953 and Sidney Chambers (James Norton "Happy Valley") is the handsome young vicar who leads a quiet life tending to his flock. He enjoys jazz and has fallen in love with a beautiful young heiress, Amanda Kendall. Things are peaceful and seemingly quiet until one of his parishioners dies under mysterious circumstances. Everyone assumes the man committed suicide, but after the funeral his partner's wife tells Sydney she is certain he was murdered. In fact she suspects her husband is the killer.
At this point Sydney goes to the local police inspector Geordie Keating (Robson Green "Wire in the Blood," "Reckless") who at first doesn't want to be bothered. There was a suicide note and that's good enough for Geordie. But people confide in the young vicar and eventually Sydney convinces Geordie to reconsider the cause of death. Both men enjoy working things out in the local pub over drinks and games of backgammon and eventually a strong friendship develops, despite the fact that one is a man of faith and the other is, in his own words, "a heathen." Their ever-growing friendship is a highpoint in the unfolding stories.

"Grantchester" is beautifully written, filled with compelling characters that range from Sydney's stern, but motherly, housekeeper, his young assistant vicar and the women he loves, to the colorful characters who live and die in Grantchester.
The show is more than just a series of mysteries since the six one-hour dramas also deal with Sydney's traumatic war memories, his crisis of faith and class conflict.

If you missed "Grantchester," you can buy the series which is now available on Blu-ray and DVD. For more information visit PBS.org.
ITV will soon present another season of "Granchester" in Great Britain so we can look forward to another set of adventures featuring Sydney Chambers and Geordie Keating once again on PBS in the near future–so the story will continue and that's great news!

Special features on the DVD include: Behind-the-scenes, Cast interviews, The Making of Grantchester and more.
**
"Downton Abbey," described by the New York Times" as an "instant classic" has captivated viewers in England and in the United States. Written by Academy Award-winner Julian Fellows, it stars Hugh Bonneville as the Earl of Grantham who lives in the lavish country manor known as Downton Abbey with his wealthy American wife, Cora (Elizabeth McGovern), their three daughters and his mother played by the wonderful Maggie Smith. This Golden Globe and multiple Emmy Award winning series chronicles the lives of the Crawley family and their servants from pre-war England through World War I and into the social upheaval of England in the 20s.

The boxed set of "Downton Abbey," Seasons 1, 2, 3 and 4 comes with an additional 3.5 hours of bonus material. Season 5, which has just concluded, is also now available on DVD.

PBS and ITV just announced that the upcoming Season 6 will be the last in the series. Earlier Maggie Smith had said Season 6 would be her last because if it kept on going "I would be over 100." It will be hard to say good-bye to the Crawleys and all who dwell in Downton Abbey, but if you buy the series you can enjoy seeing this marvelous production yet again.

Also available on Blu-ray or DVD is "The Manners of Downton Abbey" with Alastair Bruce, the historical advisor to Downton Abbey. Learn how the aristocratic Edwardians dined and dressed, married, made money and interacted with their servants and how the servants behaved with one another. Fascinating stuff.

In "Secrets of Highclere Castle" you get the chance to enter inside the 1,300 year old manor house that serves as the setting for Downton Abbey. In its heyday Highclere was the social epicenter of Edwardian England. Today it is inhabited by Lord and Lady Carnarvon who spend $1 million in annual upkeep funds to keep the estate beautiful. Going inside the castle is like stepping into a fairytale.