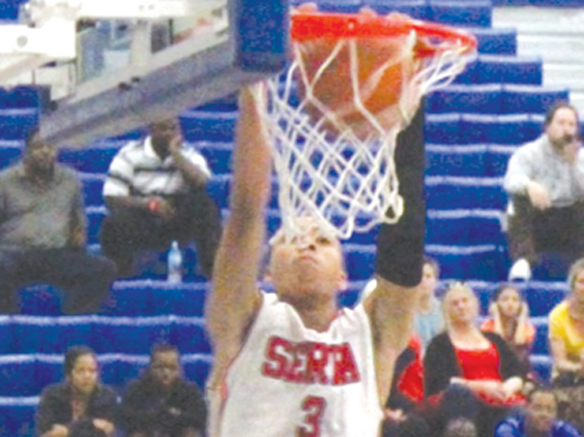 Last Saturday, Serra High's boys' basketball program hosted its own Cavalier Classic at Cerritos College.
Serra had a tough time with a well disciplined Peninsula High team from Rolling Hills Estates but managed to pull through for a 75-62 victory.
Last Saturday, Serra High's boys' basketball program hosted its own Cavalier Classic at Cerritos College.
Serra had a tough time with a well disciplined Peninsula High team from Rolling Hills Estates but managed to pull through for a 75-62 victory.
The Cavaliers, who improved to 10-6 entering Friday's Del Rey League opener at home against La Salle of Pasadena, started out with a 25-17 first quarter lead but the Panthers, behind returning all-CIF Southern Section 6-foot-8 center Stanley Roberts Jr. and junior guard Kurt Milch, rallied to tie the game on a few occasions before Serra held a 40-37 halftime lead.
Two free throws by Ian Carter gave Serra a 45-41 lead but the Panthers went on a 9-0 run behind a three-point play by Matt Oh and two lay-ups from Roberts.
Jason Richardson came back to score the next six points, including a slashing drive that gave the Cavaliers a 51-50 advantage after three periods.
Leading 57-56 early in the fourth quarter, Serra pulled away with a 12-2 run that included a pair of Freeman's slam dunks.
That virtually put the game away for the Cavaliers.
"I thought we played well at times," Serra head coach Dwan Hurt said. "Peninsula played well and capitalized on our own mistakes. They are a very well disciplined team."
Tavrion Dawson led the Cavaliers with a game-high 24 points. Richardson added 19 points, 14 of those in the second half. Ron Freeman chipped in 14 points.
The Panthers, who began their Bay League with a brutal game on the road against Redondo, currently ranked No. 2 in the CIF-Southern Section Division IIAA and fifth overall in California by Maxpreps, were led by Roberts with 22 points. Milch contributed 12 points.
Serra's league opening game against La Salle will be Friday at 7 p.m.
The Cavaliers, then, play in a pair of Martin Luther King Jr. Classics at La Salle on Saturday against a team to be announced and against Price Christian at Price on Monday (Martin Luther King Jr. Day).
That will set the stage for what should be a big showdown at Del Rey League rival Bishop Montgomery in Torrance next Wednesday at 5 p.m. The Knights own a 15-1 overall record entering last night's league opener at St. Bernard in Playa del Rey. Bishop Montgomery already won the Westchester Tournament over the host CIF-Los Angeles City Section Division I power Comets and the highly competitive Mission Prep Tournament in San Luis Obispo. The Knights only loss was in the Redondo Tournament Final against the host Sea Hawks 63-56 on Dec. 30.
_________
Lady Cavs top host Fairfax in tourney final; beat CC
By Joe Snyder
GVN Contributor
Serra High's girls' basketball team is rolling into the always very highly competitive Del Rey League after capturing the Fairfax Tournament with a 69-52 victory over the host Lions, then defeating Culver City 70-55 in a non-league battle of St. Bernard High transfers last Monday at Serra.
In the non-league battle on Monday, it was a match-up between Serra, who received Cydney Bolton, Brooke Bayman and Chyanne Butler from the Vikings after successful mentor Bo Corona was dismissed from the coaching job after guiding them to the Southern Section Division IVAA semifinals and the Southern California Regional Division IV finals where St. Bernard lost to Serra on March 16 at Colony High in Ontario, and the Centaurs, who picked up Michelle Curry.
The Cavaliers, though, led throughout virtually the entire game. They were ahead 25-12 after the first quarter, 40-27 after the second, but Culver was able to get as close as six points in the third period. Ahead by eight early in the final period, Serra was able to pull away, behind key plays by Nautica Morrow and Butler.
"Culver City did a great job," Serra head coach McKenzie Hadley said. "The problem was that we missed 15 free throws. It's usually the free throws and lay-ups that win games. Overall, it was a good game. Both teams played hard."
Morrow sparked the Cavaliers, who improved to 12-2, with 17 points and four steals. Butler added 16 points, six rebounds, four assists and four steals. Caila Hailey contributed 12 points and six rebounds, and Kayla Bibb had 14 rebounds and three points. Lin and Curry each put in 13 points.
In Serra's Fairfax championship win over the Lions, the Cavaliers wore down Fairfax after the teams were tied at 29 at halftime. That was when Serra outscored the Lions 40-23 in the final two quarters.
Butler sparked the Cavaliers with 23 points, six rebounds and seven assists and she was the tournament's Most Valuable Player. Morrow tallied 10 points and Hailey totaled nine points, all on three-point baskets in the fourth period.
Fairfax's Marguerite Effa led all scorers with 24 points.
Serra entered the championship by routing Canyon High of Canyon Country 77-27 last Thursday.
Just a day after the Cavaliers' non-league win over Culver City, Serra opened the Del Rey League at St. Bernard, which saw its Viking transfers return to the school, which has a 6-6 non-league record. Serra will, then, have a non-league game against Westlake Village Oaks Christian, ranked third in Division IVAA, in the War on the Floor Extraveganza at St. Genevieve High in Panorama City on Saturday before resuming league next Thursday at home against Pasadena La Salle next Thursday at 7 p.m.
___________
Sports Scoop
Gardena gets swept in HP-Hamilton Classic
By Joe Snyder
GVN Contributor
Things did not go well for Gardena High's boys' basketball team in the Huntington Park-Hamilton Classic as it lost all four games last week.
On Jan. 6, the Panthers began the tournament by getting crushed by eventual champion Los Angeles Cathedral 69-21. On Jan. 8, Gardena was blown out by Quartz Hill 76-51.
Last Friday, Gardena fell to Heritage Christian from Cypress 78-61, then lost to Whittier Pioneer 64-59 on Saturday.
A poor first quarter, where the Panthers were outscored by Pioneer 18-9, plagued Gardena. The Panthers proceeded to outscore Pioneer 50-46 from there.
Christian Carating led the Panthers with 21 points against Pioneer. Christian Brown added 15 points.
Gardena began the Marine League at King-Drew Medical Magnet High in Southeast L.A. on Wednesday. The Panthers will host a very good Narbonne team, which won the San Pedro Pirate Classic by beating Rancho Dominguez Prep 56-43 on Dec. 30 and it was two days after the Gauchos rolled over Gardena 64-36 in the championship semifinals, next Wednesday at 5:30 p.m.
Different L.A. NBA World: Last Friday, it was the opposite that L.A. National Basketball Association fans have not been so used to seeing.
The Clippers blasted the injury depleted Lakers 123-87. Their 36-point win over their Staples Center rivals is the biggest ever in Clipper history over the Lakers and that goes back to when the Clippers were started as the Buffalo Braves in 1973.
When a team is without top players Kobe Bryant, Steve Nash and Jordan Farmar, and Pau Gasol is still not in full condition, it can make them look more like the Clippers playing the Lakers' junior varsity squad.
The Clippers lead the NBA Pacific Division with a 26-13 record, while the Lakers fell to 14-23 after losing their 10th out of their last 11 games.
Interestingly, the Lakers take on two other slumping teams who are reportedly been plagued with injuries and inexperience. Last Tuesday, they hosted the lowly Cleveland Cavaliers (13-24) and on Friday, would you believe it, their rival Boston Celtics, who currently have a nine-game losing streak after falling at home to the Houston Rockets 104-92 on Monday, in Boston in Friday. The Celtics fell to 13-26 with the defeat. It will be the matchup between the two teams still leading with NBA championships (Celtics with 17 and Lakers with 16) that are both having down years for 2013-14. Could it be for who might get the top pick in next June's NBA draft? It just might be a possibility.
Meanwhile, the Cavaliers were hammered by the host Sacramento Kings 124-80 last Sunday.
Yesterday, the Lakers had it tough playing in Phoenix (21-15).