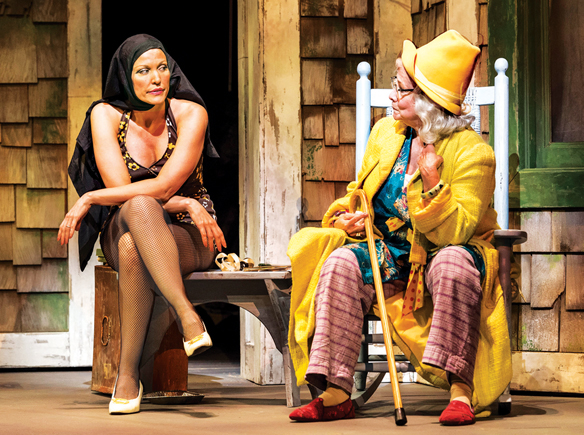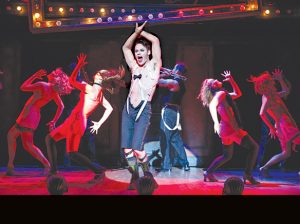 "Grey Gardens," at the Ahmanson Theatre through Aug. 14, is a bittersweet musical about the famous mother/daughter duo Edith Bouvier Beale (Betty Buckley in Act II) and her daughter "Little" Edie Beale (Rachel York, as the youthful "Big Edie" in Act I and the aging daughter, Edie Beale in Act II.)
"Grey Gardens," at the Ahmanson Theatre through Aug. 14, is a bittersweet musical about the famous mother/daughter duo Edith Bouvier Beale (Betty Buckley in Act II) and her daughter "Little" Edie Beale (Rachel York, as the youthful "Big Edie" in Act I and the aging daughter, Edie Beale in Act II.)
These two women are noteworthy because they were Jackie Bouvier Kennedy's aunt and cousin who, after the Depression, basically lose their fortune. In the end their mansion, Grey Gardens, like their personal lives, becomes a literal mess. Their once beautiful estate slowly falls into total disrepair and decay, overrun by more than 50 cats and rambunctious raccoons, and their personal relationship, like their elegant home, also begins to crumble.
In the end they are linked more by need than love.
The scenic design by Jeff Cowie captures Grey Garden's eventual disintegration. In Act I the living area is elegant, lit by an overhead crystal chandelier and the furnishing are top notch.
Cut to Act II and the place is a crumbling mess filled with clutter. The two women basically are forced to live in one bedroom to save on energy costs in summer and winter. The imaginative set, particularly in Act II, not only conveys their mental and monetary state it might also inspire any hoarder in the audience to go home and immediately toss out the clutter and trash in their own lives.
The musical is at its best in Act II, based on the Maysles Brothers 1975 documentary film. Act I, while lighter in tone, serves mainly to show how their lives were before the crash. It introduces us to Big Edie's husband, a high-powered New York lawyer before the Depression and to her famous niece Jackie Bouvier.
In Act I we also learn that both the mother and daughter loved the arts at a time when it was difficult to actively pursue a career on the stage. Act I, however, is largely fictional when it suggests that Little Edie is about to become engaged to Joseph P. Kennedy Jr. which ain't necessarily so.
Act II is darker in tone, revealing how the two must face life together as their relationship and mansion start to disintegrate. The songs are also often tinged with sadness, revealing a duo who find it hard to live together, and even harder to live apart
"Grey Gardens" was directed by Michael Wilson, with a book by Doug Wright. music by Scott Frankel and lyrics by Michael Korie..
At the Ahmanson Theatre, 135 N. Grand Ave., Los Angeles through Aug. 14. For tickets and information 213-628-2772 or CenterTheatreGroup.org.
***
Kander and Ebb's musical masterpiece "Cabaret" was a smash hit on Broadway in 1966. Now, 50 years later, it's back on stage at the Pantages Theatre through Aug.7 only — so come to the Cabaret.
Enter Berlin's bawdy Kit Kat Club circa 1929-30 as the Roundabout Theatre Company's fantastic musicians not only play the fabulous show music they also perform as the sexy, scantily clad dancers in the club.
Randy Harrison opens the show as the spirited, playful yet raunchy emcee who welcomes his audience by belting out the rousing "Wilkommen."  Andrea Goss stars as Sally Bowles, the young British chanteuse at the Kit Kat  and is at her best singing  "Maybe This Time" and "Cabaret."  Lee Aaron Rosen is the American writer Clifford Bradshaw, who has come to Berlin for inspiration and in no time falls in love with Sally. Shannon Cochran is Bradshaw's landlady who has found late-in-life romance with Herr Schultz (Mark Nelson), a Jewish fruit storeowner. Together they sing the lovely "Married," but will their chances for happiness be doomed when the Nazis take over Germany?
This time around "Cabaret" is more edgy and dark, but it still smolders with the Kander and Ebb songs that  include  "Tomorrow Belongs to Me," "Perfectly Marvelous,"  "Money," and the masterful title song "Cabaret."
At the Hollywood Pantages Theatre through Aug. 7 only. For tickets and information, call 800-982-2787 or hollywoodpantages.com.