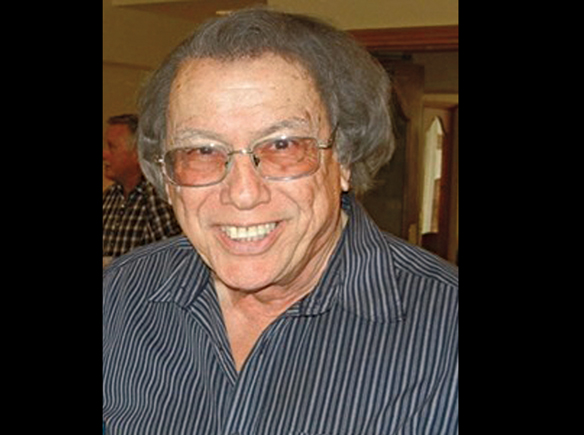 Bob Von Gorres was a true paradox. He lived a relatively simple life by most standards. Routines defined the man that he was: the way he started his day, the way he dressed, the places he dined, it was like connecting the dots. The script rarely changed.
Yet, within this simplicity was a series of complexities.
Bob Von Gorres was a true paradox. He lived a relatively simple life by most standards. Routines defined the man that he was: the way he started his day, the way he dressed, the places he dined, it was like connecting the dots. The script rarely changed.
Yet, within this simplicity was a series of complexities.
Every step, every visit, and every action seemed to be measured. Von Gorres treated some aspects of his life as if it were a puzzle to ponder, analyze, reconstruct and ultimately solve. It's hard to say how much of his time he spent lovingly evaluating and reevaluating the next phase of existence.
Bob lived his life in chapters. He was simply a man with a plan.
In the last years of his life, Von Gorres found a certain thrill — or maybe need — in planning his retirement. He was going to sell his Lomita home, take up residency in Arcadia, do some radio work on the side, and most of all, spend his leisure days at the race tracks. For this man had such a passion for horses, that you could look back at every passage of his life and recite that old cliché, "he's off to the races."
He would never know that his life cycle would parallel such great horses as Sunday Silence, Silver Charm and Smarty Jones. All of them falling short of the coveted Triple Crown.
Von Gorres never won his last race. Never finished the last leg of his Triple Crown: full-retirement. He died peacefully in his sleep Dec. 7, 2016. He was 76.
Joan Burd, a friend and fellow TWA worker shared a message, "Since yesterday was the 80th opening of Santa Anita Racetrack, I'm sure Bob was up there placing his bets. He never missed an opening day!"
Bob Von Gorres indicated he was an only child, born on April 23, 1940 in Bell, Calif., a suburb of Los Angeles. But family members later said he did have a brother. Beyond that, he didn't share much of his childhood. He had a passion for horses, which a family member said was passed down from his mother.  He even found work as a stable boy. Raised in a Catholic family, he attended Mt. Carmel High School. Then received his degree from the University of Southern California.
As a young man, Von Gorres was an amateur body builder, having won the Mr. Venice (Muscle Beach) title. Along the way, he served in the National Guard, and for a time worked in a mortuary, to which he commented was his "favorite job."
He got the first career break in the late 1960s, when he accompanied a friend to apply for a job at TWA Airlines. The chance opportunity led to Bob also filling out an application, and then being hired. He spent 11 years with TWA, from 1968 to 1979. A diligent worker, Bob rose through the ranks in the airline's sales division. His positive attitude, patience and people skills led to a supervisor position.
"Bob should have been the Pied Piper at TWA for he brought out the best of everyone whom he supervised," Jambrina wrote in her tribute.
Others at TWA described him in similar glowing terms: "caring," "a gentle soul," "he solved work-related problems in a tactful manner," and "a wonderful supervisor, always complimentary and supportive."
In the years after his TWA career, Von Gorres would regale stories of the job perks at the airlines. The parties, the free-flowing alcohol, the weekend flights across the country, living in the fast lane.
But as age 40 loomed and the airlines industry was in a state of flux, he returned to his first love, "horse racing."
Von Gorres had a longtime aspiration to be a race handicapper, and specifically for the Daily Racing Form, the country's preeminent horse racing guide. He had a brief stint with the Racing Form in the 1980s, providing copyediting. But the role left him disillusioned, with no "handicapping" role in sight, and so he left the publication.
In the mid-1980s, Von Gorres enrolled at El Camino College in Torrance, Calif. He studied journalism and became a diligent, if not great staff writer for ECC Warwhoop student newspaper. Being a staunch Republican, he engaged in many "friendly" Pro-and-Con articles with fellow staff journalists, among them editor Robert Murray.
His work ethic and sales background led ECC journalism adviser, Jolene Combs, to persuade him to become the Warwhoop advertising manager. It was a role that spun his career in a new direction, Von Gorres would later say.
When Murray was hired as Editor-in-Chief at the Gardena Valley News, he recommended Von Gorres as a sale agent to then GVN office manager, Fern Haning. Haning hired Bob in July 1989 to be a rep in the GVN's display advertising department.
Von Gorres would spend less than a year as a newspaper salesman, when he was promoted by then company president, Johnny Myers, to work the in the commercial sales division.
With his love of people, his sales talent and a new challenge before him, Von Gorres excelled at signing commercial printing accounts. He was able to bring in high schools and colleges from around the Southland to print their school newspapers with the company.
At the time of his passing, he was still doing commercial sales, and looking ahead to 2019 and his 30th anniversary with the GVN.
The horse-racing bug would always be a part of Von Gorres. With aspirations of handicapping (on the side), in 1991 he flirted with the notion of joining the newly-established "Racing Times." The RT, as the L.A. Times eloquently put in in a 1992 story, "was (created) to smash the monopoly" of the Daily Racing Form.
Von Gorres did not join the "Racing Times," which 10 months later folded.
He and a close friend had dreams of moving to Las Vegas and owning race horses. But those dreams stayed unrealized.
Bob liked to gamble, but avoided huge stakes — on the race track and in life. He dodged marriage on an occasion or two, preferring to remain unencumbered and a footloose bachelor. Bob was devoted to his church, St. Margaret Mary in Lomita, and to his cat companions, Zero, Zero 1 and Minus.
He was frugal with his money, to the point that he rarely purchased material items new. Even the cars he drove were picked up second-hand. Nobody could say how huge of a nest egg Bob had, but it was enough to make for a comfortable retirement.
He stayed in good health, as many of his friends remember. Up to the day of his passing, Von Gorres was active and mobile. He was working on attending journalism conventions in the spring of 2017, as he had done for more than a decade.
Friends saw him at TWA get-togethers this past year. He was as gregarious and fun-loving as ever during the 2016 Thanksgiving season. The Man with the Plan had not a care in the world.
Such a man deserved a peaceful passage to heaven, friends said. It wasn't in his plans perhaps, but as somebody commented, "it was God's plan."
"I just cannot believe Bob is gone, he was supposed to last forever," Judy Stegall, a friend commented in a tribute.
From Gayle Dean: "Sleep with the angels, dear friend."
Bob Von Gorres leaves behind many friends and relatives. He is preceded in death by his loving parents.
**
A viewing is planned for 5 p.m. Friday, Jan 13 at A.M. Gamby Funeral Home, 25001 Narbonne Ave., Lomita. Mass is at 10 a.m. Saturday, Jan. 14 at St. Margaret Mary Church, 25511 Eshelman Ave., Lomita. Interment will follow at Holy Cross Cemetery, 5835 W. Slauson Ave., Culver City. There will also be a reception in Gardena.