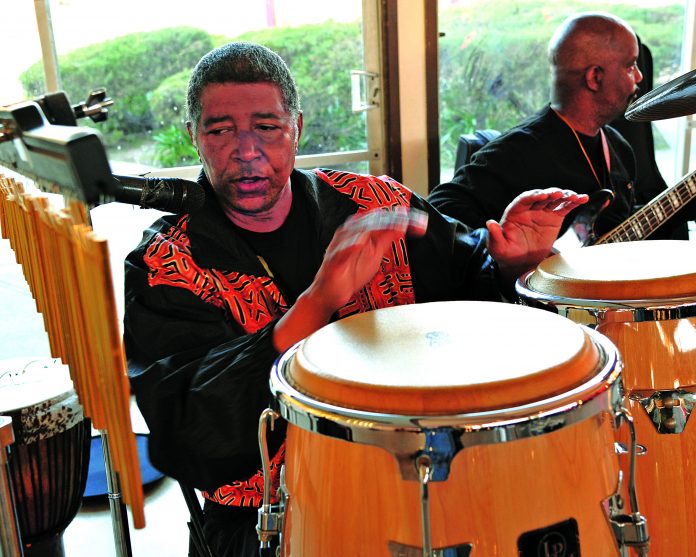 By Gary Kohatsu
COVID-19 has put a strain on classroom teaching of most subjects, but there are some courses that cannot transition to distance learning with success. Among the hardest courses to teach from afar are those in the technical field.
Phillip May, a Compton High tech instructor is faced with the challenge of teaching four levels of Engineering and Robotics, grades 9 to 12, through online conferencing.
Schools in the Compton Unified School District will begin classes Aug. 18, via distance learning.
May, a longtime Gardena resident, says he is taking the COVID teaching restrictions "day-by-day."
"For hands-on classes, you need a classroom or lab," May told the GVN this week. "There are classes such as ROP/CTE, music, lab-required class components, engineering, robotics, which need equipment, material and space. Many students are kinesthetic learners, hands-on learners; they will have a more challenging time maintaining focus learning the material."
Technical classes are part classroom lecture or theory, and part hands-on or lab classes. May worries that his students will absorb the theoretical lessons adequately, but lose interest with no lab environment to "build" their projects.
"The students will not get the full advantage of the engineering curriculum," he said. "It will be frustrating for me because I couldn't take the students to a higher education plane. Theory without practical application is just theory. To complete the theory the students need to build what they have designed."
May, 63, was born in Philadelphia, one of four boys born to Thomas and Dolores May. He attended elementary school in Philadelphia, then moved with his family to Los Angeles in the late 1960s, where he continued his education at Foshay Junior High and Manual Arts High School.
He went on to get his bachelor of arts degree at University of California, Santa Cruz, his MBA at the University of Phoenix, and engineering training at Cal Poly, Pomona and San Diego State. His teaching credentials were earned in the studies of engineering, business, computer application, building and construction, and Administration.
As a product of the '60s and '70s, during the pre-home computing boom, May has seen technology expand by volumes over the decades.
"Technology has grown by leaps and bounds, what seemed unimaginable is imaginable," he said. "Example, from TV tubes to tubeless and circuit boards, from saving information on a 5-1/4 floppy disc to saving to the Cloud, from encyclopedias to Google search engines, from human labor to robots. Class teaching and equipment has changed with the industry demand.
"But a positive and a negative electrical source is still the same," he mused.
May said the recipe for success in technology education is a "partnership" between schools and the business community. And an appreciation by school officials to attract qualified educators.
"Challenges to the schools are finding technically-trained, credential teachers at lower than an industry pay scale, funding and respect and relevance for industry standards," he said. "STEM (science, technology, engineering and mathematics) in education should be the norm, not the exception in schools. It's where the high-paying careers are, but looking across the schools landscape they are not there yet."
While the resources are available to take the teaching of technology to a high level, the downside is that most schools are not equipped for such advancements.
"The best advantages of teaching today is we have the equipment available which is industry standard," May said. "The biggest challenge is the lack of school's infrastructure to support the industry standard equipment and the overall academic and trade vision to support and train the next generation of innovators which support the business community."
He says it is difficult to say whether students today are more eager to learn tech-oriented studies as compared to the pre-internet counterparts.
'Items taught today were not available yesterday," he said. "Technology has evolved, new equipment has been manufactured. Learning evolves with time."
One area of current technology fascination is the drone and its variety of uses, May noted. The seeds of drone operation was developed in him decades ago.
"My involvement in drones came through its development on the commercial market," May said. "(When I was) about six years old I flew U-control planes and rubber band wind-up planes. As radio-control flying evolved, I started building and flying RC aircraft. Then came the evolution from helicopters to drones. I saw a multiple use for drones, such as air recon, photography, search and rescue, surveillance, and military usage and there market for drone operators."
He said that Bob Okita, a retired electrical engineer, volunteered his technical expertise in working with May's engineering classes.
"One day he brought his drone to the class, and being technical geeks the students and I were determined to design, build and fly one," May recalled. "Then, we discovered the professional aspects of building and flying drones besides the fun portion. One of the classes I teach is Aerospace Engineering and drones are incorporated into our curriculum."
Today, May owns more than a dozen drones and has constructed 10 "from scratch." He admits that consumer-commercial drones available are generally preferred.
"The commercial drones have proprietary system specific to the model and they work in conjunction within the system, most have better cameras and GPS systems," May said. "The commercial drones, you can take out the box and fly. Most are very user-friendly. But it's more fun to learn, build and fly what you have created."
May routinely uses drones for pleasure, as well as for professional means.
"I like to take aerial views, a different perspective of looking at" the world," he said. "I incorporate air footage in videos such as family and sports events. Also use it as an engineering teaching tool, electronics, wiring, soldering, power distribution, flight, etc."
He adds that he has written "social media reviews and a school justification for having a drone program incorporated into the curriculum."
While technology and teaching has helped May with his professional aspirations, he also has an array of side interests and accomplishments, including being an active member of the Hollypark United Methodist Church, a musician, an author and a civic activist.
"I must wonder if sporting events were taking place would the movement be as large," He said. "Many people had nothing to do, so their eyes were opened to the BLM movement. So it took a pandemic and a lockdown to see the injustice that many live with. Injustice and protest have been going on for years. I was born in the time of Jim Crow laws, I saw it firsthand. I have also been a victim of racial profiling and stereotyping in person and the professional environments."
May sees the Black Lives Matter movement as being meaningful because it crosses cultures and skin colors.
"Because America is watching a potentially new civilization may emerge in front of its eyes," he said. "The movement is multi-cultural as society moves in that direction, it has been moving but now the old guards are seeing it. Getting the message, some get caught-up like a sporting event rooting for their team, but this team has a deeper meaning. Society and beliefs will change because of the movement. If done properly society will be a move blended community with many stereotypes vanishing."
The following is a poem written by Phillip Raymond May.
Start the peace and stop the violence
Start the protest stop the riot
Today we shed a tear
For those who are not here
They're life has gone in vain
Tell me where is your shame
They paid the ultimate price
While denied their civil rights
One nation under God we stand
But it did not seem for every man
Start the peace and stop the violence
Start the protest stop the riot
We fought a civil war
So man could be free
But it has a different meaning
For you and for me
We marched for civil rights
So we could have voting rights
And a right to ride a bus
In a seat without a fuss
Start the peace and stop the violence
Start the protest stop the riot
Black, yellow, brown or white
We all have the right
To live in harmony
Free from tyranny
Together we are strong
Separate we will fall
As we sing, march and pray
Hear us we will not go away
Start the peace and stop the violence
Start the protest stop the riot