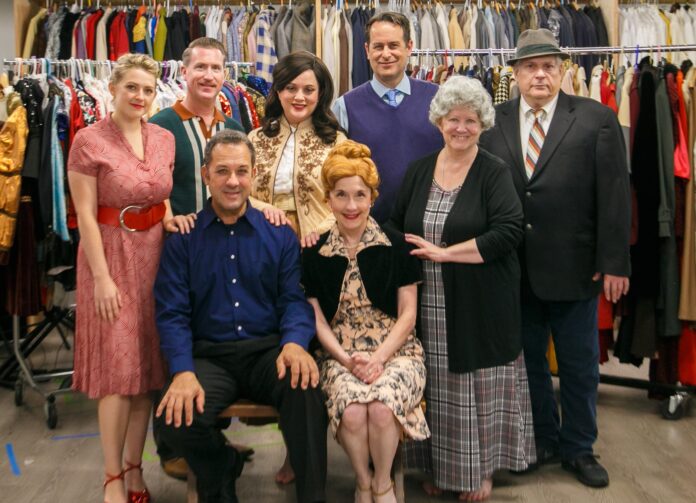 By Shari Barrett
Kentwood Players presents Ken Ludwig's hilarious backstage comedy MOON OVER BUFFALO opening this Friday, July 21 through Saturday, August 12, which centers on George and Charlotte Hay, fading stars of the 1950s who are playing "Cyrano de Bergerac" and "Private Lives" in rep in Buffalo, New York. On the brink of their break-up caused by George's dalliance with the young ingenue, they receive news that Frank Capra, the famous Hollywood director, is coming to town to see their matinee; and if he likes what he sees, he might cast them in his movie remake of "The Scarlet Pimpernel." 
But unfortunately for George and Charlotte, everything that could go wrong does go wrong, including a visit from their daughter's clueless fiancé and hilarious uncertainty about which show they are actually performing, caused by Charlotte's deaf, old stage manager mother who hates every bone in George's body. Hilarity ensues with numerous mistaken identities, slamming doors, much slapstick humor, and sexual innuendo filling their back-and-forth backstage banter!
Directed by Gail Bernardi and produced by Susan Goldman Weisbarth for Kentwood Players with rights secured from Concord Theatricals, the cast features (in alphabetical order) are Alison Boole, Marty Feldman, Matt Landig, Madeleine Masson, Lyndsay Palmer, Shawn Lefty Plunkett, Perry Shields, and Susan Weisbarth.  
Moon Over Buffalo performances take place on Fridays and Saturdays at 8pm, and Sundays at 2pm. Beginning July 29, Saturday matinees at 2pm will be added and continue through the rest of the run at the Westchester Playhouse, 8301 Hindry Avenue, Los Angeles 90045. Reserved seat tickets are $25 with a $4 discount for seniors and students, available by calling (310) 645-5156, online at www.kentwoodplayers.org, or by emailing the box office at boxoffice@kentwoodplayers.org. All box office emails and messages will be answered in the order received to confirm your ticket order. Group rates for 10 or more at $19 per ticket can be arranged with the box office. Any available tickets will be sold at the box office beginning a half hour prior to each performance. There will be a pay-what-you-can performance on Saturday, July 29 at 2 p.m. with reservations recommended. Masks are recommended indoors but not required.
Metro Train riders can take the K Line to Kentwood, exiting at the Westchester/Veterans station at Florence and Hindry, just a short one block walk from the Westchester Playhouse! Riders who show their Metro TAP card when purchasing a full price ticket at the box office will receive a $5 discount.
For drivers, there are two free parking lots available. The small lot next to the Westchester Playhouse is reserved for disabled patrons only. The Hensel Phelps parking lot at 8330 Hindry Avenue (across the street, next to the Metro train tracks) opens an hour before each performance, is locked when a performance begins, and reopens at the end of the show. Look for our parking lot greeter to welcome you. Free street parking is available on 83rd Street and in the adjoining neighborhood, but do not park on our block of Hindry. Please read all traffic and parking signs carefully.
For more information about Kentwood Players including auditions this weekend for the noir thriller AN INSPECTRR CALLS, please visit the Kentwood Players website at www.kentwoodplayers.org. You can also find Kentwood Players information on Facebook, Twitter, Instagram, TikTok and YouTube.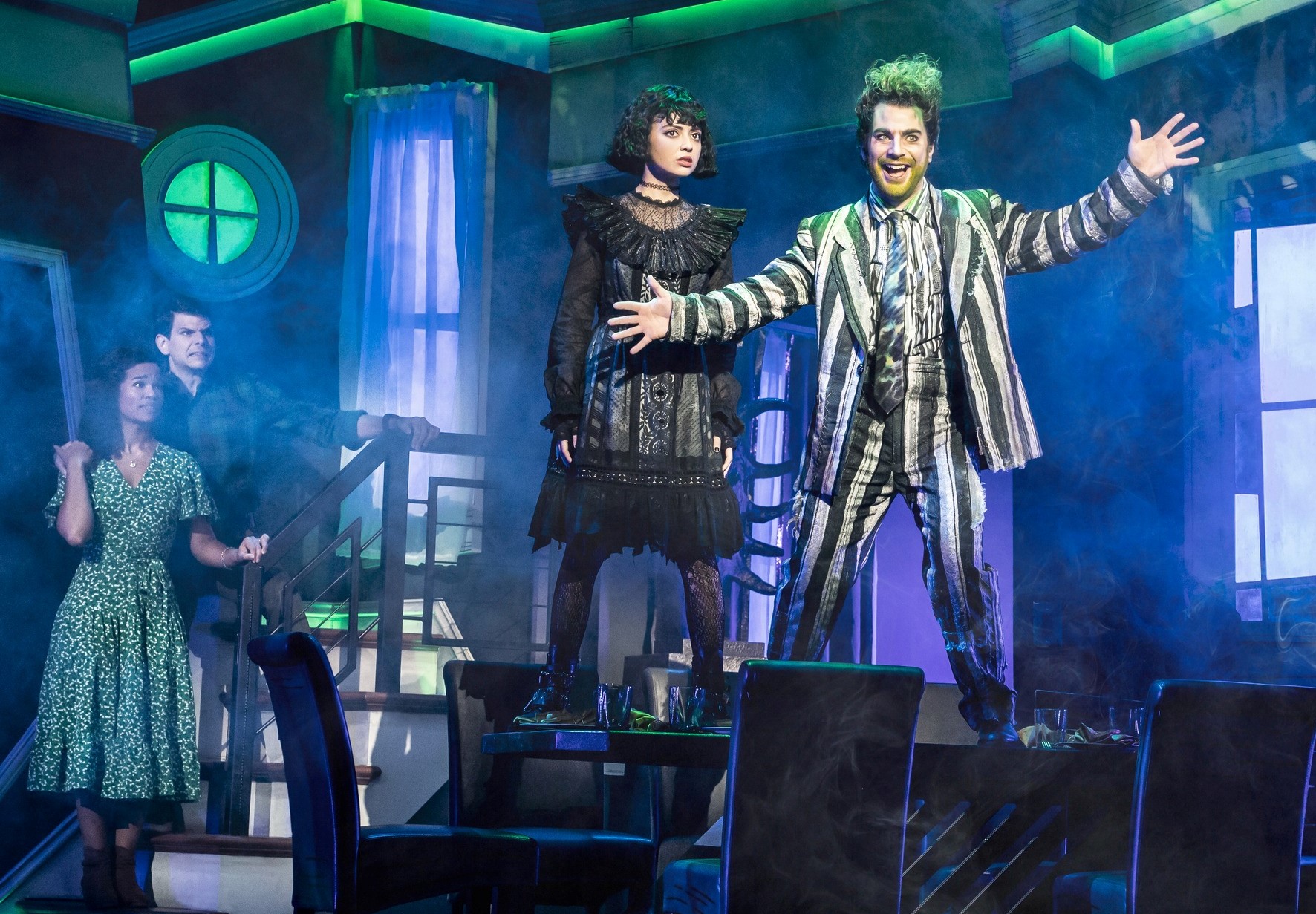 The edgy, irreverent, and hysterically funny Broadway smash hit musical comedy BEETLEJUICE, based on Tim Burton's dearly beloved film, was nominated for eight Tony Awards including Best New Musical in 2019. It tells the story of Lydia Deetz, a strange and unusual teenager whose whole life changes when she meets a recently deceased couple and a demon with a thing for stripes. Directed by Tony Award winner Alex Timbers with choreography by Connor Gallagher and music supervision by Kris Kukul, I guarantee that even if you have never seen the movie, you will certainly catch on to the story and enjoy all the crazy antics, idiosyncratic characters, fabulous triple-threat actors, and brilliant staging. 
The current touring company production at the Hollywood Pantages Theatre features Justin Collette, whose years of performing sketch/improv allows him to interact freely with audience members as he frolics around the stage as Beetlejuice; Isabella Esler, an impeccable actor and singer (and recent high school graduate) making her professional stage debut as Lydia Deetz; Broadway veterans Britney Coleman and Will Burton as Barbara and Adam Maitland; Jesse Sharp as Lydia's father Charles and Kate Marilley as his flashy girlfriend Delia; with stand-out solo performers Danielle Marie Gonzalez as Miss Argentina, Abe Goldfarb as Otho, Kris Roberts as Maxine Dean/Juno, Brian Vaughn as Maxie Dean, and Jackera Davis as the Girl Scout who unfortunately decides to sell cookies to ghosts inside a haunted house!
Laughs abound each time Beetlejuice pokes fun at popular musicals and cultural events, while his realization that finding love makes you feel alive will resonant with audiences. Lydia's love for her recently departed mother, to the point of entering the underworld to get her back, proves to be a brave move that brings her closer to her father after he follows her there.  
The multi-award-winning creative team that lifts this production to Broadway heights includes scenic design by David Korins; costume design by William Ivey Long; lighting design by Kenneth Posner; sound design by Peter Hylenski; projection design by Peter Nigrini; puppet design by Michael Curry; special effects design by Jeremy Chernick; hair and wig design by Charles G. LaPointe; and make-up design by Joe Dulude II.
Tickets are available for purchase at www.BroadwayInHollywood.com and www.Ticketmaster.com, by phone at (800) 982-2787 or in person at The Hollywood Pantages Theatre Box Office (visit website for box office hours.) Performances of Beetlejuice are Tue – Fri at 8pm, Saturdays at 2 p.m. and 8 p.m. and Sundays at 1 p.m. and 6:30 p.m. Please note, there is an added weekday matinee on Thursday, July 20 at 2 p.m. It will also be at Segerstrom Center for the Arts in Costa Mesa April 16-28, 2024. Tickets at www.scfta.org/events/2024/beetlejuice
And here's a musical for Monty Python, King Arthur, and Camelot fans! The Aerospace Players will be presenting the musical Monty Python's SPAMALOT with book and lyrics by Eric Idle and music by John Du Prez and Edri Idle at the James Armstrong Theatre, 3330 Civic Center Drive in Torrance 90503 from Friday, July 21 through Saturday, July 29. Directed by Jay Harbison, the Tony Award-winning musical contains many scenes from the 1975 film "Monty Python and the Holy Grail" and tells the legendary tale of King Arthur's quest to find the Holy Grail in a hilarious and outrageous manner! Tickets are $24 adults, $22 for seniors/students/children, available online at bit.ly/TAPmusical or in person at the James Armstrong box office or via phone (310) 781-7171. To purchase $20 group rate tickets for 10 or more, please email aerospaceplayers@gmail.com