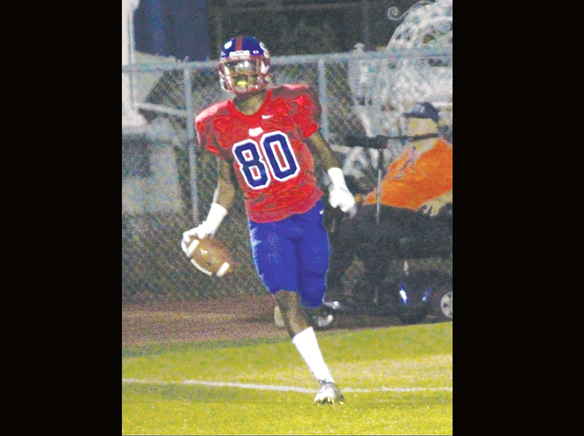 Last Friday's Mission League football game between host Serra and Loyola was in the air.
In the end, though, it was the Cavaliers, behind the arm of senior quarterback Jalani Eason and the hands of junior wide receiver Kobe Smith that helped Serra defeat the Cubs 41-30 in the Cavaliers' homecoming game.
Last Friday's Mission League football game between host Serra and Loyola was in the air.
In the end, though, it was the Cavaliers, behind the arm of senior quarterback Jalani Eason and the hands of junior wide receiver Kobe Smith that helped Serra defeat the Cubs 41-30 in the Cavaliers' homecoming game.
Eason had a big night completing 17 of 25 passes for 364 yards and three touchdowns, all of those to Smith. Among those was the go-ahead one from 30 yards out that gave the Cavaliers, who improved to 3-3 overall and 2-0 in league, a 34-30 lead with 9:25 left in the game and they never trailed from there. That was a play where Loyola's defense appeared to be on its way to sacking Eason before he let a pass get away and Smith caught it in the end zone.
After stopping the Cubs on downs at the Serra 38-yard line, the Cavaliers finished off Loyola by driving 62 yards in eight plays that was capped by Eason's 6-yard touchdown run for the final score.
"We made the plays in the clutch," Serra head coach Scott Altenberg said. "Kobe (Smith) is an outstanding athlete. When it mattered the most, he made monster plays. Eason made some errors early. From there, he played on and he was awesome."
Smith had 10 receptions for 191 yards and three TD's. Their first score from the combination of Eason and Smith gave the Cavaliers a 14-9 lead with 9:17 remaining in the second quarter on a 10-yard play. Later in the period, the two struck again, from 40 yards out for a 20-9 advantage with 7:04 to go before halftime.
Serra, though, had to contend with the Cubs' outstanding senior quarterback, Sean O' Malley. O'Malley passed for 364 yards and three touchdowns. His first scoring pass came with 11:17 remaining in the second quarter when he found senior wide receiver Jack Webster from 49 yards out that gave Loyola a 9-7 lead. With 1:32 left before intermission, he found senior Sinjun Astani for a 17-yard TD play, then Connor Beadles for a two-point conversion that cut the Cavaliers' lead to 20-17.
After a Serra interception, it took just one play and 21 seconds into the second half for the Cavaliers to up their lead to 27-17 on Eason's 13-yard scoring run. Eason rushed for 68 yards and two touchdowns on 10 carries.
The Cubs, who are 2-4 overall and 1-1 in Mission action, cut Serra's lead to 27-23 when O' Malley completed an 84-yard, 11 play drive with a one-yard sneaker and they took a 30-27 advantage when he completed a 55-yard touchdown pass to Tommy Vanis with 11:49 remaining in the game.
After Loyola scored first on a 32-yard field goal by Diego Cacho-Sousa, Serra took a 7-3 first quarter lead on a 6-yard TD run from running back Anthony Torres.
Serra hopes to improve league play to 3-0 when it hosts Notre Dame High from Sherman Oaks Friday at 7 p.m.
__________________________________________
Prep Football Roundup
Narbonne overcomes L.A. High
By Joe Snyder
Sports Editor
The defending CIF-Los Angeles City Section Division I and California State Division IA champion Narbonne High football team found out how tough it was against the L.A. City Section's Division II No. 1 ranked Los Angeles High was in a key non-league game last Friday at Narbonne.
The Romans, who were Division II runner-ups last year, gave the Gauchos all they could handled but Narbonne finally pulled through for a 13-6 victory.
After L.A. tied the game at six with 7:13 left in the game, the Gauchos started their successful drive. The drive began when Logan Taylor returned the kickoff to midfield. Narbonne had the ball at the Roman 26-yard line after a quarterback sack. Quarterback Jalen Chatman took a snap and scrambled with the ball before finding Tyrone Marshall in the end zone. Marshall made a leaping catch for the winning touchdown.
Chatman completed 14 of 22 passes for 180 yards and two TD's. Chatman, however, was intercepted four times. The Gauchos, in fact, were driving for a score before Chatman had his ball intercepted in the end zone by Javon Mitchell who returned the ball to the L.A. 16-yard line. The Romans took about 10 minutes from midway in the third quarter into the fourth before quarterback Isaiah Johnson tossed a 6-yard scoring pass to Berdale Robins to tie the game at 6-6.
Narbonne, which is 5-0, took a 6-0 lead with 1:52 to go in the first period on Chatman's 10-yard touchdown pass to Stephon Robinson.
For L.A., it was its first loss against four wins.
The Gauchos begin the Marine League at home against Gardena High Friday at 7 p.m.
West holds off Carson: After back-to-back lopsided non-league losses to top Bay League teams Redondo and Mira Costa, West Torrance High's football team was able to hang on for a 24-21 victory over Carson in their preseason finale last Friday at Carson.
The Warriors held a 24-14 fourth quarter lead but the Colts, who fell to 3-2, cut West's lead to three points when sophomore quarterback Jaja Bellinger found wide receiver Anthony Henderson for a 37-yard touchdown with two minutes left in the game.
Carson, then, recovered an onside kick and drove to the Warrior 2-yard line. Bellinger attempted to score on a 2-yard run but he fumbled away the ball and West was able to hold on.
The Warriors, also 3-2, took a 10-point third quarter advantage when quarterback Max Parish scored on a 14-yard run. Parish replaced West starter Drake Peabody, who left late in the second period still nursing an injury he had two weeks earlier against Redondo. Parish completed seven of nine passes for 72 yards and one TD. Peabody was 6-for-9 for 55 yards. He completed a 15-yard scoring pass to Kyle Reinach.
The Warriors open the Pioneer League in what could be a showdown at North Torrance Friday at 7 p.m. The Saxons, who are 3-2, had a bye last week after routing Morningside 56-13 on Sept. 23 at North.
The Colts will visit long time rival Banning in Wilmington in their Marine League opener at the same time.
Gardena falls to Newbury Park: Gardena High's football team enters the Marine League with a 0-5 record after being routed by host Newbury Park 52-7 in its non-league last Friday.
Things won't get any better for the Panthers in their Marine League opener. They open at powerful Narbonne Friday at 7 p.m. The Gauchos are 5-0 after topping Los Angeles High 13-6 last Friday at Narbonne.
Knights lose: Bishop Montgomery High's football team lost at home to St. Genevieve High from Panorama City 23-6 last Friday.
Quarterback Daniel Schubert scored the Knights' only touchdown on a 2-yard run. Bishop Montgomery mustered only 125 total yards on offense.
The Knights had fine defensive play by Nate Wecker,  Hamilton Kidd and Nnaemeka Nadozie with 12, 11 and 10 tackles, in order. Cody Coleman added one interception.
Bishop Montgomery, which is 3-2, opens the South Catholic League at home against Verbum Dei from southeast Los Angeles Friday at 7 p.m.
Torrance continues to struggle: Torrance High's football team is 0-5 after falling to Lawndale 56-10 in their non-league finale last Friday at Zamperini Field.
Ethan Meyers rushed for 57 yards and one touchdown on 20 carries for the Tartars. Eric Suarez carried the ball six times for 57 yards.
Torrance played without starting quarterback Ryan Carroll who was out with a concussion.
The Cardinals (2-3) were led by Jordan Wilmore who rushed for 202 yards and three touchdowns, all in the first half.
The Tartars hope to start the Pioneer League at Centennial High in Compton Friday at 7 p.m. Like Torrance, the Apaches are 0-5 after losing at Peninsula 43-6 last Friday. This should give Torrance a good shot at its first victory.
El Segundo rolls over South: The South Torrance High football team continued to struggle after being routed by host El Segundo 52-7 in their last non-league game last Friday.
The Spartans (1-4) open the Pioneer League at home against Leuzinger Friday at 7 p.m.
___________________________________
ECC Football
ECC can't hold late lead
By Joe Snyder
Sports Editor
El Camino College's football team rallied to take a brief lead with just 34 seconds left in the game before seeing Bakersfield quickly respond to pull off a 42-38 non-conference victory last Saturday at Murdock Stadium.
After trailing throughout nearly the entire contest, the Warriors, who fell to 2-3 after winning their first two games, took their first lead at 38-35 with just 34 seconds remaining when quarterback David Sills completed a 20-yard touchdown pass to Zaire Andre and things looked good for them.
The Renegades, however, quickly struck back. They had good field position at the ECC 47-yard line and, on the first play, quarterback Dalton Gallis connected with Derrick Vickers for a 46-yard pass giving the ball at the El Camino one. Vickers scored on a one-yard run with 13 seconds to go and Bakersfield pulled out the win.
The Warriors scored first as they drove 99 yards and scored when Sills found Johnnell Jackson for a 64-yard pass play on their first drive.
Bakersfield, however, scored 21 unanswered points that included taking a 14-7 lead early in the second quarter.
El Camino got within 21-13 after Sills connected with Mason Mulvihill for a 20-yard TD, then added a field goal to cut the Renegades' lead to 21-16.
Although Bakersfield led until 34 seconds to play, the Warriors had TD's on Sills' 12-yard pass to Trevon Dean and his five-yard run in the second half.
ECC begins the National Central Conference at South Bay rival Los Angeles Harbor College on Oct. 15 at 6 p.m. The Seahawks fell to 1-4 after falling short to host Santa Monica City College 34-31 last Saturday.
Harbor had a chance to pull out the game but quarterback Clayton Washburn's pass fell incomplete as time expired.
The game was see-saw and the Seahawks had a few brief leads before the Corsairs scored their eventual winning touchdown with five minutes left in the game.
_____________________________
Sports Scoop
Inspiring Rams are off to 3-1 start after edging Cardinals
By Joe Snyder
Sports Editor
After their regular season opening 28-0 loss to the host San Francisco 49'ers on Sept. 12, the Los Angeles Rams were able to put things together with three straight victories.
They failed to get a touchdown in their first two games, despite a 9-3 win in their home opener against the Seattle Seahawks on Sept. 18. However, their offense jelled that included five TD's in their 37-32 victory over the host Tampa Bay Buccaneers on Sept. 26 and pulling out a 17-13 win over the host Arizona Cardinals last Sunday at the University of Phoenix Stadium in Glendale, Ariz. last Sunday.
Last Sunday's victory over the always tough Cardinals would have to be their best win yet. In that game, quarterback Case Keenum was on the groove throwing for 266 yards and two touchdowns. He threw the winning TD of four yards to wide receiver Brian Quick with 2:36 left in the game. L.A.'s defense was able to hold down Arizona from there.
The Rams are glad they are back in Los Angeles, where they played for 49 seasons from 1946-94 before late owner Georgia Frontiere decided to move them to St. Louis. They won one Super Bowl in St. Louis in the 1999-2000 season but, from there, they have not enjoyed much success.
L.A. has played good defense but they are seeing signs of an improving offense. If they keep things up, look for the Rams to make the playoffs for the first time since 2004.
The Rams play their second home game of the season against the Buffalo Bills next Sunday at 1:25 p.m. They could have a shot at even going 6-1 after seven games as they visit the Detroit Lions on Oct. 16 and coming home to face the New York Giants on Oct. 23. After a bye, though, they will have their hands full with a game against last year's Super Bowl runner-up Carolina Panthers on Nov. 6.
Look at L.A. to show enough improvement to get to the playoffs. Super Bowl hopes, however, appear to be a few years away after the Rams move to their new stadium in Inglewood.
Dodger postseason hopes: On Sept. 25, Vin Scully called his final game at Dodger Stadium and he got the gift when Charlie Culberson hit a walk-off solo home run in the bottom of the 10th inning that gave the Dodgers a 4-3 victory over the Colorado Rockies.
From there, they were hoping for home field advantage in the National League Divisional Series against the Washington Nationals that begins Friday in Washington, D.C. Unfortunately, they fell to 1-5 on the road that included being swept by the host San Francisco Giants after a 7-1 loss last Sunday. It was Scully's final call at Dodger games after 67 seasons that goes way back to their days in Brooklyn, N.Y. in 1950. Scully had a great career and will, no doubt, be one of the most remembered commentators in sports history. The Giants even put a plaque remembering Scully in the visitors' radio-television commentating room at AT&T Park.
Another broadcasting legend also retired last Sunday in San Diego Padres' Dick Enberg. Enberg was also a commentator for the California (now Los Angeles of Anaheim) Angels for several years from the late 1960's through the 1980's. Enberg also called the Rams NFL games and UCLA sports.
Meanwhile, the Dodgers, who ended their regular season at 91-71 in winning the National League Western Division title, did a lot better than expected. Things were also looking bleak for them in losing key pitcher Zach Grienke to the Arizona Diamondbacks in the free agent draft. Then, a rash of injuries came that included ace Clayton Kershaw being out for about two months. During this season, the Dodgers had a franchise record 27 players on the disabled list. With all of that, one would believe that they would have had about the same record of the Angels, who finished fourth in the American League Western Division at 74-88. Like the Dodgers, the Angels were also plagued with injuries. It's just the players, many of them having to be brought up from their farm system, were able to believe in themselves and feel confident that they could do it.
They were, at one time, trailing the rival Giants by eight games in late June before a big stretch over the summer that helped the Dodgers lead by as many as eight games. San Francisco, though, was also plagued with injuries and is getting the players back. The Giants already won World Series titles in three consecutive even number years in 2010, 2012 and 2014 and they clinched a wild card berth with their sweep of the Dodgers last weekend. They could do it, again. The Chicago Cubs, as of now, are the National League favorites and are seeking to win their first World Series crown since 1908. Eight years ago, the Cubs had the National League's best regular season record only to be swept by the Dodgers in the Divisional Series. The Dodgers lost in the NLCS to the eventual World Series champion Philadelphia Phillies.
This year, the Dodgers had problems with their offense against left handed pitchers going 22-24 against them. Look for the Nationals to use, at least, mostly left handed pitchers in their playoffs against the Dodgers. They will definitely have to improve on their offensive consistency if they want to win their first World Series crown since 1988. Chances appear to be bleak for them to even get past the Nationals; despite the Dodgers taking five of six games from them during this season. They will have to turn things around from what they did in their recent past playoffs.