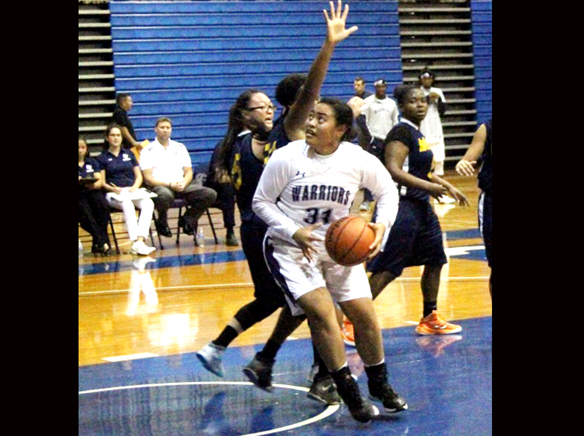 El Camino College's women's basketball team won its South Coast Conference opener over Los Angeles Harbor College 73-42 on Jan. 20 at ECC, then traveled about five miles northwest and rolled over host L.A. Southwest 79-50 last Friday.
Against Harbor, the Lady Warriors led by just eight (29-21) at halftime, then blew the game wide open by outscoring the Seahawks 44-21.
El Camino College's women's basketball team won its South Coast Conference opener over Los Angeles Harbor College 73-42 on Jan. 20 at ECC, then traveled about five miles northwest and rolled over host L.A. Southwest 79-50 last Friday.
Against Harbor, the Lady Warriors led by just eight (29-21) at halftime, then blew the game wide open by outscoring the Seahawks 44-21.
Meghan Peneueta led ECC with a game-high 20 points that included four three-point baskets. Kyla Jolly added 19 points; Kourtney Noa contributed 12 points and 12 rebounds; Ronice Williams chipped in 10 points and Krika Rivera finished with eight points and 15 rebounds.
Harbor was led by Channon Carter Pagli with 11 points.
Against Southwest, Peneueta had 16 points and nine rebounds. Elise Allison put in 16 points; Noa tallied 12 points and Michelle Sroczynski totaled 11 points.
The Cougars were led by Taiana Puleka with 16 points.
After falling to Harbor 66-46 on Jan. 20 at ECC, the Warriors bounced back to outlast host Southwest 84-80 on Friday.
Da Koda Lacey and Isaiah Armstead combined for 49 points to key El Camino to a 1-1 South Coast Conference record and 4-15 overall. Armstead led the Warriors with 25 points and Lacey tallied 24.
Franklin Sadler sparked the Cougars (0-14, 0-2) with 19 points.
ECC had a miserable showing against rival Harbor. The Warriors had a poor shooting game that included going just 6-for-20 (30 percent) from the free throw line. El Camino also had 28 turnovers.
"We have a young team," ECC head coach Robert Uphoff said. "We lost key players who were injured or ineligible. Our free throws were atrocious. We got to improve on our free throws and cut down on turnovers."
El Camino had no players in double figures as it was led by Dreymon Jones and Jason Ball with nine points, apiece.
The Seahawks were led by former Gardena High standout Dushone Brown who led all scorers with 30 points, 22 of those in the second half.
The Warrior men and women will visit Cerritos College Friday. The women's game begins at 5 p.m. and the men will tip off at 7 p.m.
____________________________________________
Serra boys tops St. Bernard; Narbonne routs Gardena
By Joe Snyder
Sports Editor
Serra High's boys' basketball team improved its Del Rey League record to 2-1 with a 73-65 win over host St. Bernard last Friday.
In the Martin Luther King, Jr. Showcase Classic on Jan. 18 at Los Angeles Center of Enriched Studies (LACES), Serra fell short of Calabasas 60-56.
Serra will have some tough games this week. The Cavaliers will have a rematch at Bishop Montgomery in Torrance Friday at 5 p.m. The Knights continue to remain unbeaten at 19-0 overall and 4-0 in league after crushing Cathedral of L.A. 99-60 on Jan. 20 at Bishop Montgomery. Bishop Montgomery will face Chino Hills in a matchup between the top two teams in California, according to Maxpreps, in the Fairfax State Preview Showcase Classic on Saturday at 7 p.m. at Cerritos College.
Serra, meanwhile, is also in the Fairfax Showcase where it will take on a very good Santa Monica team, which is currently 17-2 overall and dominating the Ocean League at 4-0 and winning those games by an average of 27 points, Saturday at 2 p.m. The Vikings are led by Jonah Matthews. Jonah's older brother, Jordan, is currently playing at University of California. He keyed Santa Monica to the CIF-Southern Section Division IA and Southern California Division I championships three years ago. Due to Jordan's injury, the Vikings lost in the California State Division I final.
The Cavaliers return to Del Rey action at Cantwell-Sacred Heart in Montebello next Wednesday at 7 p.m. The Knights will host St. Bernard at the same time.
Gardena began the Marine League at 3-0 but ran into a complete concrete wall at Narbonne as the Gauchos humiliated the Panthers 79-42 on Jan. 20.
The Panthers, who are 11-8 overall and 3-1 in league, hope to get back on the winning track as they hosted San Pedro on Wednesday, visit Washington Friday at 7 p.m. before coming home to face Carson next Monday at 5:30 p.m. Gardena, then, visits King-Drew Medical Magnet in Willowbrook next Wednesday at 5:30 p.m.
___________________________________________
Lady Cavs are on a roll after three wins
By Joe Snyder
Sports Editor
Serra High's girls' basketball team is getting it on after three straight victories over Bishop Amat, Bishop Montgomery and Long Beach Millikan last week.
At Bishop Amat in La Puente on Jan. 19, the Cavaliers rolled over the Lancers 72-32. At Serra last Thursday, Serra breezed past rival Bishop Montgomery 78-62. In a non-league game at the Narbonne Showcase last Saturday, the Cavaliers routed Millikan 76-48.
Returning senior point guard Briana Johnson has been on fire all last week. She keyed Serra, which improved to 14-7 overall and 3-0 in the Del Rey League, with 28 points in its win over the Knights on Thursday. Johnson also scored 22 points against Bishop Amat and had 23 points and seven steals against Millikan.
Perhaps the Cavaliers' biggest contest of the week was against the Knights, who are also enjoying a very good season with some impressive victories. Serra constantly pressured the Knights, especially in the first half where they surged out to a 44-21 lead.
Bishop Montgomery (2-2 in league) bounced back and crawled as close as 10 points but Serra got its good plays going on to increase its lead to as many as 21 points and coasted past the Knights. Besides the strong play of Johnson, the Cavaliers also had 15 points by Daeja Banner and 10 from Delauna Thomas.
The Knights were led by Jessica Malazarte with 20 points. Samantha Isuzaki added 16 points. Kayla Padilla put in 14 points and Sophia Carroll tallied 11. Just one other Knight, however, scored compared to seven for the Cavaliers.
"We did a great job at pressuring them, especially in the second quarter," Serra head coach McKenzie Hadley said. "Bishop Montgomery came out after halftime and cut our lead to 10 but their intensity raised ours'."
At Bishop Amat, Serra's defense clamped down on the Lancers in taking a 34-16 halftime lead. The Cavaliers continued to dominate in the second half.
Thomas chipped in 10 points and five rebounds, and Lauende Laporal hauled down eight rebounds.
The Cavaliers were faced with a challenging squad in Millikan, which is one of the top teams, along with powerful rival Long Beach Poly, in the Moore League. Serra, though, dominated the Rams in leading 61-23 after three quarters, before coasting to the easy win.
Brooke Bayman finished with 15 points. Cheyenne Givens had 13 points, and Laporal and Rachel Duru pulled down 13 and 10 rebounds, respectively.
Serra will host St. Paul High from Santa Fe Springs tonight at 7 p.m. and continue at home against Bishop Amat next Tuesday at the same time in league games.
___________________________________________
Sports Scoop
Lions South Bay All-Star Football Classic plays Friday
By Joe Snyder
Sports Editor
Several local prep football players will vie in the 52nd Annual West Torrance Lions All-Star Football Classic on Saturday at 6 p.m. at Mira Costa High in Manhattan Beach.
It will be between the Red all-stars versus the Blues. The Blue squad will be head coached by Ed Hodgkiss, who guided Bishop Montgomery High to the South Catholic League championship last fall. Quarterback Brendan Marafino and Patrick Smith will represent the Knights.
A key player from Narbonne, which won the CIF-Los Angeles City Section and the CIF-State Division IA crowns is King James Taylor. The Gauchos ended their season at 14-2. They rolled over Crenshaw 57-21 for the City championship in Dec. 5 at Cerritos College and defeated Clayton Valley Charter 28-14 on Dec. 19 at Sacramento State University to become the first L.A. City Section squad to win a state crown and the first from the district since Manual Arts won over Bakersfield in 1917.
For the Reds, who will be head coached by Lawndale's Travis Clark, Serra will be represented by wide receiver Isaiah Diego-Williams, who helped the Cavaliers to a 9-3 overall record and the co-Mission League title with La Puente Bishop Amat, although Serra got the better end when it edged the Lancers 41-38 on Oct. 16 at Serra. A few other Serra players are expected to play.
There will also be some players from Gardena on the Blue squad. North Torrance, which, led by Under Armour All-Star player Mique Juarez, will have a few representatives but not Juarez, whose college choices are narrowed to UCLA, Alabama and Mississippi. The Saxons had the better end of a co-Pioneer League championship with cross town rival and 2014 league champion West Torrance. North lost to Mira Costa 35-21 in the CIF-Southern Section Western Division quarterfinals on Nov. 20 in Manhattan Beach. The Saxons defeated the host Warriors 35-17 in head-to-head competition on Oct. 16.
West Torrance, South Torrance, Torrance and Carson will have representatives.
The contest could be played in rain, which, as of last Sunday's news, was forecasted for Saturday and Sunday.
National College Signing Day coming: Next Wednesday will decide where, at least, most of this past season's top high school senior football players will be going. It's National Signing Day.
North Torrance High standout Mique Juarez, who was already the Player of the Year in the CIF-Southern Section Western Division, the Los Angeles Times and the South Bay Daily Breeze, originally was headed to University of Southern California before the firing of head coach Steve Sarkesian. He is currently down to UCLA, University of Alabama and Ole Miss (University of Mississippi) although the latest sources are that he could be leaning to Alabama. We should find out by Wednesday. Jim Mora and the Bruins would love to have him. It would fit in well as UCLA's men's basketball team is currently expected to receive Chino Hills High star Lonzo Ball, already ranked one of the top prep boys' basketball players in the United States.
One of the South Bay's other dominating stars, Serra High's Khalil Tate, is expected to sign at University of Arizona while Oluwole Betiku, the Cavaliers' four-star defensive end, committed to University of Southern California after de-committing from rival UCLA in October.
All-CIF SS Football Announced—The All-CIF-Southern Section Football teams were announced last week.
North Torrance's Mique Juarez was named the Western Division's Defensive Player of the Year as a linebacker. Juarez played both ways, starting at quarterback on offense. Juarez was like several players in one, also excelling on special teams. Juarez is considering Alabama, Mississippi and UCLA and is expected to sign at one of those universities on Wednesday, the National Signing Day.
The Saxons, who had the better end of a tie with West Torrance for the Pioneer League title, also landed  Justin Allmond, Juarez's prime receiver, and Kevin Ali'ifua.
On the PAC Five, Serra, the Mission League co-champion, had quarterback Tate on the offensive team, while Betiku, Blake Walls, Brandon Burton and C.J. Pollard made it on defense.
South Catholic League champion Bishop Montgomery had Patrick Smith, Bernard Amofa and Bryce Matthews make the all-Northwest Division team.
State Preview Showdown—There is, without doubt, a big reason for the State Preview Showcase that Fairfax High of L.A. will host on Saturday at Cerritos College, and it is a good reason why it was moved there.
According to a Maxpreps poll, Chino Hills and Torrance Bishop Montgomery are ranked No. 1 and 2, in order, in California. The two schools are also the top two in Greater L.A. by the L.A. Times. The two schools will square off at 7 p.m. in the big highlight game. Sources are that it is expected to be televised on the Time Warner Community Channel.
The entire Knight starting lineup is underclassmen, led by two of the United States' premiere juniors in forward Jordan Schakel and guard Ethan Thompson, younger brother of current Oregon State University freshman Stephen Thompson, Sr. and son of Beaver assistant coach Stephen Thompson, Sr.  Thompson, Jr., in fact, scored 11 points in Oregon State's 85-70 home win over USC  last Sunday. There is also nationally rated sophomore guard David Singleton.
The Huskies, also the top ranked team in the nation by Maxpreps and USA Today, have four Ball brothers, all who have committed to playing for Steve Alford and UCLA following their prep careers. That includes senior Lonzo Ball, junior Li Angelo, sophomore Andre and freshman La'Melo. Chino Hills has height behind two 6-foot-9 players in senior Shane Hopkins and freshman Onyeka Okongua.
Playing at the 1,200-seat Fairfax gym will make it too crowded. Playing in the 2,500-seat Cerritos College pavilion is much better. Last year, Bishop Montgomery, which won the CIF-Southern Section Open Division crown, hosted Santa Ana Mater Dei at Redondo High's 2,500-seat gym and it was packed. The Monarchs went on to eliminate the Knights from the Southern California Regional Open Division playoffs 65-59 and won the regional title over L.A. City Open Division champion Fairfax. Mater Dei, though, saw its four-year CIF-State Champion streak come to an end with a 65-64 overtime loss to Oakland Bishop O' Dowd.
It's a great preview. This will be expected for the championships in the CIF-Southern Section and Southern California Open Divisions but don't count out the likes of Chatsworth Sierra Canyon, Redondo, Mater Dei, Westchester, Fairfax, Encino Crespi or other top teams.
Chino Hills already played one of the South Bay's other top squad in Redondo and defeated the Sea Hawks 96-80 for the Maxpreps Holiday Classic title on Dec. 30 at Rancho Mirage High in Palm Springs.
Meanwhile, Westchester has the long end of being ranked No. 1 in the CIF-L.A. City Section after topping host Fairfax 53-47 on Jan. 20. Don't count out Narbonne, either. The Gauchos already own a win over Fairfax earlier this season and, like their football team, blowing out the rest of the Marine League including wins of 89-46 over San Pedro and 79-42 against Gardena last week. Narbonne's boys seem more like what the school has been used to with its girls over the past several seasons. The Lady Gauchos are rebuilding with three freshman starters and already have league losses to Carson and Washington.