By Brett Callwood
The Pacific Square Shopping Center is one of Gardena's jewels. A score of wonderful eateries that take in Japan, Korea, China and Thailand, plus awesome stores, bakeries, etc. This writer could spend all day browsing and eating, then repeat.
This week, we opted to dine at Japanese restaurant Fukagawa, and it was immediately noticeable that, on a Monday lunch time, the diners all seemed to be Japanese. That's clearly a great sign, and the food didn't let us down.
The staff cheerfully greet us immediately after we enter, and seat us incredibly quickly. Before we know it, a delicious hot tea is in front of us, steaming in a heavy clay mug, and we feel comfortable and soothed. 
It's also worth noting that the restaurant has a section with bookshelves filled with manga comic books so those dining alone, or perhaps with kids, have awesome reading material to keep you and your little ones occupied.
Choosing from the lunch menu (they encourage diners to browse online, but they do have paper copies in case of emergency), we opted for the Special Fish Combo, and chose the salmon option.
It's wonderful too. It arrived on an immaculate tray, each item in its own little bowl or plate. A fresh green salad in a light but tasty dressing is way more delicious than it has any real right to be. The soba noodles (which we chose over udon noodles), made with buckwheat, are thick and earthy, and yummy when dipped in the miso soup.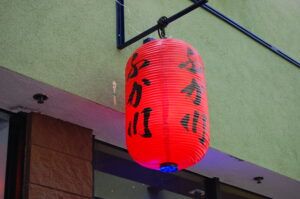 That soup, incidentally, is fairly standard miso, though still good with the seaweed and onions in there. Like the tea, the miso really soothes the stomach. We didn't finish the noodles, or the steamed white rice – it just felt like too much carb. But there was certainly nothing wrong with the way they were cooked. 
The Japanese pickles were great too – just a small dish of gloriously sour vegetables, notably cucumber and carrot. Meanwhile, the four slices of California roll are not the most adventurous examples of sushi, but they're still delightful when dipped in the soy sauce and wasabi. 
We've saved the best for last though. The grilled salmon, sat next to a pile of shaved radish, is perfect. The skin is crispy and oily, the meat moist and not at all dried out. It's so good, and healthy too. A forkful of the salmon and radish makes for the perfect combo.
Overall, we'd be happy to eat at Fukagawa, although to be honest, the next time we're at the Pacific Square Shopping Center, we'll probably be trying somewhere different just for the variety. 
Pacific Square Shpg. Center 1630 W. Redondo Beach Blvd. Suite 6