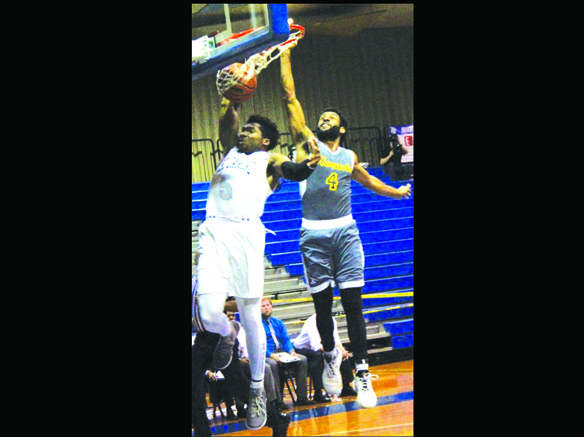 El Camino College's men's basketball team got off to a good start but it met its match in a non-conference game against Fullerton College on Dec. 21 at ECC.
The Hornets broke open a close game with a 31-8 run and went on to rout the Warriors 98-76.
El Camino College's men's basketball team got off to a good start but it met its match in a non-conference game against Fullerton College on Dec. 21 at ECC.
The Hornets broke open a close game with a 31-8 run and went on to rout the Warriors 98-76.
Fullerton, which improved its record to 10-2 and is ranked No. 4 in California, took a 50-41 halftime lead but the Warriors were able to get as close as 60-56 with about 14 minutes left in the game. That's when the Hornets let loose for the run preventing ECC from any hopes to pull the game out. Fullerton's run led to a 91-64 bulge with 4:35 remaining in the contest and El Camino, which fell to 8-4, was unable to get any closer to within 18 points.
"Right now, we're having some key injuries," ECC head coach Robert Uphoff said.
Out of the contest was key point guard Brandon Guerrero who has a sprain. He is expected to get X-rays and looks to be back soon.
The Warriors were led by Kewhoon Powns and Jamal Heckard with 17 points apiece.
Fullerton's balanced attack was sparked by Dezmond Rowen with 17 points.
El Camino started out winning its first three games and six of its first seven, but managed to win only two of its last five contests.
The Warriors will not play until Jan. 6 when they open the Cuesta Tournament in San Luis Obispo against Mt. San Jacinto College.
Uphoff expects a tough conference for ECC, which includes state ranked Compton and Cerritos.
________________
Sports Scoop   Year in Review
2016 had a variety of happenings
By Joe Snyder
Sports Editor
As in other recent years, time has gone by very fast but, as in other years, there were highs and lows, celebrations and tragedies.
Perhaps the most stunning news happened on Nov. 25, following Thanksgiving. That was when Serra High boys' basketball coach Dwan Hurt died in his sleep at the age of 53 years old. It happened only a week before the Cavaliers were to begin their 2016-17 season with a non-league game at Inglewood High.
Hurt enjoyed a lot of success with Serra. He had 16 league championships, eight CIF-Southern Section titles and two CIF State crowns. He won state titles in 1993 (Division IV) and 2010 (Division III). His 27th and final season saw the Cavaliers win their eighth CIF-Southern Section Division IVAA championship with a 53-50 win over Notre Dame High from Sherman Oaks on March 4 at Azusa Pacific University. Serra placed third in the highly competitive Del Rey League, led by champion Torrance Bishop Montgomery that advanced to the Southern California Regional Open Division finals before falling to eventual state champion Chino Hills, but bounced back for the Division IVAA crown. The Cavaliers ended up losing in the regional semifinals to eventual California Division IV champion Studio City Harvard-Westlake.
Hurt was involved in more than sports at Serra. He was also the Dean of Students and an outstanding teacher.
Immediately following Hurt's death, assistant Bernard McCrumby was named as head mentor but the Cavaliers are off to a slow start at 1-6. They hope they can improve as the season goes on.
Announced during Hurt's funeral on Dec. 10 at St. Catherine Labour Church in Torrance, the Serra High gym was named after Hurt.
With an all underclassman starting lineup, behind sophomore David Singleton, and juniors Ethan Thompson and Jordan Schakel, Bishop Montgomery had one of many outstanding seasons but had to run into Chino Hills, behind the Ball brothers. One of those was Lonzo, who is one of the keys to UCLA's current 13-0 start and No. 2 ranking in the NCAA entering Wednesday's (Dec. 28) PAC 12 opener at No. 20 ranked University of Oregon, which currently has a nine-game winning streak. The Knights lost to the Huskies 84-62 in the Southern California Regional semifinals.
Currently, Bishop Montgomery is off to an 8-1 start after winning the Westchester Tip-off Classic over the host Comets on Dec. 3 and two wins in the Mission Prep Classic which went on last week. Bishop Montgomery, along with Chatsworth Sierra Canyon (top ranked in the United States by Maxpreps), Chino Hills, Oakland Bishop O' Dowd and Santa Ana Mater Dei, will be a top contender for the state Open Division title.
Gardena enjoyed a good season after tying for second place with Washington in the Marine League and advancing to the CIF-Los Angeles City Section semifinals where it fell to Hamilton in late February at the Roybal Learning Center in Downtown L.A.
Serra continued to have an outstanding year in track and field, especially with the girls. They had their 4×100-meter relay team win the state title.
North Torrance High's softball team enjoyed a banner 2016 season by capturing the CIF-Southern Section Division IV championship with a 5-0 shutout of cross town rival Torrance in the final on June 4 at Deanne Barber Park in Irvine.
The Cavaliers' football team continued to excel in the Mission League, winning an outright title. Serra, though, played in the newly revamped CIF-Southern Section Division I against Santa Margarita from the highly prestigious Trinity League. The Eagles, who were in the league with nationally ranked Bellflower St. John Bosco (eventual California State Open Division champion) and Mater Dei, eliminated Serra 27-14 on Nov. 11.
The Cavaliers had a fine performance from senior quarterback Jalani Eason, who was an outstanding passer and runner.
Under first year head coach David Austin, Gardena High's football team more than suffered a 0-10 season. The Panthers were shut out in all five of their Marine League games by a total score of 255-0, an average score of 51-0.
Gardena had an outstanding season by their girls' tennis team that went 17-5 overall, finishing second in the Marine League behind champion Narbonne. Playing in Division I, though, the Lady Panthers fell in the first round.
Meanwhile, former Serra High standout football and track and field athlete Adoree Jackson enjoyed an outstanding junior year with the University of Southern California football team, receiving all-American honors in every sports publication and organization. Jackson also won the Jim Thorpe Award as the NCAA Major College Division's top defensive back. Jackson regularly plays cornerback but still sees some action as a wide receiver.
In USC's regular season finale 45-27 win over top non-conference rival Notre Dame on Nov. 26 at the L.A. Memorial Coliseum, Jackson scored a touchdown each as a receiver, on a punt and kickoff return.
Jackson and the Trojans take on Penn State in the Rose Bowl next Monday in Pasadena and hopes to lead USC (9-3) to its ninth straight victory.
Last summer, L.A. welcomed the return of the Rams. The Rams played in L.A. at the Coliseum from 1946-79 and Anaheim (now Angel) Stadium from 1980-94 before spending 21 seasons in St. Louis. Rams owner Stan Krownke opted to bring the team back to L.A.
Things looked promising at the start of the season as the Rams were 3-1. Lack of offense, however, eventually spelled the downfall of the team that lost nine of its last 10 games and led to the firing of seventh year head coach John Fisher. Interim coach John Fassel did not fare any better as the Rams lost at Seattle 24-3 on Dec. 15.
The Rams are seeking a new head coach for next season.
Kobe Bryant's final season with the L.A. Lakers was not a good one, finishing its worst franchise season at 17-65. Bryant, though, closed his 20-year National Basketball Association career, all with the Lakers, with a bang scoring 60 points in their 2015-16 season finale 101-96 win over the Utah Jazz on April 13 at the Staples Center.
The best by a professional L.A. team was a Women's National Basketball championship by the Sparks early last month. The Sparks edged the host Minnesota Lynx 77-76 for the crown behind Candice Parker.
__________________________________
Prep Boys' Basketball Roundup
Serra's slow start continues after losses at Mission Prep
By Joe Snyder
Sports Editor
Serra High's boys' basketball team saw its preseason record fall to 1-6 after opening the Mission Prep Tournament with losses to Santa Maria St. Joseph and Peninsula last week.
In the first round against St. Joseph on Dec. 19, the Cavaliers lost 73-64. In the consolation quarterfinals on Dec. 21, Serra was routed by the Panthers 77-57.
In the first round, Serra stayed close trailing by four points (47-43) after three quarters. Hot shooting St. Joseph, though, scored 26 points to 21 for the Cavaliers in the fourth period to pull away.
Peninsula, which should be a top contender for the Bay League championship along with defending four-time league champion Redondo and Inglewood, jumped fast on Serra. The Panthers raced to a 45-23 halftime lead. The second half was played more evenly but the big halftime deficit was too much to dig out of.
The Cavaliers played two more games at Mission Prep and are currently playing in the Visit Mesa Tournament in Mesa, Ariz. that started last Tuesday and lasts through Friday.
Serra will have its home opener at the newly re-named Dwan Hurt Memorial Gymnasium against North Torrance next Wednesday at 7 p.m.
North tops Culver City: North Torrance High's boys' basketball team improved to 7-4 with a 72-62 home win over Culver City on Dec. 21.
The Saxons were led by David Colclasure with 14 points and eight rebounds. Kyle Baba and Alex Ezeani added 12 points apiece. Abdul Ahmad chipped in 10 points.
Gardena: Gardena High's boys' basketball team is currently playing in the San Pedro Pirate Shootout where it opened last Monday against West Adams Prep.
The classic runs through Friday.
Following New Year's Day on Monday, the Panthers will play in the Granada Hills Kennedy Round-Robin Classic where they open against Grant High from Van Nuys at 4 p.m.
A day later, Gardena faces host Kennedy at 7 p.m. Next Wednesday, the Panthers take on North Hollywood at 4 p.m. and next Thursday against Verdugo Hills at the same time.
Knights roll to Mission Prep title: Bishop Montgomery High's boys' basketball team romped to the Mission Prep Tournament championship by defeating El Camino Real High from Woodland Hills 67-45 on Dec. 21 in San Luis Obispo.
The Knights began the classic by downing Kingwood Christian Life 76-61 on Dec. 17. On Dec. 19, Bishop Montgomery throttled Brethren Christian 57-26. In the championship semifinals on Dec. 20, the Knights rolled over host Mission Prep 74-38.
Bishop Montgomery (8-1) is currently playing in the Division I Bound Christmas Classic where it opened against Bernstein High from Hollywood last Tuesday at Dorsey High. The tournament runs through Friday.
The Knights' next game, after that, is in the Jordan Brand Take Flight Classic against Santa Monica on Jan. 6 at 2:30 p.m. at Redondo High.