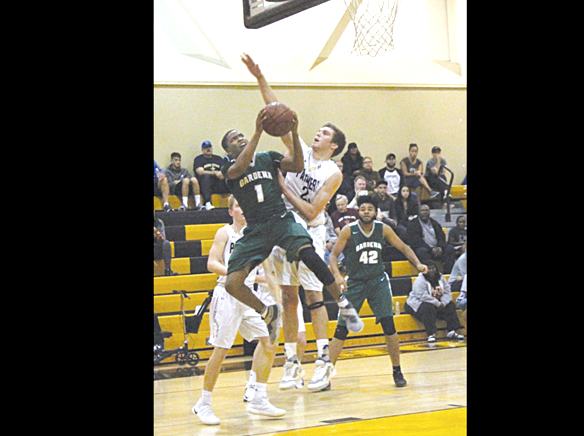 Gardena High has mostly a young and inexperienced boys' basketball team but the Panthers showed progress with a third place finish in last week's San Pedro Pirate Christmas Classic by coming from behind to top San Pedro Mary Star of the Sea High 56-52 last Thursday.
Gardena High has mostly a young and inexperienced boys' basketball team but the Panthers showed progress with a third place finish in last week's San Pedro Pirate Christmas Classic by coming from behind to top San Pedro Mary Star of the Sea High 56-52 last Thursday.
The Panthers, who improved to 8-5, trailed by as many as nine points early in the third quarter but were able to peck away at the Stars' lead. With the score tied at 52 with just under a minute left in the game, Dominique Alexander gave Gardena the lead for good with a basket. After a Mary Star missed shot, Keondre Brown converted on two free throws to give the Panthers the final four-point winning margin.
"It was a hard game," Gardena head coach Ernie Carr said. "It was like a league game."
David Heard, who made all-tournament for the Panthers, led the team with 16 points. Alexander, also an all-tournament selection, added 13 points, while Brown chipped in 10.
"Heard played a hell of a game," Carr said.
Heard scored 10 of his points in the third quarter that saw Gardena outscore Mary Star, which fell to 9-3, 14-11 to cut the Stars' lead to three points at 42-39.
Carr credited the Panthers' defense to holding the Stars' leading scorer, Joseph Octave to 14 points, including only one field goal in the second half. Octave entered the game averaging around 25 points. Mary Star was led by Nick Billings with a game-high 21 points that included five three-point baskets. Four of those were in the first half that saw Mary Star build a 31-25 lead then Billings' fifth three-pointer stretched the Stars' lead to nine before Gardena began its rally.
In the championship semifinals on Dec. 28, the Panthers found Peninsula High, also the Panthers, from Rolling Hills Estates too much to handle in an 80-64 loss.
Peninsula, which improved to 9-5 after winning the tournament championship with an 89-51 blowout win over South Tahoe on Thursday, surged out to a 41-27 halftime lead but Gardena was able to get as close as five points on several occasions. After Gardena's last five-point deficit at 51-46 midway in the third quarter, Peninsula went proceeded to go on a 29-9 run to build its fourth period lead to 25 points (80-55) before Gardena scored the game's final nine points against Peninsula reserves.
Klalif Pollard led Gardena with 15 points. Alexander contributed 12 points and Brown had 10.
Jordan Gazdik, who was the tournament's Most Valuable Player after scoring a game-high 27 points in the championship finals against South Tahoe, led all scorers with 23 points.
Peninsula is expected to contend for the Bay League title in this year's very balanced league.
The Panthers started the tournament by routing West Adams Prep 67-32 on Dec. 26, then defeated Santiago High from Garden Grove 64-52 a day later.
Gardena is currently playing in the Kennedy High Round Robin Classic where it climaxes its pool against Verdugo Hills today at 4 p.m. in Granada Hills. It started 2017 last Tuesday at Kennedy against Van Nuys Grant. The Panthers, then, will take on their cross town rival Serra in the Cavalier Classic Saturday at 5 p.m. at Serra. Gardena, which is 1-1 in the Marine League, resumes league on Jan. 13 at powerful Narbonne on Jan. 13. The Gauchos are Marine favorites and should be potential top contenders for the CIF-Los Angeles City Section Open Division title, along with the likes of Westchester, Fairfax and Lake Balboa Birmingham, this year.
____________________________________
Top Sports Figure deaths among many celebrities passed in 2016
By Joe Snyder
Sports Editor
This past year was marred by deaths of a large number of celebrities, most recently 1980's pop star George Michael, Star Wars princess Carrie Fisher and her mother Debbie Reynolds, who played in numerous movies, television shows and Broadway plays from the early 1950's into this past year.
Among those were several top professional athletes. Among the most notable were legends Mohammad Ali (boxing), Arnold Palmer (golf) and Gordie Howe (ice hockey).
Throughout the 1960's and 1970's, Ali dominated the heavyweight boxing world. He won three world heavyweight champions. He won titles over George Foreman and Joe Frazier, who died two years earlier.
Ali passed away from complications of Parkinson's disease on June 3 at 74 years old.
Palmer died on Sept. 25 at the age of 87. He was one of the top golfers of all time. He was a seven-time major champion and inspired by numerous fans. His prime period was during the 1950's and 1960's.
Howe, who passed away on June 10 at 88 years old, had probably the longest careers of any professional athlete. He started in 1947 and played into the early 1980's. Howe won the Hart Trophy as the National Hockey League's Most Valuable Player six times and was a four-time Stanley Cup winner. He spent his last few seasons playing with his sons Mark and Marty in the World Hockey League.
Another notable death was premiere college women's basketball coach Pat Summitt, who passed away from complications of Alzheimer's disease on June 28. Summitt, who was 64 years old, holds the all time college coaching record with 1,098 wins with the University of Tennessee. Her Lady Volunteer team captured eight NCAA Division I crowns. Summitt won two Olympic gold medals as a player during the 1970's.
Two former Los Angeles Laker National Basketball Association players also died in 68-year-old Jim McMillian on May 16 and 46-year-old Sean Rooks on June 7. McMillian helped the Lakers win their first NBA championship while in L.A. in the 1971-72 season. That season also included a still NBA record 33-game winning streak.
Rooks played 13 seasons in the NBA with the Lakers and Clippers. He was an all-PAC 10 player at University of Arizona during the early 1990's.
Also gone last year was former L.A. Ram football standout offensive tackle Doug France, who died on April 9 at the age of 62. He was a two-time Pro Bowler. France also was an actor who played in the movie "North Dallas Forty."
Ex-UCLA men's basketball standout Fred Slaughter also passed away at the age of 74 on Oct. 6. He was member of head coach John Wooden's first of his 10 NCAA championship squads in 1964.
Other top sports figures who passed away in 2016 included soccer legend Johan Cruyff from Spain (March 24, age 68), L.A. Herald Examiner (defunct in 1989) sports columnist Mel Durslag (July 17, age 95), former Brooklyn Dodgers Major League pitcher Ralph Branca, who gave up the famous home run called the "Shot Heard Around the World" by Bobby Thompson that gave the rival New York Giants their dramatic 1951 National League championship, ex-New York Yankee sports commentator Joe Garagiola and former University of Southern California and NFL player Will Smith.
Cubs win World Series: Another famous event that took place in 2016 was the Chicago Cubs winning their first World Series since 1908 (108 years) by rallying from a 3-1 game deficit to top the Cleveland Indians in seven games. For virtually all Cub fans, it is their first they've seen in their lives.
What's coming up this year?—We are currently in the basketball season from youth through the pros. The Los Angeles Clippers started off well but, due to a rash of injuries, are in a big slump losing four straight games, including their first defeat to their rival Lakers in three years at 111-102 on Christmas Day.
My prediction appears the Golden State Warriors will avenge their championship loss to the Cleveland Cavaliers from last season by winning it over Cleveland for 2016-17.
UCLA lost its first game of the season in its PAC 12 opener at Oregon 89-87 on a dramatic last second three-point basket by Dillon Brooks. The Bruins should bounce back and, at least, make the NCAA playoffs. The Bruins will lose in the Sweet 16.
USC should do well but will also be out in the Sweet 16.
Bishop Montgomery will be a top contender for the CIF-Southern Section and California State Open Division titles but will have its hands full with Chatsworth Sierra Canyon, ranked No. 1 in the United States by Maxpreps.
With the re-signings of star closer Kenley Jansen and Justin Turner, the L.A. Dodgers will be contenders for the World Series but winning it; it's too hard to predict. I'll go with the Cleveland Indians, as of now.
The New England Patriots will defeat the Dallas Cowboys in the NFL Super Bowl LI on Feb. 5.
The San Diego Chargers probably will not be, yet, in L.A. next season but in 2018.
Serra High's football team will win its fourth consecutive Mission League crown but continue to struggle in the highly prestigious CIF-Southern Section Division I playoffs. Let's say they will make the quarterfinals next fall. Look for St. John Bosco of Bellflower to win both the Southern Section Division I and the California State Open Division championship for the second straight season.
The Los Angeles Rams 2017 season, as of now, is too unpredictable but if they can't find the proper coaching staff and better offensive players, the prediction is 0-16. If they do, expect their first winning season since 2006.
_________________________
Boys' Basketball Roundup
Struggling Serra avoids last place in Arizona tournament
By Joe Snyder
Sports Editor
After losing its first three games of the Visit Mesa Tournament last week in Mesa, Arizona, Serra High's boys' basketball team closed out the classic by downing Salpointe Catholic from Tucson 79-61 last Friday.
The win ended the 2016 sector of the 2016-17 season with a 3-9 record for the Cavaliers, who are still reeling from the death of premiere head coach Dwan Hurt on Nov. 25 and is replaced by interim mentor Bernard McCrumby.
The Cavaliers began the classic on Dec. 27 with a 54-50 loss to Mountain Ridge from Glendale, Ariz. A day later, Serra fell to Corona del Sol from Tempe 77-68, then lost to Apollo of Glendale, Ariz. 94-84 last Thursday.
Serra began 2017 by playing its first game in the newly named Dwan Hurt Memorial Gym against North Torrance on Wednesday. The Cavaliers, then, host cross town public school rival Gardena in their own Cavalier Classic Saturday at 5 p.m.
Serra, then, starts Del Rey League play at home against Cathedral High from Downtown Los Angeles next Wednesday at 7 p.m. before its contest at powerful rival Bishop Montgomery in Torrance on Jan. 13 at 5:30 p.m.
North falls in Whittier Christian semis: North Torrance High's boys' basketball team suffered an 82-72 loss to Buena Park in the championship semifinals of the Whittier Christian Tournament on Dec. 28.
The Saxons were led by Shea Eddington with 13 points. Steven Nwaiwu and Gabe Nakano each added 11 points.
A day earlier, North Rolled over Manual Arts 93-60. Eddington sparked the Saxons' balanced scoring attack with 13 points, followed by Yusei Shigeta with 11. Nakano chipped in 10 points.
North hosts cross town rival South Torrance in their Pioneer League opener Friday at 7:30 p.m., then remain at home against West Torrance next Wednesday at the same time.