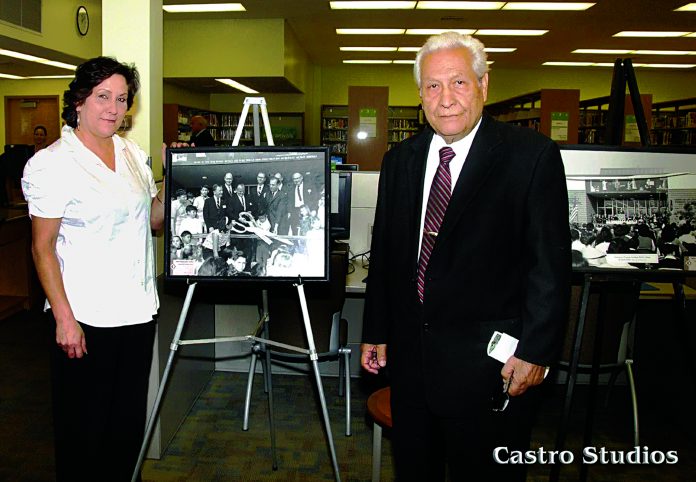 By Gary Kohatsu
George Castro has seen a lot of history in his 93 years and unlike most, he has the photos to back it up. In fact, many of his photos taken in the cities of Gardena and Carson might be the most extensive in their history.
However, Castro's portfolio extends well beyond local municipalities.
Born on July 4, 1927 in Lake Valley, N.M., a dot of a mining town that was comprised of a mere six families, Castro says. Yet this was the launching point for a young Mexican-American boy with a creative bent.
"It's an incredible journey, a boy born from immigrants in probably the smallest town in this planet," he says in an email, "ninth grade education, started working at 15, came to the big city at 16, got married, raised a family, became a photographer, covered high-profile events and personalities (in the) film industry (actors, Hollywood events), political (local, state, national, three presidents, Carter, Reagan and Clinton, Queen Elizabeth with Mayor Tom Bradley), Pageants (Local, all the preliminaries for Miss California world , Miss California, Miss USA, and Miss International) ."
He adds, "the GVN has used some of my photos."
His Gardena business, Castro Photography Studios at 1117 W. Gardena Blvd., Suite 100 in Gardena, is part of his legacy. Today, his daughter Barbara oversees the day-to-day photo operation.
Castro was working fulltime at Douglas Aircraft in 1957, when he decided to take his photo interest wider than just Sunday snapshots.
"I wanted to buy a professional camera (a 4×5 film format), so I went to the pawn shops downtown, but didn't have the $127 to buy it," Castro recalls.
So, he took on second jobs to raise the funds.
Once he was able to purchase a "real" camera, the hard work was the gaining experience.
"I began practicing with my wife, anyone I could talk into posing for me, neighbor's children, wives, entire families, girls at work — one was a former model, she help me a lot," Castro said. "(I would) talk photography with anyone that would listen. In 1962, I attended the Gardena Photo Day put on by the Gardena Camera Club at Recreation Park, (attended by) a lot of photographers and models from different clubs. They had a contest for Miss Photogenic and Print contest for best photo for photographers. I entered the print contest, with a print I took of the girl that won Miss Photogenic and won first place."
The photo win gave him confidence to follow his heart as a photographer.
"I got laid off from Douglas, collected my unemployment for one year and never looked back," he says.
Making important connections was a pivotal part of Castro's maturation as a professional photographer.
"Miss Photogenic Dotty O'Dell from Solano Beach and I became good friends and worked together on different jobs," he said. "She was a professional model and I got good assignments because of her.
"At that time things were moving fast for me, I can't explain why. For example in February '63, I was at the Miss Gardena Pageant, met Daily Breeze editor Dick Baylor, two months later I was shooting the Miss California for Miss Universe; later that year I was the official photographer for Miss California World Pageant, and the next year I was the photog for Miss International. The first five or six years, 75% of my work was events, such as the Oscars, Premiers and parties for celebs, and events at the LA Press Club.
Castro passion for photography was fueled and he was willing to shoot anything to get experience.
"At the beginning I did mostly portraits, family and weddings," he says. "After I opened the studio, I did a lot of product, catalog and industrial and some news (Bill Hunt and Don Algie of the GVN, used some of my photos). I met a lot of news people when I was shooting in Hollywood, the L.A. Examiner would give me jobs when they were short of staff."
The make-shift darkrooms at home were getting to be an annoyance, he admits.
"In 1958 to 1963 I had a good setup at home, shooting in the living room, processing in the bath," Castro recalls. "I had to take down the setup after each shoot and wait for the kids to go to bed to go in my darkroom."
His greatest photo assignment included some big-name singers, he says.
"The party Sonny and Cher gave the Bee Gees, when they first came from Australia," Castro says. "That was a biggy, both were at the top."
Opening his own studio seemed a logical step in his career, he says.
"I decided to rent a commercial building to store my photo equipment," Castro says. "While I was unloading, a girl asked what type of business was going in there. When I told her I was a photographer, she asked can you take my wedding, I decided to put pictures in the window and open the studio this was in 1964.
"In 1970, I moved to Gardena Boulevard. A realtor friend, Kay Adley, knew the owner of the building that was up for rent and told me about it. I told her I didn't think I had the rent money to move in at $175. She offered to lend me the money, saying 'pay me when you can, this is a better location for you.' I moved in and was able to pay her back the same month. Then I opened up another studio at the old town mall Bridal shop and bought another at the Hollywood Riveria by the beach. Closed the other two and kept the Gardena one. Been on the (Gardena Boulevard) ever since."
Another chapter to Castro's illustrious photo career was being hired by the city of Carson to be its city photographer in the 1990s. He beat out six other photographers to get the job.
"I get my assignment from the (Carson) Public Information Office for any event in the city that needs coverage , including council meetings," Castro said. "We cover the event, provide proof sheets an one CD. The officials, staff or anyone else can order prints through PIO. Anyone can view the proof sheets at PIO and order."
Castro says Carson, like Gardena, offers a lot of shooting opportunities.
"Carson has very good events," he says. "(Favorites) I would say are the Philippine Independence Day, events at the Community Center when they have big stars, like Rita Moreno etc., events at the Home Depot sports center and well known sports figures."
Castro says he and late wife, Edith Morgan Castro, have five daughters: Cheri, Toni, Christina, Theresa and Barbara, all graduates of Gardena schools, 10 grandchildren (ages 30 to 48), 15 great grandchildren, and 3 great-great grandchildren,
After a career that spans more than 60 years, Castro says he will always prefer film stock to digital images, but enjoys the convenience of digital cameras. His advice to aspiring photographers is to go with the basics.
"Tripping the shutter release is the easiest thing for any photographer, (but) to be good you have to see the picture in your mind before you take it or start arranging people," he says. "Be kind and listen to the customer. In events where there is a lot of photographers, don't push, be careful getting in front of other photogs, but get your shots. Don't try to direct or move famous people too much, as they will think you don't what you are doing. They have posed more than once for photos. Just shoot, if people make it a point to talk to you, it means you are liked or did well.  Show your work, don't brag about it. If you get large orders and repeat customers that means you are good. Always be ready to shoot, you are working, you are not part of the show."