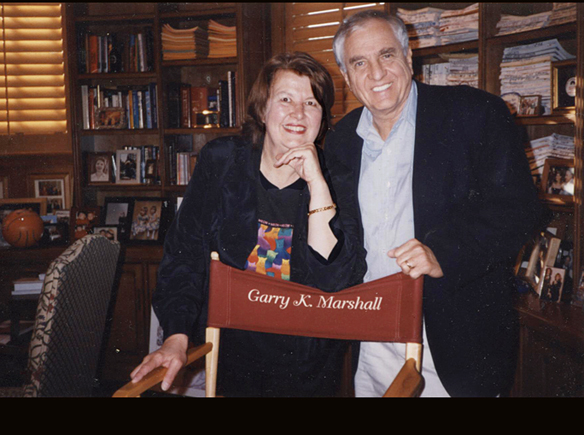 Writer, director, actor, playwright Garry Marshall was born Nov. 13,1934 in NYC, the Bronx. He died Tuesday, July 19 in Los Angeles at the age of 81.
Writer, director, actor, playwright Garry Marshall was born Nov. 13,1934 in NYC, the Bronx. He died Tuesday, July 19 in Los Angeles at the age of 81.
During his illustrious career, he entertained us with his comedy writing, creating "Happy Days," "Laverne & Shirley," and "Mork and Mindy" for TV.  He directed Julia Roberts and Richard Gere in "Pretty Woman" and wrote and directed countless other romantic film comedies.  He was married for 53 years to his wife Barbara and in the end credits of every Garry Marshall film, he gives special thanks to Barbara Sue Wells.  "Most studios discourage on-screen thanks," Marshall  told me, "but I have this written into my contract because I know I wouldn't have a movie at all without her help."
They have three children, Lori, Kathleen and Scott, who is also a film director.
In 2000, I had the pleasure of interviewing Garry for "Catholic Digest."
Even though Garry was Protestant, the Catholic Digest considered him a worthy subject because of his values on and off the set.
We met at his Falcon Theatre in Burbank, which was designed by his youngest daughter, Kathleen.
I asked what he would like to be remembered for.
"As a writer," Marshall said without hesitation. "I really am a writer and that's what led to everything else.  But the common thread is laughter. I also want to be remembered as someone who made people laugh, and used every tool at hand to do it…writing, producing, directing and acting.  There's always so much need for laughter.  Somebody has to help to lighten the load."
But even more important than show business was his love of family.
Before we began the interview, he pulled out an old picture from his wallet — a black-an-white photo of his parents in their youth.  And on the wall, opposite his desk there was a picture of his dad, who was executive producer on "The Odd Couple" and "Laverne & Shirley." which starred his sister Penny.
Success for Gary was not the main goal in life, though doing well was not to be sneezed at, even if you have 128 allergies–which he did. "Failure," he said, "is not the worst thing that can happen to a person, not trying is. I have always tried to do things that were important to me and have fun in the process."
One of his mottos was: "Life is more important than show business."
According to Marshall, "Your personal life has to take precedence over your professional life for you to achieve success in both.  If I had the choice of attending a star-studded Hollywood premiere or an elementary school play where my kid wears a toga and says an inaudible line, I'd pick the play every time."
Gary also listened to ideas from his children. In fact he credited the concept for "Mork & Mindy" to his youngest child Scott, an avid "Star Wars" film fan. Scott suggested that daddy do a story on "Happy Days" about a space alien.  When asked how, Scott said the character Richie Cunningham could have a dream about one.  The next day Marshall presented the idea to his writing staff.  In the fateful episode introducing Mork from Ork, Robin Williams received a standing ovation when he came out to take his bow.
Shortly thereafter, when asked to come up with a TV series idea for Paramount, Garry suggested doing a show about an alien who "visits earth, observes life here and reports back his finding to his planet." Later that day he told his wife, Barbara, that he had sold another show.  When she asked him what it was about, he replied, "I'm not sure."
A successful member of the West Coast entertainment industry where more marriages crash than cars, Marshall and his wife Barbara were married for more than 50 years.
"What saved our marriage", he told me, "aside from the fact that her medical training as a nurse has saved my life on more than one occasion, is that she's not in show business and she's a better driver than I am."
Besides being a wonderful father and husband, he was a cherished friend to those who had the privilege of working with him. In tribute, Henry Winkler, "The Fonz" on "Happy Days," said: "He was the definition of friend" and Richard Gere, co-star with Julia Roberts in "Pretty Woman" praised him, saying, "Everyone loved Garry.  He was a mentor, a cheerleader and one of the funniest men who ever lived."
Another long-time friend is Hector Elizondo, who worked with Garry in the 1984 film "The Flamingo Kid," as well as "Pretty Woman." Since then Hector has been a  fixture in all of Garry's movies. Garry said he considered Hector  "a good-luck charm."
Dear Garry, with all your special talents and infectious humor you made the world laugh, but by leaving us on Tuesday, July 19, you've made us cry. Thanks for all the happy memories and "Happy Days" you've left behind.
To learn more about Garry Marshall and his wonderful life, check out his autobiography "Wake Me When It's Funny."