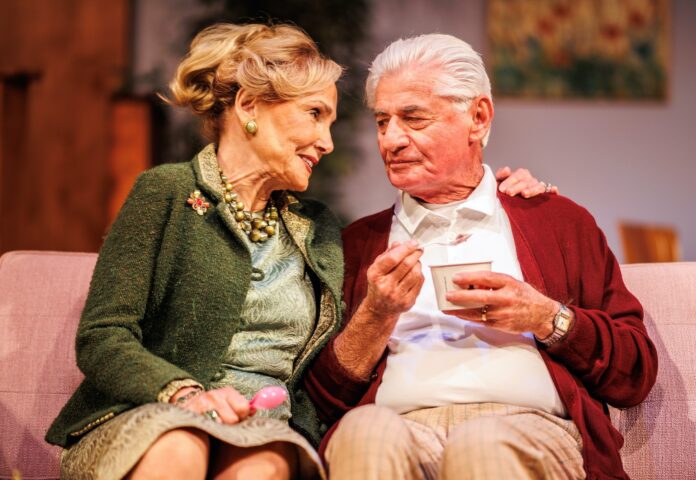 By Shari Barrett
Last November, I attended GUESS WHO'S COMING TO DINNER? at Theatre 40 in Beverly Hills. My glowing review of the production, adapted by Todd Kreidler from William Rose's screenplay, appeared in my December 1 Stage Page column. Brilliantly directed by Cate Caplin, the production has now moved into the beautiful and historic Greystone Mansion where I was fortunate to see it last weekend.
Featured in the original outstanding cast are Larry Eisenberg as opinionated Matt Drayton, Diana Angelina as his loving wife Christina, Abigail Stewart as the wide-eyed optimist Joanna Drayton, Marc Antonio Pritchett as her fiancé Dr. John Wade Prentice, Frederick Dawson as Mr. John Prentice Sr., Crystal Yvonne Jackson as the say-it-like-it-is Matilda "Tillie" Binx, Patricia A. Lewis as Mrs. Mary Prentice, Jenn Robbins as the snooty Hilary St. George (a true "Karen" if ever there was one), and David Hunt Stafford as welcome dinner guest Monsignor Mike Ryan who attempts to add in a bit of reason to the tempers flaring all around him.
Bringing the production into the exquisitely ornate Greystone Mansion adds a sense of realism to the story, given its setting in a high-society home in the hills above San Francisco with magnificent views of the city. With the entire city of Los Angeles visible below, no doubt the new environment enabled the actors to feel even more at home with their characters as well as the story.
GUESS WHO'S COMING TO DINNER? produced for Theatre 40 by David Hunt Stafford, continues for three more performances at Greystone Mansion, 905 Loma Vista Dr., Beverly Hills 90210 on Thursday, Jan. 19 at 7 p.m., Saturday, Jan. 21 at 7 p.m. and Sunday, Jan. 22 at 2 p.m. Tickets are $35, available online at https://theatre40.org or by phone (310) 364-3606. Run time is 2 hours 15 minutes, including one intermission. There is ample free parking available onsite, but arrive early to allow time to walk through the grounds to the venue.
Next up opening Jan. 19 by Theatre 40 in the Reuben Cordova Theatre on the campus of Beverly Hills High School is INCIDENT AT OUR LADY OF PERPETUAL HELP, a family comedy by Katie Forgette, telling the story of the O'Sheas, a cash-challenged, Irish-Catholic family just trying to get through 1973. Tickets are $35, available online at https://theatre40.org or by phone (310) 364-0535. Look for my review in next week's column.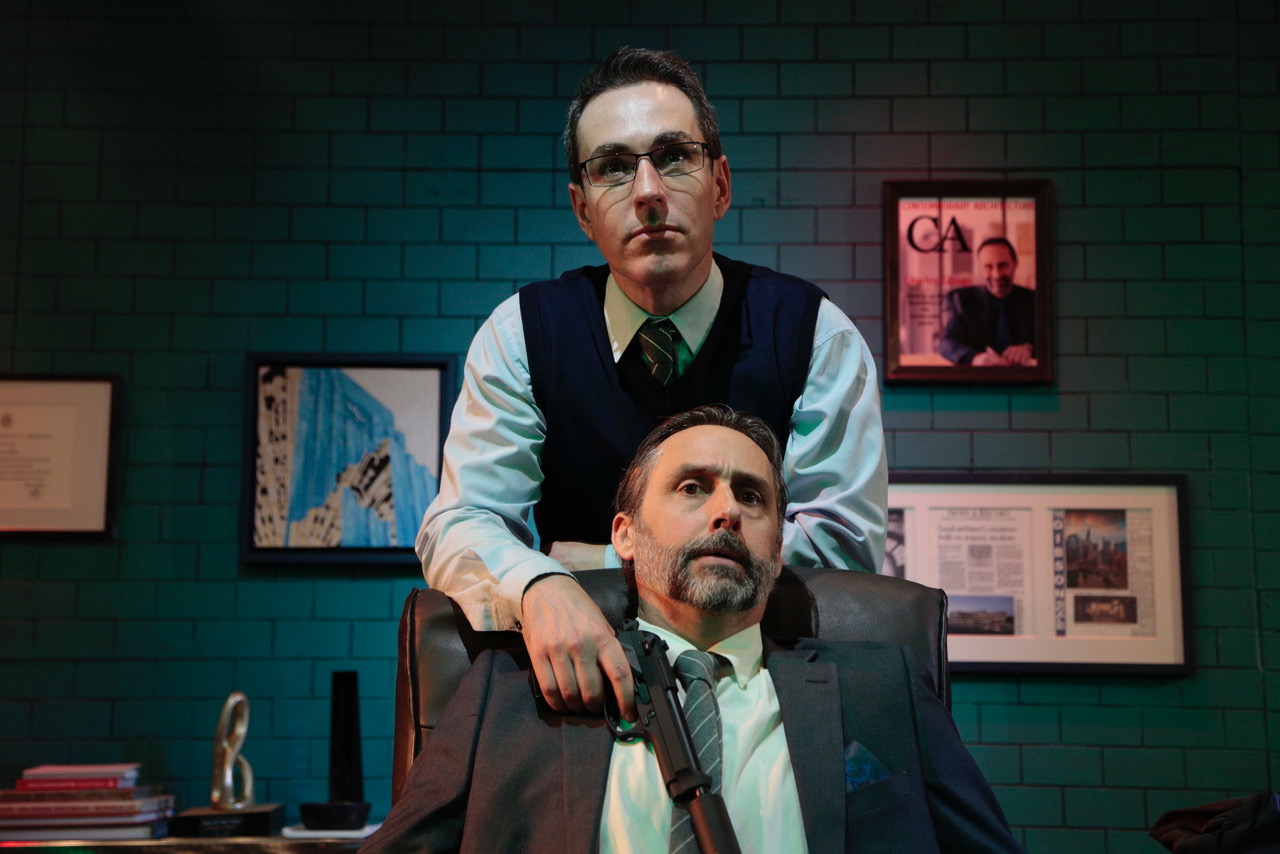 Go Theatrics kicks off the new year presenting the world premiere production of FINAL INTERVIEW, a gripping story of revenge set against the backdrop of corporate America, by actor/singer/playwright Gabriel Oliva. The cast features (in alphabetical order) Dana Deryuck, Colleen Foy, Frank Martinelli, Gabriel Oliva, and Brian Stanton.
"I wrote this play in response to the Miami condominium collapse of 2021. Ninety-eight lives were lost, but no one was held accountable. The families of those who died deserve to feel a sense of closure or have justice be done. This story is about how two people deal with the trauma of the past when stripped of the corporate armor so many companies are afforded," shares Oliva.
The production is directed by Katierose Donahue-Enriquez, whose solo show The Queen of Fishtown garnered critical acclaim (including mine) during the 2022 Hollywood Fringe Festival, and recently finished limited award-winning runs in London, New York City, Philadelphia, and at the Edinburgh Fringe Festival. 
FINAL INTERVIEW deals with the stress of a job interview, which is cranked up to 10 when a gun is thrown in the mix. If the interview goes poorly, someone dies. In a claustrophobic game of cat and mouse, both interviewer and interviewee desperately try to escape a high-rise office with their lives, exposing the corruption behind corporate greed and the ability to right the wrongs of one's past. 
Performances take place on Friday and Saturday, Jan. 27 and 28 at 8 p.m., and Sunday, Jan. 29 at 7 p.m. at The Pico Playhouse, 10508 W. Pico Blvd. in Los Angeles, 90064. Street parking only, please read signs carefully. Running time is 80 minutes with no intermission. General admission is $30. Tickets online at https://finalinterview.brownpapertickets.com/.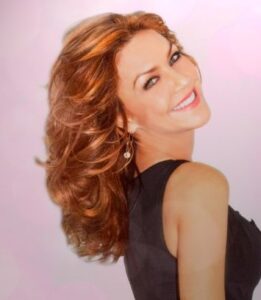 The Catalina Jazz Club is celebrating 36 years of bringing nothing but the best in Jazz and all forms of music to its intimate supper club at 6725 W. Sunset Blvd. in Hollywood 90028. This past week featured Tony Award-winner Donna McKechnie on January 10 and 11, and Broadway's original Annie, Andrea McArdle, who brought a wonderful evening of songs and stories about entertainment history during her new show From Broad Street to Broadway on Sunday, Jan. 15, presented by Chris Isaacson Presents. McArdle mesmerized the audience with the music of Broadway and Hollywood composers, including a few songs from the iconic musical that made her a true "Broadway Baby." Heartfelt tales of her own life that led her to the stage were honestly shared while singing iconic showstoppers along the way. 
And get ready for the return of Tony Award-winner and Emmy Award-nominated actor and entertainer, Ben Vereen on Feb. 24 and 25, among many other talented entertainers! Admission tickets for all shows range from $25-$60, not including the required dinner (the food is good!) or two drink minimum per person. Visit www.CatalinaJazzClub.com or www.TicketWeb.com for tickets and scheduling info.