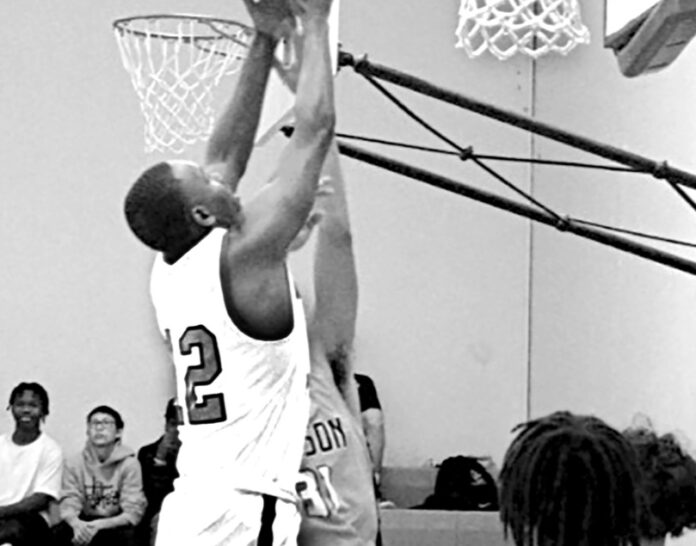 By Joe Snyder
Hoping to get into contention for the Marine League championship, Gardena High's boys' basketball team hosted Marine League co-leading Narbonne High from Harbor City (with Rancho Dominguez Prep) last Friday.
The Panthers led much of the game, including 37-34 after three quarters, but the Gauchos, led by premiere shooting guard Marcus Adams, took over the fourth period and Narbonne went on to defeat Gardena 53-45.
Adams proved dominant by scoring a game-high 33 points, 13 of those in the fourth quarter that saw the Gauchos outscore the Panthers 19-8. The other six points in that period was scored by his sophomore brother Maximo. Among those fourth quarter points were 12 successful free throws.
Things started to get going for Narbonne in the third period that included a 13-0 run, but Gardena bounced back for a three-point lead. In the fourth quarter, though, the Panthers just could not contain the Adams brothers, who scored all of theGauchos' final period points.
Gardena was also plagued by several critical fouls.
The Panthers stayed in the game and got within four points at 49-45 when Willie Denham made a three-point basket but Narbonne finished off Gardena by scoring the game's final four points.
The Panthers, who fell to 2-2 in the Marine League and 10-12 overall, were led by Chase Williams with 21 points, including 14 in the first half.
Two days earlier at Gardena, the Panthers rolled over Carson 72-37.
Gardena had complete command of the undermanned Colts throughout the game. The Panthers surged to a 40-24 halftime lead then increased the intensity in the second half by outscoring Carson 32-13 in the second half.
Alijah Perkins led Gardena with a game-high 15 points, followed closely by Williams with 14 and Jarren Ponds with 13.
Jacob Ortega led the Colts with 11 points.
In a Martin Luther King, Jr. Extravaganza game at Washington Prep High in South Los Angeles on Saturday, the Panthers were edged by St. Anthony High from Long Beach 50-49.
Gardena hopes to come back as it visited a very good San Pedro team, ranked ninth in the CIF-L.A. City Section by Max- preps, on Wednesday. The Panthers start the second half of the Marine League at Banning High in Wilmington Friday at 4:30 p.m. before coming home to seek a revenge on an earlier loss to Long Beach Rancho Dominguez Prep next Wednesday at the same time. In the first round, Gardena fell to the Lobos, who are currently ranked sixth in the CIF-L.A. City Section by Max-preps, 56-46 in the first round on Dec. 16 at Rancho Dominguez.
Serra plays St. Bernard tough but falls short
Serra High's boys' basketball team is going through rebuilding pains but managed to give a very good St. Bernard team a tough battle but the Vikings proved too much for the Cavaliers as they defeated them 71-56 in a Del Rey League game on Jan. 11 at St. Bernard in Playa del Rey.
The Vikings led throughout the entire game but the Cavaliers managed to play a lot more respectful then their 81-30 loss to host Bishop Montgomery a week earlier in Torrance. St. Bernard is ranked No. 2, behind the Knights, in the South Bay by the Daily Breeze. Bishop Montgomery is currently ranked No. 6 in California and fourth in the overall CIF-Southern Section by Maxpreps. The Knights are ranked the same in the Southern Section Division I/Open Division. St. Bernard is ninth in Division I.
St. Bernard had a commanding lead most of the game but Serra managed to get within 12 points at 57-45 midway in the fourth quarter behind a basket by Devin Shell.
The Vikings, though, pulled away.
Freshman Kaylel Kearns led Serra with 20 points, followed by A'mod Green with 10.
St. Bernard was led by Kendyl Sanders with 18 points. Tyler Rolison, who, as a junior, was the Daily Breeze South Bay Player of the Year in 2022, added 14 points.
Last Friday, the Vikings were narrowly defeated by host Bishop Montgomery 56-54 in the Del Rey showdown.
At Serra last Friday, the Cavaliers failed to get its first league win in an 82-73 loss to St. Paul High from Santa Fe Springs.
The Swordsmen led 35-26 at halftime before each team scored 47 second half points that included 56 total fourth quarter points that saw Serra outscore St. Paul 29-27 but it was not enough to catch up.
Serra had a non-league home game against Oakwood Academy from North Hollywood last Monday and begin the second round of Del Rey action at home against Bishop Montgomery on Friday at a time to be announced. The Cavaliers visit St. Anthony in Long Beach next Wednesday at 7 p.m.
North Torrance High's boys' basketball team picked up a key 65-58 home win over West Torrance last Friday to improve its Pioneer League record to 4-1 and overall mark to 16-4.
The Saxons played Servite of Anaheim last Monday and visited El Segundo on Wednesday. North will host cross town rivals Torrance on Friday and South Torrance next Monday. Both league games start at 7 p.m
GHS boys, girls enjoy impressive soccer sweeps
Gardena High's boys' and girls' soccer teams each won both of their Marine League matches over Rancho Dominguez Prep and Carson last week.
At Rancho Dominguez in Long Beach on Jan. 11, the Panther boys recorded a 3-0 shutout of the Lobos and the girls rolled to a 9-0 victory.
At Gardena last Friday, the Panther boys defeated the Colts 4-2 and the girls eked out a 2-1 victory.
Against Carson, Gardena's boys showed a balanced effort with four different players each scoring one goal that included seniors Daniel Tapia, Kevin Martinez and Anthony Vital, along with freshman Angel Davila.
Seniors Gabriel Amaya and Sebastian Tibocha each scored for the Colts.
Freshman goalkeeper Gabriel Gutierrez had eight saves for the Panthers, who improved to 6-5-2 overall and 2-2 in league.
The Panthers had one goal each from Tapia, Martinez and junior Joseph Tajeda in their shutout win over Rancho Dominguez. Gutierrez recorded the shutout needing just three saves.
"It was a good week to turn the season around," Gardena coach Elmer Membrano said.
Gardena had a tough match against San Pedro on Wednesday. The Panther boys visited the Pirates while the girls were at home. Gardena's boys host Narbonne in in hopes of avenging their 1-0 loss to the Gauchos in their league opener on Friday at 4:30 p.m. The Lady Panthers, who are 4-0 in Marine play, visit Narbonne at the same time. Gardena's boys, then, visit league power Banning High in Wilmington next Wednesday at 4:30 p.m., while the girls are at home against the Pilots.