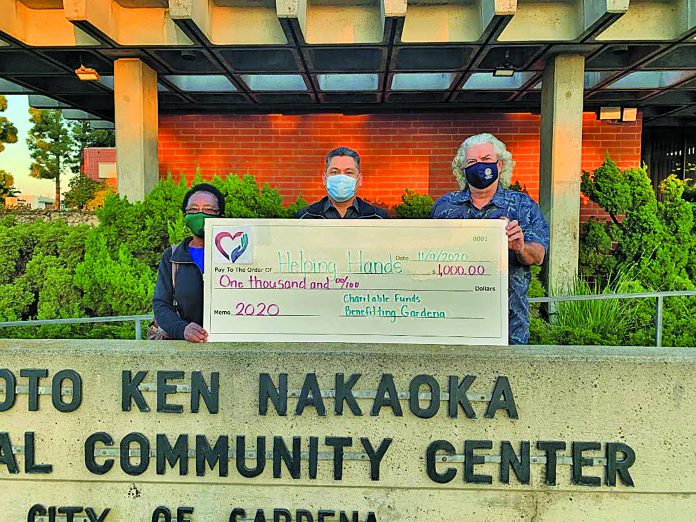 By Gary Kohatsu
As the month of November ushers in cooler fall weather, the annual Helping Hands holiday meals and toys program for needy families is just warming up.
Now in its 39th year, this 2020 kickoff was kicked off by the Charitable Funds Benefitting Gardena which donated $1,000 this week.
The group made its presentation on Monday.
While the Helping Hands program benefits local families for the December holiday season, the 2020 coronavirus has led to operational changes.
Families participating have to sign up electronically, Stephany Santin, Recreation Department director said.
Sign up date has been extended to Friday, Nov. 13 to give more families a chance to be part of the Helping Hands beneficiaries.
Those who want to receive food and toys assistance this holiday season should log on at www.cityofgardena.org/events.
Then hit the CivicRec- REC 1 option and fill out an application.
The program generally helps between 400 and 450 families a holiday season, Santin said. That would include about 700 children and overall, about 2,000 people.
Families who live outside of Gardena, in the unincorporated area of the Harbor Gateway, might also qualify for the Helping Hands program if there is enough food and toys, Santin said.
"The hard part are the donations," Santin said by phone last week. "Normally, we have a lot of organization donate to Helping Hands, but this year, businesses are struggling. We don't really want to push hard for people to donate. Everybody is in a difficult situation."
In anticipation of a sparse fundraising season, Santin and city staff has organized a variety of drive-thru events, such as the Halloween trick-or-treat celebration and the city of Gardena's 90th anniversary. 
These and other events have included a drive-thru for motorists to donate food and purchase city products to generate funds.
For a great cause
Now in its 39th year, Gardena's holiday food drive will benefit 400 to 450 needy families in the community, and will serve more than 2,000 people with grocery vouchers and gifts for the kids.
Sponsored by the city of Gardena in cooperation with the Gardena Valley News, the holiday food drive began in 1981 as a food basket giveaway to Gardena's less fortunate.
In recent years, food vouchers to area grocery stores have replaced food baskets, which provides families with a greater selection of food items, including dietary and ethnic items.
Last year, the Helping Hands program received palettes of canned foods and non-perishables from various groups for the holiday.
The city of Gardena provides all staffing in the Hands drive and all monetary contributions go toward the holiday fund-raiser and the year-round food pantry. No money is used for administrative costs.
As in the past, the Gardena Valley News will publish a list of contributors, with a weekly update of new donors. For more information about Helping Hands, call 310-217-9574.
Checks should be made to "Helping Hands" and can be sent or dropped off at:
City of Gardena
Human Services Department
c/o Helping Hands
1651 W. 162nd St., Gardena, CA 90247
To learn more about the event, please contact:
Jaclyn Arcos
City of Gardena Recreation Department
Human Services Division
1651 West 162nd St.,
Gardena, CA 90247
Phone: 310-217-9574