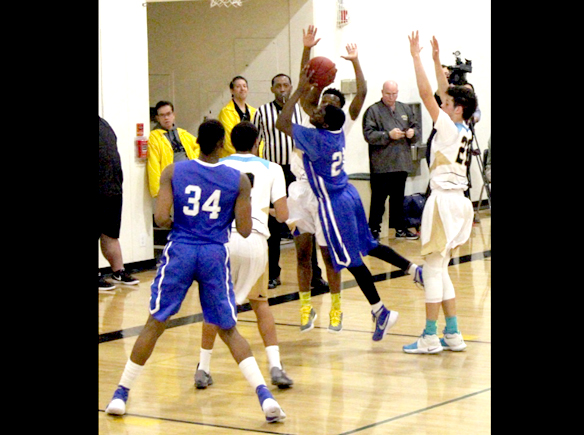 Serra High's girls' basketball team is 5-0 in the Del Rey League after wins over St. Anthony and St. Paul last week.
At St. Anthony in Long Beach, the Lady Cavaliers rolled to a 78-46 victory over the Saints. At home against St. Paul from Santa Fe Springs, Serra cruised to a 67-55 win.
Serra High's girls' basketball team is 5-0 in the Del Rey League after wins over St. Anthony and St. Paul last week.
At St. Anthony in Long Beach, the Lady Cavaliers rolled to a 78-46 victory over the Saints. At home against St. Paul from Santa Fe Springs, Serra cruised to a 67-55 win.
Against St. Paul, which is in second place in league and already owns a win over Bishop Montgomery, the score was bigger than indicated. Leading 35-23 at halftime, the Cavaliers outscored the Swords Ladies 20-11 in the third quarter to lead by 21 points (55-34). Serra continued to lead by double digits throughout the whole game.
Briana Johnson led the Cavaliers (15-7 overall) with 24 points, three assists and three steals. Brooke Bayman added 18 points and eight rebounds, while Alexis Tucker contributed 11 points and six rebounds.
Against a very good St. Anthony squad, Serra jumped out to leads of 19-5 after the first quarter and 40-17 at halftime and had little trouble with the Saints from there.
Tucker sparked the Cavaliers with 21 points, 12 rebounds and three steals. Johnson had 19 points and six assists. Bayman chipped in 16 points. Lowendie Laporal finished with 11 rebounds and three blocked shots.
Serra will host Bishop Amat tonight at 7 p.m. before traveling to rival Bishop Montgomery in Torrance next Tuesday at 5 p.m.
_______________________________________
Serra-Bishop Montgomery Boys' Basketball
Bishop Montgomery routs Serra; falls short of Chino Hills
By Joe Snyder
Sports Editor
Serra High's boys' basketball team had was routed by Bishop Montgomery 76-48 on Jan. 13 at Serra but the Cavaliers had another shot at one of the top teams in California last Friday at Bishop Montgomery in Torrance.
The Cavaliers struggled on offense but were down by just four points at 12-8 after the first quarter. From there, though, Serra continued to have offensive woes while the Knights started to score at will enroute to an easy 70-45 win.
Serra, which fell to 11-12 overall after losing a non-league game in the Fairfax State Preview Showcase to Santa Monica 73-60 last Saturday at Cerritos College, managed just five second period points and fell behind Bishop Montgomery 27-13 by halftime. The Knights amassed 43 second half points to 32 for the Cavaliers to pull away.
"We came out a little flat," Bishop Montgomery head coach Doug Mitchell said. "In the second half, our intensity level got better."
The Knights, who fell short of Chino Hills 71-67 in the battle of California's top two teams in the State Preview Showcase Saturday at Cerritos College, were led by Gardena resident Ethan Thompson, son of Oregon State University assistant coach and former National Basketball Association star Stephen Thompson, Sr., with a game-high 22 points. Jordan Schakel added 14 points and David Singleton chipped in 11. Ethan's older brother, Stephen, Jr., is a freshman at Oregon State.
The Cavaliers were sparked by sophomore guard Kobe Smith with 12 points. Micah Davis contributed 11 points.
Almost certain, though, was California's and, possibly, the United States' regular season Prep Hoop Game of the Year between two nationally ranked teams in Bishop Montgomery and the United States' No. 1 ranked squad, Chino Hills, in front of an overflow crowd of nearly 3,000 fans at Cerritos College. Both teams entered the game with unbeaten 21-0 records. The Knights, themselves, have as high as a No. 3 ranking by one of the Maxpreps ratings and are nationally ranked with most prep sports publications.
The all-underclassman starting lineup Bishop Montgomery team, though, held its own. In fact, the Knights led throughout most of the second half and held down the Huskies' quick strike offense that produced them an average of 101 points per game. The Knights also contained UCLA-bound Lonzo Ball to making only two of 21 shots from the floor as he finished with only seven points. Ball, however, managed a double-double with 12 rebounds and 10 assists that included back-to-back assists to Eli Scott and Onyeka Okongwu that gave Chino Hills a 68-64 lead. The Huskies never trailed from there but the game remained close. A layup from Schakel cut Chino Hills' lead to 68-66 but a pair of free throws from LaMelo Ball put the game away for the Huskies, who improved to 22-0 and handed Bishop Montgomery (21-1 overall and 5-0 in the Del Rey League) its first loss.
Singleton led the Knights with 22 points. Schakel had 19 points. Chino Hills was led by junior LiAngelo Ball with 22 points. Freshman La Melo Ball finished with 18 points. Both of those Balls also committed to playing for the Bruins. Eli Scott put in 16 points.
There is a very good possibility that the two squads could meet in the CIF-Southern Section and/or Southern California Regional playoffs; most likely in the Open Division. If it goes as currently predicted, they will square off in the championship finals of each of those playoffs.
Serra got off to a good start against Santa Monica, which is the top ranked squad in the CIF-Southern Section Division IA and ranked 17th in Greater Los Angeles by the L.A. Times. The Cavaliers looked good in the first half taking an 18-11 first quarter lead and were still ahead 32-30 at halftime.
The Vikings, led by preseason all-American Jonah Matthews, turned things around by outscoring Serra 43-25 in the second half.
Smith led Serra with 21 points, followed by Dykes with 14.
Matthews sparked Santa Monica with a game-high 28 points.
At Serra on Jan. 27, the Cavaliers, who are 3-2 in league with both of their losses to Bishop Montgomery, topped visiting Cathedral 83-78. Dykes led the Cavaliers with 22 points while Smith tallied 17.
On Jan. 27 at Cantwell-Sacred Heart in Montebello, Bishop Montgomery's offense was held down by the Cardinals but the Knights' defense out-performed them for a 51-39 victory.
Serra played at Cantwell-Sacred Heart on Wednesday and will host rival Playa del Rey St. Bernard next Monday at 7 p.m. The Cavaliers close Del Rey action at Cathedral in L.A. next Wednesday at the same time.
After hosting St. Bernard on Wednesday, Bishop Montgomery finishes league at Cathedral Friday and at home against Cantwell-Sacred Heart next Wednesday. Both games begin at 7 p.m.
___________________________________________
Gardena Boys' Basketball
Gardena wins two of three in Marine action
By Joe Snyder
Sports Editor
Gardena High's boys' basketball team suffered a blow when it lost top player Clarence Bookman midway in the season but is still 5-2 in the Marine League after wins over San Pedro and Banning and a loss to Washington last week. Bookman left the squad for family reasons.
At Gardena on Jan. 25, the Panthers rallied for a 48-43 victory over the Pirates. Staying at home on Jan. 27, Gardena got by the Pilots 57-53. Last Friday, the Panthers traveled to Washington and fell to the Generals 57-50.
Against Washington, the Panthers got off to a good start with a 30-20 second quarter lead and continued to lead by six points at 32-26 at halftime. Gardena, however, had a poor third period where the Generals outscored the Panthers 21-8 to take a 47-40 advantage. Gardena got as close as three points in the final quarter but was forced to foul as Washington made key free throws to put the contest away.
Jordan Howard led Gardena (15-11 overall) with 13 points, followed by Cameron Cunningham and Isaac Green with 10 points apiece.
Against Banning, the Panthers found themselves trailing 15-12 after the first quarter but came back to lead 31-29 at halftime. The game continued to be close before Gardena prevailed.
Green led the Panthers with 14 points. Dominique Datu and Cunningham each added 12 points.
On Jan. 25, Gardena started slowly as it trailed 12-4 after the first quarter and 21-12 at halftime. The Panthers, then, bounced back in the second half outscoring San Pedro 36-22 to pull out the win. Howard led the Panthers with 15 points. Green chipped in nine points and Datu contributed eight.
After games at home against Carson on Monday and at King-Drew Medical Magnet in Willowbrook Wednesday, Gardena will face the giant task of host front running Narbonne, which is rolling through the Marine League, Friday at 7 p.m. On Jan. 20, the Gauchos crushed the Panthers 79-42. Gardena visits San Pedro next Wednesday at 5:30 p.m.
_____________________________________
Sports Scoop
CIF-Southern Section votes to change playoff format
By Joe Snyder
Sports Ediotr
Over the past year, the CIF-Southern Section officials were serious about plans to change the structure of the playoffs and the voting came as expected.
The committee voted 74-10 to go from the traditional league and enrollment format to a more competitive brand. This means that top overall squads will play on top divisions and the others will vie in a division according to their level of competition. It will be based on their overall records and power points. That is based on the type of schedule and teams they play during the regular season.
That means that one school in a league could play in one division and the other in another. It has already been this way in boys' and girls' basketball but now; it will be for all the other sports, such as football, water polo, tennis, soccer, baseball, volleyball and others. Sources are that the football divisions will go from what was more like regionals, such as PAC Five, Northern, Western, Northwest, Southeast and others to what it already is in the new CIF-State format where the top division will be renamed the Open Division, just like in basketball, then going down to IAA, IA, IIAA, IIA, IIIAA, IIIA, IVAA, IVA, VAA , VA and VI. Other sports will be basically the same as what it has been, although sources are that it might be expanded to more divisions in some of them.
A lot of this is due to numerous lopsided games in the playoffs, especially in the earlier rounds. Much of this is also due to numerous top athletes who transfer from one school to another that they feel is better. In recent seasons, there were certain high schools who would dominate the rest of the teams because of the era of transferring.
The new format will go in at the start of the 2016-17 school year.
Blues Win Lions Game: Last Saturday's 52nd Annual West Torrance Lions All-Star Football Classic was a defensive battle as the Blue team shut out the Red squad 6-0 at Mira Costa High in Manhattan Beach.
The Blues scored the game's only touchdown early in the second quarter as Bishop Montgomery quarterback Brendan Marafino scored on a 4-yard run. The Blues attempted a two-point conversion but Marafino's run fell short.
From there, both teams had some chances but clutch defenses held them. The Red squad could have tied the game as the Inglewood Morningside passing combination of quarterback Jerome Rousborogh and wide receiver Adarrus Wilson connected to what appeared to be a 35-yard touchdown midway in the third period. The play, however, was nullified due to a holding penalty. Wilson, a first team all-Bay Leaguer with the Monarchs, had 79 yards in receptions.
Mission League champion Serra had three players involved in linebacker Kevin Hicks, along with offensive linemen Alonzo Abdullah and Winston Webb, all with the Reds.
Bishop Montgomery, the South Catholic League champion who lost to Pasadena Maranatha 17-16 in the first round of the CIF-Southern Section Northwest Division playoffs, also had running back Patrick Smith and defensive back Dominic Johnson for the Blues.
North Torrance was represented by wide receiver Jason Colclasure, wide receiver Justin Allmond, linebacker Kevin Ali'ifua and linebacker-fullback Ethan Shelton on the Blue squad. The Saxons were Pioneer League co-champions with rival West Torrance.
Torrance had linebacker-quarterback Tyler Maseuli and offensive lineman Juan Mosquera. West players included wide receiver Cody Wissler, linebacker Michael Timmerman, defensive lineman John Girardini, offensive lineman Luis Aguilar and alternate Bobby Fujioka as a defensive back. All were on the Blue squad.
The Blues also had Ari Harris (Carson), Dayshawn Littleton (Carson), Kyrin Cannon (Carson), King James Taylor (Narbonne) and Eric Frazier (Narbonne). Narbonne won the CIF-L.A. City Section Division I and California State Division IA crowns this season. The Gauchos became the first CIF-L.A. City Section to win at state title since the section was formed in 1934. Only one other from the L.A. School District, Manual Arts, captured the state in 1917.
The Blue team was head coached by Bishop Montgomery's Ed Hodgkiss. The Reds were headed by Lawndale's Travis Clark.
South Torrance had one player, quarterback Gabe Zuniga, played for the Reds.
South fires Waybright: South Torrance head football coach Josh Waybright, who head coached the Spartans since 2004, was fired by the school administration for claimed obsessive use of tobacco.
Waybright, who graduated from South in 1993 and keyed the Spartans to the CIF-Southern Section Division VII semifinals in the 1992 season, had his best season in 2010 where South reached the Southern Section Northwest Division final losing to Lompoc 20-14. The Spartans had a chance to win the game but a potential tying or winning touchdown fell only a yard short at the end of the game.
Super Bowl Milestone: It's hard that this year will be Super Bowl 50 in the National Football League as the Denver Broncos battle the Carolina Panthers Sunday at 3:30 p.m. at Levi's Stadium in Santa Clara.
Things certainly changed since the first Super Bowl played at the L.A. Memorial Coliseum in 1967. First, you had the National Football League champion facing the seemingly weaker and lesser experienced team from the American Football League. It was two years later in 1969 in Dallas, though, that the AFL finally prevailed when the quarterback Joe Namath-led New York Jets upset the heavily favored Baltimore Colts 16-7. A year later, the NFL and AFL finally merged into the NFL and had the National Football Conference and American Football Conference.
The powerful Green Bay Packers, head coached by the legendary Vince Lombardi, won the first Super Bowls over the Kansas City Chiefs 35-10 in the 1966-67 season and the Oakland Raiders 33-14 in the 1967-68 year at Miami's Orange Bowl, which was demolished and replaced by a Major League Baseball stadium for the Miami Marlins.
The minimum cost of the first Super Bowl was $10 but has 120-folded to $1,200 today. Average cost, though, is $5,200. That is about the same as buying about a 10-year-old used car.
The Carolina Panthers were impressive in routing the Arizona Cardinals 49-15 for the NFC title on Jan. 24in Charlotte. Quarterback Peyton Manning, who will retire after this game and is about to turn 40 years old, led the Denver Broncos to a narrow 20-18 victory over the New England Patriots for the AFC crown at Denver.
It should be a good battle between a strong defensive team in the Panthers and Manning's B