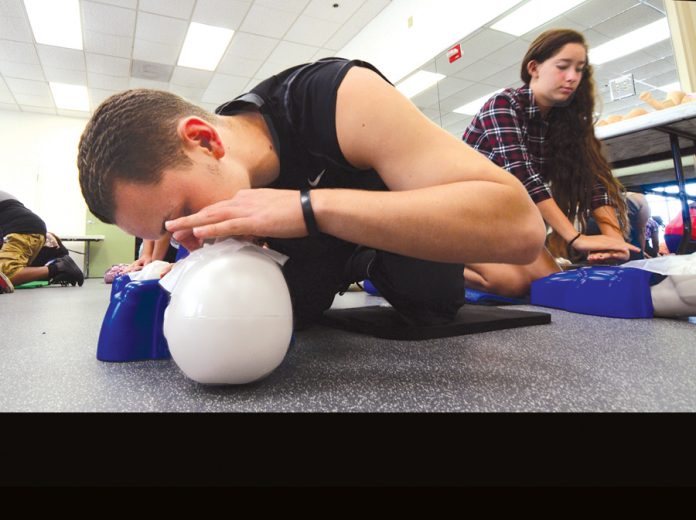 CCF-sponsored program offers teens a variety of experiences
By Pearl Sheets
Replete with renovated facilities, the Gardena-Carson Family YMCA opened its doors this summer to local youth through its new Teen Initiative program.
CCF-sponsored program offers teens a variety of experiences
By Pearl Sheets
Replete with renovated facilities, the Gardena-Carson Family YMCA opened its doors this summer to local youth through its new Teen Initiative program.
Thanks to a $10,000 grant from the California Community Foundation, which was matched by an endowment gift from Crenshaw Lumber affiliates Lloyd and Beth Olsen, a storage closet at the Y facility was converted into a teen lounge — fitted with four computers, a television, a Wii gaming system, board and card games and other crafts, Audrie Echnoz, executive director, said.
"Teens need a place to belong. They need a place that feels like their own. That's what started this," Echnoz said.
Intent on creating a safe, stimulating atmosphere, the YMCA offered 12 to 17-year-old youth free membership to Y facilities across Los Angeles during the months of June and July, which ushered in 223 new members to the Gardena-Carson branch alone.
Of the 223 youth, 23 have since registered for membership year-round.
"Throughout the month of August, it is $10 for them to join. They can come any time, utilize anything we have," Echnoz said. "Their parents just have to drop them off."
With new programs and classes such as karate and self-defense, dance and a myriad of fitness classes, teens have itineraries scheduled exclusively for them, along with supervised access to the teen lounge, where they can socialize, utilize the technology or do school work.
"We also have guest speakers come in," Echnoz said. "Community leaders are open to speaking to teens about issues such as staying in school and anti-bullying."
Aside from programs intended for the youth, they are welcome to use the new equipment in the weight and cardio rooms, as well as access to the facility's swimming pool and dance studio.
Along with the new amenities, the grant has also provided 50 youth with CPR training in July.
"This initiative was for youth, specifically for teens, but the community wants CPR," Echnoz said. "If you can have these teens in there learning CPR and first aid, it is pretty impactful. They are a part of the community, we need to invest in them."
CPR classes are expected to be offered again in September.
As the demand for first aid education grows, classes for adults and families may be considered, "there are several videos now on YouTube [about the training] as well as on our Facebook, and so now everyone's asking…, [so] who knows," Echnoz said.
To better accommodate the influx of teens, "[the YMCA has] hired new staff and a full-time teen coordinator just to focus on teens. So, that's definitely an investment," Echnoz said.
YMCA employee Jose Guzman, 22, has noticed the expanding youth presence at the Gardena-Carson branch: "ever since we started that program a lot more teens come in, compared to before. It's brand new and with the teen lounge we've just added, it's made a difference as well."
Echnoz sees the YMCA's four core character values–honesty, learning, responsibility and respect–beginning to manifest themselves into the youth's day-to-day interactions.
"They're adapting to the culture of the "Y"," she said.
A Gardena local for 15 years, Guzman feels "like the program is a good thing for the teens because it gets them off the street. Rather than being out there where it [may] be pretty dangerous sometimes, they're in here where it's safe and they're being active."
As a relatively new enterprise, the YMCA continues to navigate through the waters of its Teen Initiative in hopes that they will meet the needs of area youth.
"The teens are going to start telling us what they are dealing with. So those are the things we will start to address as we learn about what they're facing," Echnoz said.
Youth and  older teens are encouraged to visit the facility and learn about the services, programs, classes and amenities offered therein.
"They can walk on in, say they want to join the "Y," ask for Vanessa Contreras, our teen coordinator, she'll give them a tour of the "Y," show them the teen room and give them fliers with programming information," Echnoz said. "Now is the time to do it and get set before school starts, because once school starts, we want them to know they can come here afterwards."
As summer winds down and the first Teen Initiative proves a rousing success, Echnoz wants youth and their families to know that the YMCA is more than just a three-month venture. It's the first step to a fit and whealthy future.
The Gardena-Carson Family YMCA is located at 1000 W. Artesia Blvd., Gardena. Hours of operation are Monday to Friday, 5 a.m. to 10 p.m.; Saturday, 7 a.m. to 7 p.m.; and Sunday noon to 5 p.m. For more information, call 310-523-3470 or log on to the Y's website: http://www.ymcala.org/gardena-carson.