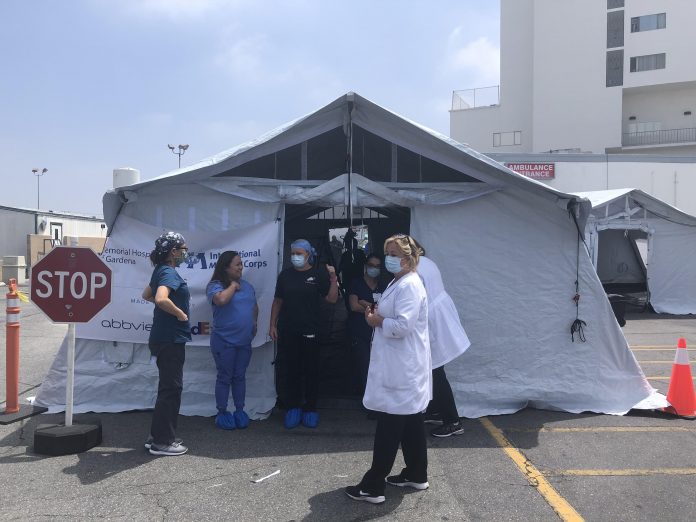 By Ronald Penh
In preparation of a potential second surge of COVID-19, the Memorial Hospital of Gardena has set up tents outside their hospital to increase patient capacity for the virus and to prevent the mixing of patients that have COVID-19 with patients that do not have it. 
The outdoor tent setup will be a key resource for the Memorial Hospital of Gardena in terms of treating patients with COVID-19. It will serve as a triage center, in which patients will be assessed on the severity of their symptoms which would determine the patient's priority and level of treatment, according to infection control director of the Memorial Hospital of Gardena, Ravi Pallipamu.
"This is basically a big waiting area where they try to find out how sick you are," Pallipamu said. 
The center is also designed to be an area specifically for treating patients with COVID-19 to prevent the spreading of the virus with other patients in the hospital.
"We don't want to comingle patients with a lot of respiratory symptoms with people that don't have it," Pallipamu said. "We have patients coming in for different infections, a surgery they need, or a wound, nothing related to COVID-19, we don't want to expose those people to the people with respiratory symptoms."
Patients that show more critical symptoms can be admitted into the hospital, and those that are not would be advised to treat it at home.
According to the CDC, most people that have COVID-19 have it as a mild illness which is treatable at home. It recommends for those individuals to stay at home, stay hydrated, take over-the-counter medicine such as acetaminophen, and to monitor your symptoms. The CDC emphasized trouble breathing as a key symptom to look out for as something that could require more medical attention.
The Memorial Hospital of Gardena plans to have their triage center open for a couple months, or at least until the county gives word that they no longer have to, Pallipamu said. 
"We don't know if and when the surge is gonna happen, we just got to be ready."
According to Pallipamu, the rate of transmission for COVID-19 is beginning to show signs of decreasing but cases can still extend out into the flu season.
"We are starting to decrease," Pallipamu said. "But there are still going to be residual cases, possibly into the flu season.", which begins around October 1." 
Pallipamu noted the trend of COVID-19 in Australia, which showed a significant drop in cases, could be used to gauge what could also occur in the US since Australia's location in the southern hemisphere pushes its flu season to an earlier date.
"If we look at these countries where they haven't had a second surge yet, we can hopefully surmise that we won't see one," Pallipamu said. "We also have the largest numbers in the world, so we just don't know." 
Despite the stark difference in population and number of COVID-19 cases between the two countries, the data can still be a useful measuring stick if it's viewed in terms of proportions and ratios, Pallipamu said.
Aside from projections on if a second surge will strike or how impactful it may be, the current reality is that social distancing regulations will continue until at least May 15, which is when the LA County Safer at Home Order is set to expire. 
According to the director of Los Angeles Public Health Department, Barbara Ferrer, the county is looking into enacting a recovery phase while emphasizing the importance of continuing social distancing regulations to prevent any outbreaks.
"LA County continues to be under the Safer at Home Order, and while we are planning for recovery, there will still need to be Health Officer orders and directives that make sure we open slowly and as carefully as possible to avoid huge outbreaks and overwhelming our healthcare system," Ferrer said in a press release from May 1. "We are grateful to all who continue to do your part to follow directives – it is saving lives." 
As the number of COVID-19 deaths continue to fluctuate, a timeline for the virus' fatal impact will remain less clear until a more steady rate of cases and deaths are observed.
The city of Gardena currently has 165 COVID-19 cases as of May 4 and 19 deaths as of May 2. Los Angeles county currently has 26,217 cases and 1,256 deaths as of May 4.