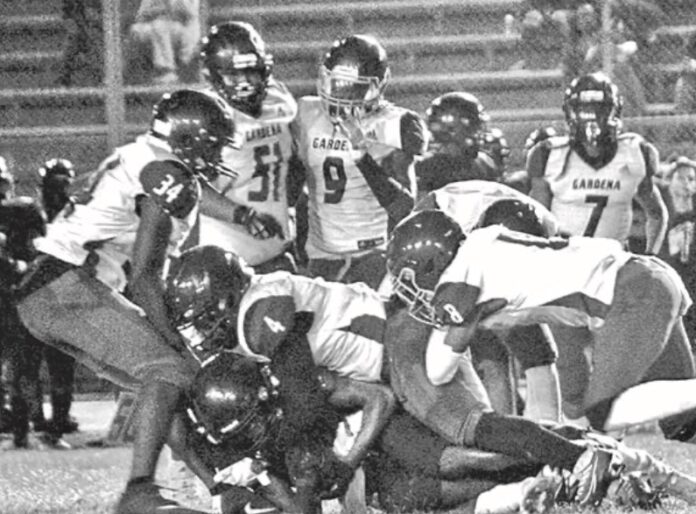 By Joe Snyder
Gardena High's football team enjoyed its six-game non-league schedule going unbeaten.
Last Friday, the Panthers began their brutal Marine League at home against Narbonne, a team they topped last season for their first league on-field win since 2015. Unfortunately, Gardena had several critical penal- ties on offense and defense, but the final one especially cost the Panthers. Gardena was leading 21-19 with 1:04 left in the game and was able to stop the Gauchos at the Panther 13-yard line forcing kicker Jonathan Martinez to attempt a 30-yard field goal. His kick fell low and wide left but Gardena was called for having too many players on the field and was penalized five yards giving Martinez a second try from 25 yards. He was successful and Narbonne took a 22-21 lead with 58 seconds remaining. With little time left, Gardena attempted to pull the game out but quarterback Isaiah Kim's pass was intercepted by Narbonne defensive back Elijah Brown that sealed the one-point victory for the Gauchos.
It was Gardena's first loss of the season while Narbonne's league opening win improved its overall record to 4-3.
Behind a pair of touchdown passes by Ryan Corley, the Gauchos surged out to a 12-0 lead early in the second quarter. The Panthers (6-1) got on the scoreboard when running back Xavier Grant scored his first of two TDs on a 3-yard run, cutting Narbonne's lead to 12-7 after the point after touchdown was converted.
Gardena took a 14-12 lead with 7:28 to go in the third quarter on Grant's 2-yard scoring run.
The game continued to be a see-saw battle. Narbonne bounced back for a 19-14 lead with 6:17 remaining in the game on an 11-yard touchdown run from running back Nick Lenard.
On the ensuing kickoff, De- mej Lagle took the ball from the Panther 20-yard line and raced 80 yards for the TD. The PAT was good and Gardena led 21- 19 with 5:59 left.
Behind very good blocking from their offensive line, the Gauchos drove to the Gardena 7-yard line but a quarterback sack brought them back to the 13 giving them a fourth-down and goal. Martinez missed the field goal but got the second chance due to the Panther five- yard penalty.
Things will not get any easier for Gardena as it travels to San Pedro, the top ranked team in the CIF-Los Angeles City Sec- tion by Maxpreps, for a 7:30 p.m. game Friday. The Pirates had a bye last week after winning four of their first five non- league games. Last year, host San Pedro rolled over the short- handed Panthers, who were plagued with numerous injuries, 69-0. That would be Gar- dena's final game of the season, due to a severe shortage of players, as it had its Marine finale against Banning canceled and the Panthers opted out of the CIF-L.A. City Section Division II playoffs.
Also in the Marine League last Friday, host Banning rolled over Carson 40-14.
The Colts host Narbonne at L.A. Harbor College Friday at 7:30 p.m.
Note: A photo caption in last week's issue identified Gardena High football player Torey Pierce as a quarterback. He is a running back. The Panther quarterback is sophomore Isaiah Kim, a transfer from North High in Torrance. We apologize for the error.