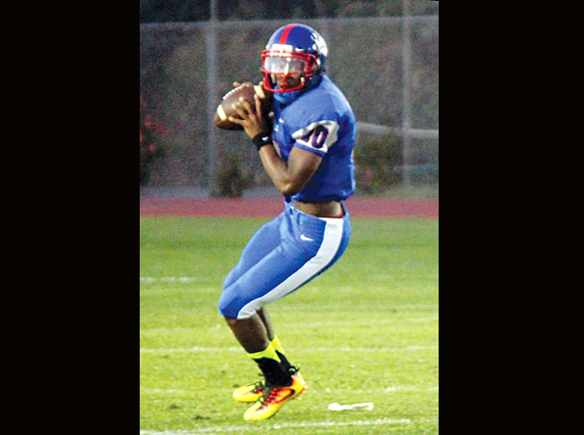 Serra High's football team started off well, for a bit of time, but from there, Narbonne proved dominant against the mostly young and inexperienced Cavaliers for a 34-12 intersectional non-league win in a game between two of the South Bay's biggest powers.
Serra High's football team started off well, for a bit of time, but from there, Narbonne proved dominant against the mostly young and inexperienced Cavaliers for a 34-12 intersectional non-league win in a game between two of the South Bay's biggest powers.
Serra, though, started out its game plan well. In the first four plays of the game, the Cavalier defense held the Gauchos to minus-14 yards on their first four plays. The Cavalier offense appeared to start well. Serra appeared to be driving for a touchdown as it was on the Narbonne 36-yard line. That was where the Gauchos' Justin Prince intercepted a pass from Cavalier quarterback Jalani Eason and Narbonne was on its way. The Gauchos (1-0) drove 80 yards in 15 plays, capped by a 6-yard touchdown run by Kameron Denmark giving Narbonne a 7-0 lead with 1:21 left in the first quarter. The Gauchos never trailed from there.
Narbonne, then, held Serra (0-2) on downs. The Gauchos started with good field position at the Cavalier 36-yard line and climaxed the drive with Denmark's second TD on a one-yard run.
The Cavaliers got on the scoreboard with 6:59 remaining in the second period on a 5-yard scoring pass from Eason to junior wide receiver John Jackson. Junior kicker Antonio Gomez appeared to make the point after touchdown but Serra was called for a false start penalty pushing the ball back five yards. Gomez was forced to try, again, and it fell wide to the left leaving the Cavaliers trailing 13-6.
The Gauchos, though, would not stop. They drove 67 yards and made it 20-6 when Denmark scored his third touchdown from four yards out with 4:18 to go before halftime. That gave Narbonne a 20-6 lead, the score that stood at intermission.
Serra started the second half by cutting Narbonne's lead to 20-12 on a 2-yard TD pass from Eason to junior wide receiver Bryan Addison with 10:17 remaining in the third period and it had hopes at a shot to pull out the game.
The Cavaliers, though, were unable to score any more points and the Gauchos finished them off with two additional touchdowns. Narbonne made it 26-12 with 7:28 left in the third quarter on an 18-yard scoring pass from junior quarterback John Chatman to senior wide receiver Tyrone Marshall. The Gauchos' final touchdown came with 10:28 to go in the game after their 57-yard, 12-play drive ended with a one-yard sneaker from Chatman.
Serra's 0-2 start is the team's worst in several years and things may not get much better. For the third consecutive time, the Cavaliers will be faced with another defending state champion in New Jersey Division III titlist St. Joseph Regional in the Honor Bowl Saturday at noon at Mission Viejo High. Narbonne, last year's CIF-State Division IA champion will seek for another impressive win as it visits Long Beach Poly Friday at 7 p.m. On Aug. 19 in Scottsdale, Ariz., Serra lost to Saguaro, the 2015 Arizona State Division II champion, 35-20.
______________________________________
North, Gardena lose openers
By Joe Snyder
Sports Editor
North Torrance High's football team saw Banning High from Wilmington score the tiebreaking touchdown with just 13 seconds left in the game as the Saxons lost their season opener to the Pilots 19-12 last Friday at North.
North rallied from a 12-0 deficit to tie the game at 12 when quarterback Glenn Searcy completed a 16-yard touchdown pass to K'Lon Benson but the Saxons failed to take the lead as the point after touchdown attempt was missed.
That opened the gate for Banning. It scored the decisive TD on an 11-yard pass from quarterback Myles Porter to wide receiver Angel Mendez and added the extra point. It stayed alive after Porter hit Daniel Hernandez from 33 yards out on a fourth-down-and-five play.
Porter completed 13 of 25 passes for 101 yards and one touchdown. He was intercepted once. He also had a 4-yard TD run that gave the Pilots (1-0) a 12-0 second quarter lead.
The Saxons had to play without head coach Todd Croce, who was unable to coach because of an administrative matter, according to the school's Principal Ron Richardson. Replacing Croce for the game was assistant Don Broussard.
Searcy completed 13 of 25 passes for 167 yards and one interception. He had one TD pass and had a 7-yard scoring run to cut Banning's lead to 12-6 shortly before halftime.
For the Pilots, running back Joe Villareal carried the ball 19 times for 70 yards. Banning also had a 3-yard scoring run by Sultan Moala in the first quarter.
The Saxons remain home to take on Aliso Niguel Friday at 7 p.m.
South East overwhelms Gardena: Under first year head coach David Austin, it was a rough start for Gardena High's football team as it was outmatched by host South East 64-6 last Friday in South Gate.
Austin, a Gardena High alum, replaces Vince Smith who stepped down last spring.
The Panthers return home to face West Valley High from Hemet tonight at 7 p.m.
_______________________________________________
Sports Scoop
ECC opens new stadium against Southwest
By Joe Snyder
Sports Editor
El Camino College's football team arrives at its new home stadium where it begins the 2016 season against Los Angeles Southwest College Saturday at 6 p.m.
The stadium is part of the Athletic Education and Fitness Complex that cost $48 million. It replaces the Murdock Stadium that was built in 1949 and demolished in early 2014.
The stadium seats 7,869 with a synthetic turf field, a nine-lane running track, along pole vault, high jump, long jump and steeplechase areas that will be used for track and field. It will also include a walking path. It is equipped with audio and visual systems for special events.
The facility also has modern lockers, equipment and storage rooms, elevated viewing and a press box on both sides. It also has a Wi-Fi.
The Warriors are under first year head coach Gifford Lindheim and they will seek to improve from their 3-7 squad they had last season. Over the last two years, after Murdock Stadium was torn down and the new stadium was being built, ECC played its home games at Redondo High. Last season Gifford coached Santa Monica City College to an undefeated 11-0 season.
Unfortunate change: Last Friday's non-league football showdown between Serra and Narbonne was originally slated for the new El Camino College Stadium but, due to not reaching agreements between the two schools and ECC, it was forced to be moved to Serra.
The matchup between the top two rated teams in the South Bay was played under a packed crowd of about 4,500 spectators. With security, it was hard for a large crowd of fans to get through the front aisle of Serra's side as the line constantly stalled; especially when security had to close the gates at the middle part to allow the Serra and Narbonne teams to get on to the field for the second half.
In a lot of ways, it should have been at El Camino's larger stadium that would make things more accessible for spectators to get to and from snack stands, bathrooms or other places they go.
Ellis will be missed: The Los Angeles Dodgers have a long history of unpopular trades and the recent trade of catcher A.J. Ellis to the Philadelphia Phillies for Carlos Ruiz was one of them.
Ellis is 35 years old. He was not the best hitter at .194 but was an outstanding defensive catcher.
It will especially be missed if ace pitcher Clayton Kershaw comes back from his bad back, because he and Ellis were close friends. He relied on Ellis as a catcher.
Let's hope that Kershaw can get more used to Yasmani Grandal or Ruiz.
Ellis was one of the long time Dodgers, being with their club since 2003.