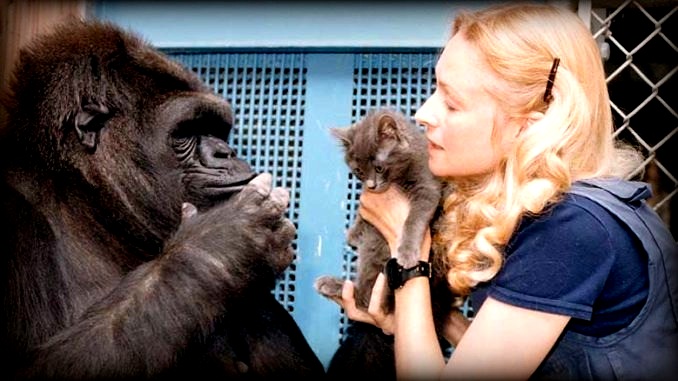 "If we could talk to the animals…" is a catchy lyric from the movie "Dr. Doolittle." And any of        us who have a pet actually do talk to our animal friends whenever we chat with our cat, or verbally schmooze with the dog. But how often do they ever talk back to us, unless they are a parrot or a well-trained crow capable of saying more than "nevermore."
"If we could talk to the animals…" is a catchy lyric from the movie "Dr. Doolittle." And any of        us who have a pet actually do talk to our animal friends whenever we chat with our cat, or verbally schmooze with the dog. But how often do they ever talk back to us, unless they are a parrot or a well-trained crow capable of saying more than "nevermore."
In "Koko – The Gorilla Who Talks," a PBS documentary now available on DVD, we get the chance to see how a very clever, well-trained animal learned how to communicate with a young graduate student named Penny Patterson.
It all began in 1971 when Patterson taught sign language to a young gorilla named Koko. Soon what started out as a scientific experiment turned into a very special relationship that has lasted for almost half a century. Their amazing friendship has challenged the way we think about animals and their emotions when they interact with human beings.
For more than 40 years this delightful duo has become internationally famous as Koko continues to redraw the line between people and animals. If you love animals, this is a DVD you won't want to miss.
***
"Churchill's Secret," from PBS, stars Michael Gambon ("Harry Potter") in the title role. Set in England during the summer of 1953, this docudrama sheds light on a little known portion of Churchill's great life story. At the time, Churchill is Prime Minister for the second time when he suffers a life-threatening stroke which his inner circle conspired to hide from the public.
The film, directed by three-time Emmy nominee Charles Sturridge, charts the course of Churchill's remarkable recovery and investigates the strain that his public service wrought upon his private life.
"Churchill's Secret," told from the point of view of his family, his doctor, the men he championed and, most touchingly, his young nurse, follows Winston's extraordinary battle to recover. "Churchill" also casts an honest light on the tensions within his brilliant, but dysfunctional family. In special features you will also hear from the producers, novelist and cast as they discuss their experience making "Churchill's Secret" and the history behind the film.
***
The 13th season of NCIS (Naval Criminal Investigative Service) from CBS-TV is now available to own on DVD.This season the missions turn personal when a hostage situation traps one of their own. Yet even when danger hits close to home Special Agent Leroy Jethro Gibbs (Mark Harmon) knows he can count on his skilled team to cope with any crisis that  poses a threat to U.S. military personnel and national security.
This season is also memorable because Special Agent Anthony Dinozzo (Michael Weatherly) makes his final exit in the unforgettable season finale. The six-disc set features 24 episodes and many additional features that include:  audio commentary on some select episodes, deleted scenes and more.
***
Children will enjoy the animated "The Swan Princess," about a "princess tomorrow, but  a pirate today." The DVD also includes a sing-along and more. In the story the fun-loving Princess Alise is spending time with Queen Uberta while her parents are away for the summer. During her stay, the little princess is supposed to learn how to be the perfect royal, but what she really wants to become is a swashbuckling pirate princess.
To accomplish her dream she sets sail with Lord Rodgers and Jean Bob the frog and Speed the turtle. Together they embark on high adventures on the high seas which result in a shipwreck that leaves them stranded on a wild, mysterious island where they meet a young boy named Lucas, Rated PG for some mild peril. From Sony.
Also available on DVD:  "High-Rise," from acclaimed novelist J.G. Ballard, is described by the N.Y. Times as "An apocalyptic romp–rollicking, nastily funny." The film, rated R, stars Tom Hiddleston, Jeremy Irons and Sienna Miller.
For the kids from Disney—"Jungle Book."  And coming soon from Disney, "Finding Dory."