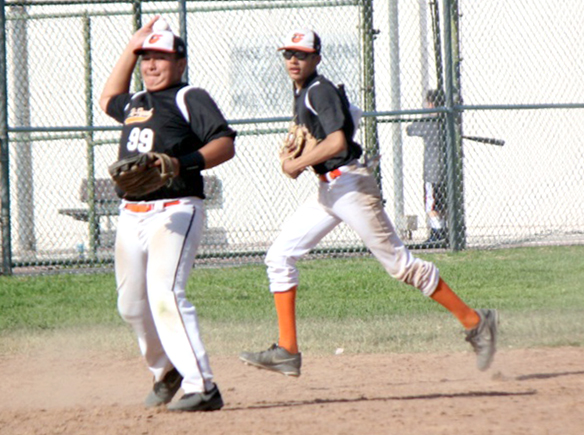 The Tri Park Junior Little League Orioles began the Carl Magee, Jr. District 37 Tournament of Champions with a 6-2 victory over the Lennox Diablos last Saturday at Jim Thorpe Park in Hawthorne.
Tri Park got things started with three runs in the bottom of the first inning, behind a two-run home run by Danny Vaughn.
Vaughn also added a run-scoring base hit.
Max Ramos went 2-for-2 with one run batted in and one walk.
"Both teams played well," Oriole manager Will Castellanos said.
The Tri Park Junior Little League Orioles began the Carl Magee, Jr. District 37 Tournament of Champions with a 6-2 victory over the Lennox Diablos last Saturday at Jim Thorpe Park in Hawthorne.
Tri Park got things started with three runs in the bottom of the first inning, behind a two-run home run by Danny Vaughn.
Vaughn also added a run-scoring base hit.
Max Ramos went 2-for-2 with one run batted in and one walk.
"Both teams played well," Oriole manager Will Castellanos said.
The game was marred with a rash of walks with both teams' pitchers combining for 15 bases on balls.
Tri Park played the Lennox Expos last Monday at Thorpe Park. The tournament is expected to last through Sunday.
In Major baseball action, the Holly Park Giants and Dodgers were both eliminated in three games.
On June 1, the Holly Park Yankees slipped past the Giants, 9-8, when the Yankees scored on a two-out sacrifice fly in the bottom of the sixth inning at Westchester's Carl Nielsen Youth Sports Park. Last Friday, the Giants fell to Westchester, 6-1, at Holly Park.
According to Giants manager Randy Odum, pitcher Angel Falacio had a good game despite the loss to Westchester. William Shum had two hits against the Yankees. Ten-year-old Jaden Collins made two very good catches at right field against Westchester.
After rolling over the Lennox Dodgers, 10-0, in the first round on May 31 at Holly Park, the Holly Park Dodgers were ousted with losses to the Del Rey Dodgers, 8-5, on June 1 and 6-3 to the Wiseburn Reds on June 3.
Against Del Rey, both teams were tied at five entering the top of the fifth inning before Del Rey scored three runs. The game was stopped after five innings due to a two-hour time limit.
"It was a competitive game," Holly Park Dodger manager Glen Bray said. "We'll get ready for all-stars."
______
Franklin finishes eighth in discus; Anderson wins long jump
By Joe Snyder
GVN Correspondent
After having banner recent years, Serra High's boys' and girls' track teams went through injuries and mishaps where they did were unable to do much in last Friday and Saturday's California State Championships at Buchanan High's Memorial Stadium in Clovis.
After capturing the state crown last season, the Cavalier boys had high hopes of repeating. That was before a series of mishaps that started with their 4×100-meter relay team dropping a baton in the Del Rey League Finals on May 7 at Monrovia High. In the CIF-Southern Section Division IV Prelims on May 17 at Carpinteria High, Adoree Jackson, who was the United States' leading prep long jumper with a personal best of 25 feet, 5 ¾ inches he did in March in Chandler, Ariz., was stunningly disqualified from the event for illegally leaving the area for a video review of his jump that violated a National High School Sports Federation rule
In the CIF-Southern Section Masters Championships on May 30 at Cerritos College, a dropped baton in the third leg of Serra's 4×400 relay team caused the Cavaliers to be ousted from state contention in that event.
Serra's boys, which finished second in the Division IV Championships on May 24 at Cerritos College, managed one point for an eighth place finish by Jeremy Franklin in the discus with a toss of 171-3.
Mater Dei of Santa Ana, the Southern Section Division II champion, ended up capturing the state title with 30 points to 28 for runner-up Castro Valley, who had a new national best long jump mark by Nathan Moore at 25-8 ¾.
The Lady Cavaliers, third place team finishers in the Southern Section Division IV, were hampered by the injury of sophomore Jeanette Paul in the 100-meter hurdles and were unable to score. Paul, in fact, was unable to finish the 100 hurdles and had to withdraw from the 300 hurdles.
Before her injury, Paul led off Serra's 4×400-meter relay team to a ninth place finish clocking 47.68 seconds. Other runners on the squad included sophomore Kayla Pickens, freshman Jasmin Reed and sophomore Madison Golden. Long Beach Poly, whose girls ran away with the state crown with 70 points to 29 for second place Piedmont Hills, ran away with the race in a national best time of 45.19.
The Jackrabbits, in fact, had national leading times in several events, including two by sprinter Arianna Washington in the 100 (11.22) and 200 (22.96). Her 100 time was just .08 of a second slower than the national record of 11.14 set in 1992 by later decorated Olympic gold medalist Marion Jones from Thousand Oaks. They also had a national best time of 3:38.05 in winning the 4×400.
There was a local athlete who won the state title. That was by Carson senior Ashley Anderson in the triple jump with a mark of 41-3, her personal best. Her previous best was 41-2 ½ she did at the Mt. San Antonio College Relays on April 19 in Walnut.
The Colt boys 4×100 relay of Justin Collins, Clifford Scott, Jha'Karee King and Brandon Hasson finished fourth in 41.51. Woodcreek won the race timing 41.2.
Collins placed seventh in the 300 hurdles in 37.33.
Also in the girls' triple jump, North Torrance senior Jasmin Bass, who won the event at the CIF-Southern Section Division II and Masters Championships, was fourth at 39-11 ½.
___________
Serra's Wilson gets picked in Round 2 by Diamondbacks
By Joe Snyder
GVN Correspondent
Last season, Serra High's baseball team captured its first CIF-Southern Section Division III crown by rolling over Manhattan Beach Mira Costa, 8-1, then had its top player, Dominic Smith, taken in the first round by the New York Mets.
Smith was the 11th pick overall. He is doing well in the organization, according to Serra head coach Wilmer Aaron.
The Cavaliers returned two other outstanding pro prospects in Marcus Wilson and Denz'l Chapman with the draft being held in New York City on Thursday, Friday and Saturday.
Both were drafted although Wilson got the long end of it. He was taken in the second round by the Arizona Diamondbacks. Wilson had already signed a college baseball letter of intent to Arizona State, but if he gets a good enough offer, he will sign this week.
According to Aaron, Wilson is expected to receive between $850,000 and $1.2 million, if he chooses to sign. He was the 69th overall pick and it came in the Competitive Balance Round B.
This past season, Wilson hit .359 with five home runs and 17 runs batted in. He walked 22 times and had a .534 on-base percentage.
At 6 feet 2, Wilson has power, speed and a strong arm.
Perhaps Wilson's best moment came last year as a junior when he hit a home run off the left field foul pole in the Division III finals against Mira Costa at Dodger Stadium.
"Marcus must correct his mistakes he made in high school," Aaron, a second cousin of former Major League Baseball home run legend Henry Aaron who was himself a Minor League Baseball player, said. "He has a lot of tools."
Chapman was not taken until the 32nd round by the Oakland Athletics. He was the 972nd pick overall. He has good speed and stole 60 bases as a sophomore two years ago. His base stealing, however, has gone down, much due to from two years ago when the Cavaliers played in a weaker Camino Real League and did not have quite as competitive of an overall schedule, compared to the previous two seasons in the more competitive Del Rey League and a tougher overall schedule.
"I teach and train these kids," Aaron said on the draft. "The assessment on Denz'l is they (the pro scouts) observe you. You have to sell your talent to them."
Aaron felt that Chapman did not quite perform to the potential of what the scouts are looking for in the games they saw. "It's about preparation," Aaron said. "You must be prepared."
With the low draft pick where he would not get the big money if he signs, Chapman will be expected to play at San Diego State University, head coached by former Major League Baseball all-star Tony Gwynn, who was a standout mostly with the San Diego Padres during the late 1970's and 1980's.
Both led a mostly young Cavalier squad, who lost four projected returning starters who transferred to other schools, to a co-Del Rey League title with eventual Division III champion La Puente Bishop Amat. Serra was eliminated in the first round by Loara High, 8-5, on May 23 in Anaheim. The Lancers won the title with a come-from-behind 4-3 upset win over favored Palm Desert last Friday at Dodger Stadium. It is the second straight year that a Del Rey team won the division crown.
Also drafted was Torrance High standout Manny Olloque in the 16th round by the Kansas City Royals. Olloque played a key role in the Tartars' CIF-Southern Section Division IV title over Pioneer League cross town rival South Torrance, 11-0, last Saturday at UC Riverside.
Olloque was 2-for-3 with one RBI to key Torrance to its first Southern Section title. He was the 483rd pick overall.
Former Torrance standout Trent Gilbert from University of Arizona was picked in the 15th round by the Baltimore Orioles, the 361st pick overall.
With the Wildcats, Gilbert batted .324 with 39 RBIs as a junior. Gilbert graduated from Torrance in 2011.
Ex-Torrance Babe Ruth player and Torrance resident Koby Gauna from Cal State Fullerton was taken in the 20th round by the A's. The former Bellflower St. John Bosco standout pitcher went 5-3 with a 1.64 earned run average as a junior at Arizona.
______
Torrance routs South in all-Torrance Division IV final
By Joe Snyder
GVN Correspondent
Torrance High's baseball team picked up the top prize of capturing the CIF-Southern Section Division IV championship by rolling over Pioneer League and cross town rival South Torrance, 11-0, last Saturday at UC Riverside.
The Tartars enjoyed a great performance by senior pitcher Kyle Smith all season and he showed it in the championship. Smith pitched a two-hit shutout. With the bat, he went 2-for-4 with one run batted in.
It was Torrance's first Southern Section baseball crown in the school's 97-year history. The Tartars came close in losing in the finals in 2009 to San Dimas and 2010 to Palm Desert.
The win ended the Tartars' season at 27-8. They tied South for the Pioneer League crown at 9-1 in regular season play.
Smith, who finished his record at 12-1, pitched a total of 24 shutout innings in four playoff wins. He finished with a phenomenal earned run average of 0.46. Smith is already bound for NCAA Division I university, Cal Poly San Luis Obispo.
He also finished with 12 strikeouts and just one walk despite injuring his ankle during the contest. Smith pitched a complete game.
Torrance got to South Torrance senior ace Matt Mogollon early with three runs in the third and six more in the fifth. He was relieved by Drake Pingel, but he was greeted with a two-run triple from Dominic Hayes.
The Tartars added four runs in the top of the seventh against the helpless Spartans.
Haynes went 2-for-3 and drove home two runs. Olloque, who was drafted in the 16th round by the Kansas City Royals shortly before the championship contest, was 2-for-3 with one RBI. Robert Sylvester drove in four runs.
Mogollon gave up seven runs (three earned) in four-plus innings. He allowed six hits and walked three.
It was South's first final appearance since winning the Southern Section Class 4A crown in 1984. The Spartans won the 3A championship in 1980.
For head coach Grady Sain, it was his third final appearance as a player and a coach, and it happened every 10 years in years ending in four. In 1994, he played for West Torrance, which lost in the Division II championship to Garden Grove La Quinta, 3-1.
In 2004, Sain coached at San Pedro which fell to Chatsworth, which ended its season ranked No. 1 in the nation and had two current Major League Baseball players in Mike Moustakas (Royals) and Matt Dominguez (Houston Astros), 7-1 in the CIF-Los Angeles City Section Division I final at Dodger Stadium. That Chancellor squad was also ranked one of the top squads ever in California, according to a recent ranking. Both Moustakas and Dominguez were first round Major League Baseball draft picks following that season.