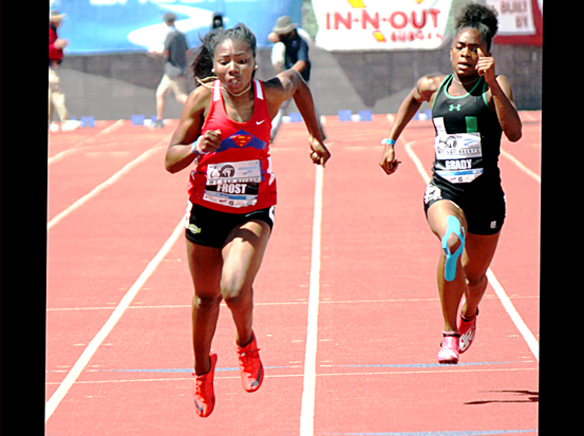 By Joe Snyder
For the second straight year, El Camino College hosted the Mt. San Antonio College Relays since Mt. SAC's Kilmer Lodge Stadium is still being rebuilt to prepare to host the 2020 United States Olympic Trials last Thursday, Friday and Saturday.
Serra High's athletes had a fine performance in the meet behind its girls' 4×200-meter relay team that won the prestigious Invitational Division with a time of one minute and 38.66 seconds on Saturday. The squad included Jaylah Herron, Queen Okoh, Destine Reid and Jazmyne Frost. Serra was able to defeat always powerful Long Beach Poly and Upland to win the race.
"We wanted to execute and that's what we did," Frost, a junior, said. "It's great to do something big."
The Lady Cavaliers did not run the 800 relay before and winning this division on their first try was a big accomplishment. Earlier in the day, the same four finished third at the 4×100 relay at 46.15. Serra finished behind winner Long Beach Poly and runner-up Upland.
Frost proved that she is a strong California state contender in the 100- and 200-meter dashes. Frost had third place finishes in both events clocking 11.77 in the 100 and 24.39 at the 200.
Freshman Maya Rush smashed her personal record by 10 seconds in the 800-meter run with a time of 2:16.45 for a fourth place finish in the Invitational Division.
For the boys, Makarus Page continued to excel. He placed fourth in the 400 meters in 48.52 and took seventh in the 200 timing 22.0. Page also ran on the second leg of the 4×400 relay which finished fifth in the Invitational in 3:22.3. Other runners were Devon Kirkwood, Gustavo Orendain and D'Marcus Jones.
Another key for Serra's boys was Jacory Jones who won the seeded division at 22 feet, 4 ½ inches.
The Cavaliers had their 4×200 relay participate in the seeded and was third clocking 1:32.69. Runners included Jones, Mason Bowen, Corey Jones and Jaylon Armstead.
Carson High's boys had a first place finish in the seeded 4×100-meter relay in 41.95. Andre Butt finished third in the 110-meter high hurdles Invitational division timing 14.17 and led the Colts' 4×110 shuttle hurdle relay team to a third place finish in the invitational in 1:04.17.
The Mt. SAC Relays, in its 60th year, did not have a community college meet but several El Camino College athletes competed in the college, which were mostly four-year colleges with many of them Division I. It was hurdler Jasher Foster who broke the school record in the 110-meter highs at 14.13 for a second place finish. Former West Torrance High standout distance runner Carson Bix finished 13th in the Open 5,000 meters clocking 14:32.41 but is third on the ECC all time list at the event.
There were a few highlights in the elite division, many led by University of Southern California athletes. Leading the way were Michael Norman who won the 400-meter dash in 44.53, just .08 of a second shy of the meet record of 44.45 set by eventual Olympic gold medalist Steve Lewis in 1992. Norman, now a sophomore at USC, was a former California state 200 and 400 champion and national prep 400 record holder in the 400 while at Vista Murrieta High two years ago. Twanisha Terry won the 100 in a world leading time of 10.99 and Ronnie Baker of the Nike Track Club won the men's 100 timing 9.97.
Ex-Trojan and 2016 Olympic womens' 400-meter hurdles gold medalist Dalilah Muhammad won the event in 55.25. Tara Davis and Vashti Cunningham recorded American best marks in winning the women's long jump (21 feet, nine inches) and high jump (6-3 ¼), in order.