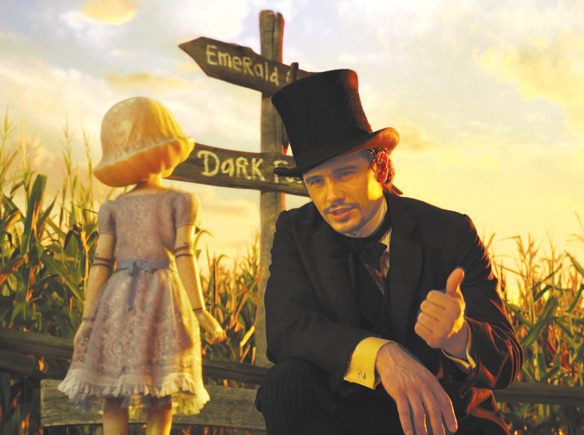 Readers, young and old alike, as well as theatre and film aficionados owe a great debt to L. Frank Baum, author of the Oz novels. His books were the inspiration for the 1939 film classic "The Wizard of Oz" starring Judy Garland and Ray Bolger, a motion picture designated by the Library of Congress as "the most watched film ever made."
Readers, young and old alike, as well as theatre and film aficionados owe a great debt to L. Frank Baum, author of the Oz novels. His books were the inspiration for the 1939 film classic "The Wizard of Oz" starring Judy Garland and Ray Bolger, a motion picture designated by the Library of Congress as "the most watched film ever made."
Baum's characters were also used in the contemporary novel "Wicked" which then became the basis for the theatrical musical hit "Wicked" about the witches of Oz. Now his characters come alive again in the new Disney film "Oz the Great and Powerful."
The new Oz film, a prequel to the 1939 movie "The Wizard of Oz," is also set in rural Kansas and it too begins in black and white. This time the year is 1905 and James Franco portrays an amorous magician named Oscar Diggs who performers in the Baum Circus. He secretly yearns to be great like his real life heroes, Houdini and Thomas Edison. He bills himself as "Oz the Great and Powerful," but he is neither.
During an afternoon show, aided by his loyal and underappreciated assistant Frank (Zach Branff), things go terribly wrong. Seeing him do magical things on stage, a young girl in a wheelchair (Joey King) asks "The Great Oz" to use his powers to cure her. Unable to help, he tells her he doesn't possess that kind of magic.
At this point the audience turns against him. They are joined in their fury by a frighteningly ferocious strong man from the circus who thinks Oscar has tried to seduce his daughter. In a frantic effort to escape, the mediocre magician jumps into a nearby hot air balloon. When he cuts it loose, it flies right into an oncoming tornado which takes him away from one dangerous place to another which is even more potentially life threatening.
When Franco lands in OZ things go from black and white to glorious color. This new world is ablaze with enchanted pink butterflies, beautiful flowers , Munchkins and three witches–oh, my. The first witch he encounters is Theodora (Mila Kunis) who is instantly smitten by this handsome airborne stranger. She's positive he is the long awaited Wizard who will, according to the prophecy, save OZ from the wicked witch. As they travel along the yellow brick road to Oz Oscar saves an adorable winged monkey named Finley who is dressed in a bellhop uniform complete with cap. Soon little Finley (voiced by Branff) becomes Oscar's sidekick and aide, and like Frank back in Kansas, he too is underappreciated.
If indeed Oscar Diggs is the real Wizard he will be given the vast golden fortune in the vaults of Oz. However, he must kill the wicked witch first to prove his true identity according Theodora's worldly sister Evanora (Rachel Weisz). This, she assures him, is the only way he can become the "Great and Powerful Wizard of Oz."
The third witch he encounter is the beautiful blond Glinda (Michelle Williams). Evanora has convinced Oscar that Glinda is the evil one, so what's really going on in Oz anyway?
Sorting out which witch is which is a bit convoluted, but the truth will eventually be told. In the meantime we also meet China Girl, an adorable porcelain doll voiced by Joey King. She is tiny, brave and just too cute for words. (By the way China Girl figures can be bought in the Disney store.)
With the help of the tinkers, tailors and Munchkins of Oz, Oscar devices a spectacular plan to save the Emerald City. This part of the story is especially imaginative as Oscar is inspired by his hero Thomas Edison.
Parents, be advised, there are some really scary flying monster monkeys who could scare the daylights out of very little viewers. The film format is real D, 3D and IMAX 3D. From Disney, rated PG for some frightening images and action sequences.
The El Capitan Theater in Hollywood not only has the film in 3D, they also have a magic show with a real magician and assistants plus costumes from the movie. Bring you camera. For tickets and information call 1-800-DISNEY6.