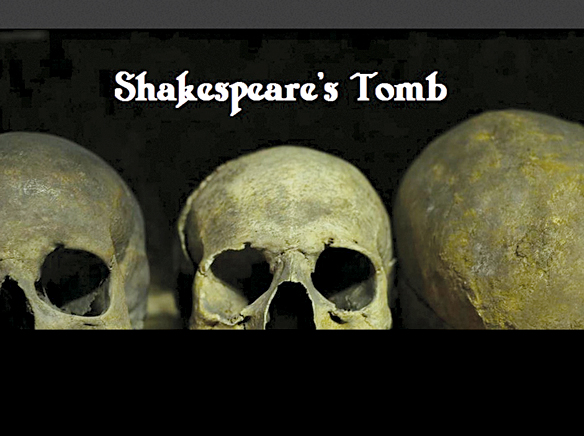 'Shakespeare's Tomb' provides first-ever
scientific investigation of the Bard's grave
By Theda Kleinhans Reichman
Entertainment Editor
'Shakespeare's Tomb' provides first-ever
scientific investigation of the Bard's grave
By Theda Kleinhans Reichman
Entertainment Editor
PBS offers viewers a wide range of thought provoking programming from mystery to history. Their Nature Series is another source of interesting information about animals, their habits and habitats. There are so many shows to see on PBS, but if you missed any when they first aired you can relax, because many titles are now available or coming to DVD and Blu-ray in July and August for your personal pleasure.
"The White House: Inside Story" is a great way for you and your family to travel to the most famous address in the United States — 1600 Pennsylvania Ave. in Washington, D.C. And better still, you will be able to take an intimate behind-the-scenes tour inside this very special residence. Your tour will be guided by stories told by First Family members, former employees, historians and members of the press combined with an informal interview with the current president, Barack Obama, inside the oval office.
Not only will you meet President Obama and former president Jimmy Carter, the program also features new interviews with First Ladies Michelle Obama, Laura Bush, Barbara Bush and Rosalyn Carter. Their personal stories are interwoven with historical facts about the residence. This information is further enriched by beautiful images coupled with never-before-seen archival film footage which shows us how the presidential mansion operates, not only as a private home but as a workplace as well where military and economic decisions are made that shape and affect our history. Running time is approximately 120 minutes.
*****
If your kids can't quite get interested in reading Shakespeare, maybe watching "Shakespeare's Tomb" might pique their interest. This PBS program is the first-ever scientific investigation of the Bard's grave. In conjunction with the 400th anniversary of the poet-playwright's death, University of Cambridge historian Dr. Helen Castor and a team of archaeologists embark on the first-ever scientific investigation of Shakespeare's grave, which carries a mysterious curse against anyone who moves his bones. The purpose of their study is to find out if the grave has ever been disturbed.
The ominous curse, carved on his gravestone reads as follows: "Good friends, for Jesus' sake forbear, to dig the dust enclosed here. Blessed be the man that spares these stones, And cursed be he that moves my bones."
The investigation explores a 19th century story that Shakespeare's skull was stolen by trophy hunters 100 years earlier. Following a trail that leads to a mystery skull hidden in a crypt beneath a country church, will a 3-D laser scan and a forensic analysis of the skull confirm that it is a possible match for Shakespeare?  Four hundred years after his death "Shakespeare's Tomb" aims to separate fact from folklore surrounding the final resting place of the Bard.
This whole concept conjures up that famous scene from Shakespeare's "Hamlet" where with skull in hand 'tis said: "Alas poor Yorick, I knew him well."
***
Animal lovers will enjoy "Nature's Perfect Partners" which is about teamwork. It's not surprising to witness teamwork within animals of the same species–like elephant matriarchs helping a baby elephant, a pod of killer whales hunting as a team or a troop of capuchin monkeys scheming together to steal a meal from a snake. What is surprising however is the fact that often completely unrelated species such as the finch and the tortoise, the lizard and lions and the raven and the wolverine join forces to become unlikely collaborators. Such teamwork involves a considerable amount of brainpower and reveals what animals are really capable of doing with one another to achieve a goal.
Another animal DVD from PBS is "The Great Polar Bear Feast," about an extraordinary gathering of solitary hunters–the polar bear. It takes place in Kaktovik, Alaska, a small Inupiat community perched on the edge of the world, inaccessible by road and locked in
by frozen sea ice for 9 months of the year. But for the month of September it becomes the center for polar bear studies as scientists and wildlife photographers flock to the tiny town to observe the polar bears. With more and more polar bears turning up year after year, scientists are determined to find out why so many polar bears are deserting the  ice for land.
Both animal documentaries are 60 minutes in length.
*****
For mystery fans, check out two shows coming to DVD. On Aug. 23, Inspector Lewis is back on the case in "Masterpiece Mystery: Inspector Lewis– Season 8." If you are a fan you will want to relish his final season.
On Aug. 9, check out "The Tunnel," a thriller starring Stephen Dillane ("Game of Thrones") as U.K. detective Karl Roebuck and Clemence Posey ("Harry Potter") as French detective Elece Wassermann. The two of them are working together on a case involving the death of a prominent French politician whose body was found in the middle of the Channel Tunnel. The case takes a surreal turn when a shocking discovery is made at the crime scene, forcing the French and British police into an uneasy partnership.
:******
"9 Months That Made You" comes to DVD on Aug. 2. This 180 minute PBS documentary details the human growth process from womb to birth, showing us how we became a unique individual in just nine months. No two people are ever identical, not even identical twins, as a baby takes shape in the womb. Learn how your face was shaped, why you are likely to be right handed and even how your sexuality was formed.