By Brett Callwood
Tucked into Artesia Boulevard alongside eateries such as salad joint the Toss Up, Pita 360 is at first glance your standard Mediterranean casual dining restaurant. It's the kind of place where you walk up to the counter, look up at the lighted menu and pick from a selection of salads, plates, pita pockets. 
It has the conveyor vibe, but in this case that offers a feeling of convenience rather than "fast food." In fact, the majority of your food is cooked fresh, including the amazing bread, so it isn't particularly fast at all, and that's to the customer's benefit.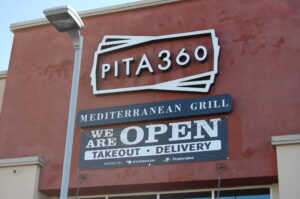 It's little wonder that they put the word "pita" in their name; their bread is spectacular. The open ovens mean that we get to see them put the flat dough in and then watch it rise like a fragrant pillow. The sooner you can eat it when they get it out, the better. You want these circular treats while they're warm and bouncy.
This writer opted for a salad, and picked salmon as the protein, with pickles, tomatoes and cucumbers, and spiced red onion. I splurged on an extra – the red cabbage slaw. 
The salmon was cooked fresh, and they didn't dry it out at all. Pulled from the skewer into the salad bowl, the fish blends perfectly with the mixed vegetables, hummus and garlic. Fresh, healthy and delicious, the dish was delicious.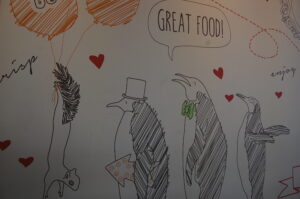 My wife Toni had the falafel rice place, of which she said, "The falafel was definitely the pièce de résistance, as it was moist, rich, and full of flavor. My only complaint was that it was a little bit on the salty side, but it beats many of the falafel options elsewhere. I paired it with the traditional garlic paste and their unique red pepper aioli. Although these were both delicious, like the pita bread, the falafel was delicious enough on its own."
The dish came with five freshly cooked pieces of falafel, and she opted to have it with tabouli, fresh vegetables, and cucumber and tomato salad. 
Meanwhile,the gyro and chicken slow cooking on a giant metal skewer looked and smelled incredible and was incredibly tempting when entering. The staff were super helpful, particularly regarding vegan options, and friendly. The decor is fairly standard for a casual restaurant, but the mural on the wall by the door is fun.
Ultimately, Pita 360 offers affordable Mediterranean eats with plenty of opinions, freshly cooked and with decent portions. What more could you want?
Pita 350 is located at 1556 Artesia Blvd, Gardena 90248. Call 310-352-6345.