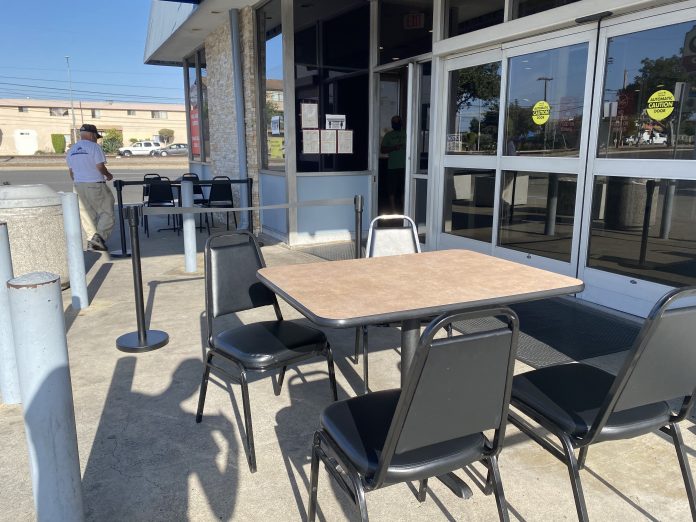 By Ronald Penh
The city of Gardena enacted a regulation on July 7 that will allow restaurants to create outdoor dining areas temporarily suspending city zoning and entitlement provisions that would otherwise pose as barriers for a restaurant's ability to expand their dining areas.
Restaurants were allowed to reopen at 60% capacity on May 29 as COVID-19 cases began to slow down. Patterns of sustained increases of COVID-19 cases in the following weeks, however, led to a three week ban on indoor dining at restaurants on July 1.
Gardena's regulation aims to strike a balance between enabling restaurants to continue business and protect the financial well-being of restaurant owners and the economy, and abiding by social distancing regulations by ensuring that dining is taking place outdoors.
Employing just takeout as an option significantly cuts down restaurant profits, pushing restaurant owners to adapt to whatever options they have available to keep their businesses alive – in this case, it's outdoor dining.
For co-owner of Gardena Bowl Coffee Shop, Frank Nakano, the regulation is a positive addition to the restaurant community, despite the restaurant's limited outdoor dining area.
The Gardena Bowl Coffee Shop has a classic dine-in interior that does not support an extensive outdoor dining area. Immediately outside the restaurant is the parking lot and to the side of it is South Vermont Ave. Not much space is left outside for the restaurant to create a dining area, making a successful outdoor expenditure a big adaptation for the restaurant to make.
"Some restaurants really capitalize on it," Nakano said. "I think a lot of these places had an outdoor eating venue, but we don't. So the ones that did, if I can give an example, Rudy's in Torrance, they got like 15 plus tables out there and I went there on Sunday and it was booming."
Nakano is searching for ways he can make the outdoor dining area for his restaurant attractive and feasible for customers. And as long as COVID-19 cases continue to rise, outdoor dining operations might become more of a norm that restaurants may need to adapt to in order for their businesses to endure.
"I've driven around, trying to get ideas, and I've noticed that a lot of restaurants are starting to (set up) outdoors and making them attractive and safe," Nakano said. "I think it's a great thing and maybe even it's something that the city will make permanent."
For manager of Kotohira Restaurant, Tom Noguchi, finding ways to make the outdoor dining area practical and beneficial for the restaurant is also something that is in the process of being discovered.
"We're thinking of doing Fridays, Saturdays, and Sundays right now, we're still trying to figure it out," Noguchi said. "We just don't know how it would be on the weekdays yet."
Setting up outdoors requires additional work and resources from the restaurant, making the decision to set up in the first place a strategic consideration.
Noguchi is not only thinking of finances, however, as the potential spread of COVID-19 and the safety of people poses a large concern for him.
"That's one of the reasons why we haven't been doing the outdoor dining fully," Noguchi said. "I've been talking to a lot of customers, and some of them dont even believe in it, so that's why I kind of worry."
And as the severity of COVID-19 cases correlates with heavier restrictions on businesses such as restaurants, the safety of customers and an effort to reduce the spread of the virus is seemingly in the best interest of restaurant owners.
The Gardena Bowl Coffee Shop is located on 15707 South Vermont Ave. while the Kotohira Restaurant is located on 1747 West Redondo Beach Blvd. Both restaurants plan to expand their outdoor dining operations.
You can take a look at a PDF of the regulation by visiting https://www.cityofgardena.org/coronavirus-covid-19/ and clicking on the link titled "July 7, 2020 – Regulation No. 4 Adopting a Temporary Private Property Outdoor Dining Program."