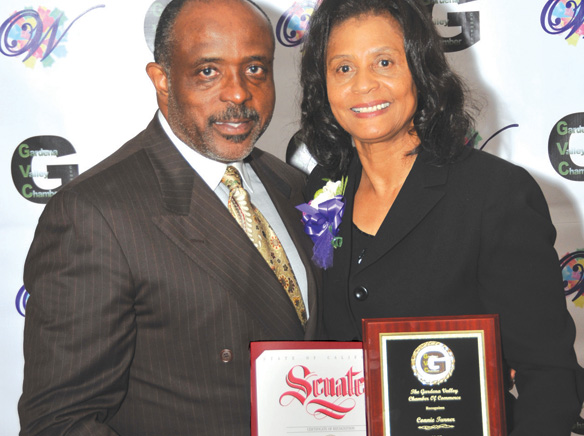 The Gardena Valley Chamber of Commerce hosted an exceptional group of Gardena's Outstanding Women at a memorable luncheon Sunday May 6. The Chamber's executive director, Wanda Love, along with the Board of Directors, spotlighted some of the jewels that Gardena is proud to have in our community. Our keynote speaker, Congresswoman Maxine Waters, welcomed this opportunity to laud the praises of The Gardena Valley Chamber of Commerce, stating the valuable business asset that the Chamber is, as well as a 'hub' for so many resources for the business community of Gardena. She stated that the benefits of the Chamber in uniting the business community, was the truest example of the strength that business has when working together.
Recognition of achievements was the common thread that in the program. Sen. Roderick Wright introduced Waters, and he reminisced about his days when she mentored his early political career.  Her achievements are numerous but the fabric of her success is based upon her focusing on goals, working towards tasks, and not being afraid of the work that has to be done.
The program began with a solo, vocal performance by London McBride of 'Stand,' emphasizing the values of having strength and working towards your goals, getting back up when the result is disappointing, and using that as a lesson to move forward — all resonating themes of our honorees. 'Courtney's School of Dance' troupe performed to Aretha Franklin's 'Respect,' a rousing interpretative dance that also emphasized our theme.
The 'Outstanding Women' Awards Luncheon was pleased to honor the following outstanding women:
Audrie Echnoz, executive director of the YMCA Gardena/Carson, was recognized as being active in the Gardena Community and an overall 12-year involvement in this fine organization; Cheral Sherman, Gardena Willows Wetland Preserve VP Board of Director, highlighting her passion for the restoration and preservation of the Wetlands; Regional manager of Public Affairs for Southern California Edison, Connie Turner, is a dedicated, focused professional who is always 'on the job' and sets an example that is amazing. Her longevity in the Utility Industry, 30 years, has seen her currently on boards of numerous worthwhile organizations, The Gardena Chamber, to name one; Cine Ivery, chief of staff for Sen. Roderick Wright, an advocate who works for our community's benefit who prefers the sidelines… we surprised her with this honor; Charlotte Lynch, community volunteer par excellence, she championed the Flag Day Services that are held annually in Gardena – her patriotism and service to so many worthy endeavors are outstanding; Gloria Gray, West Basin Water District member of the Board of Directors, has dedicated herself to our community not only professionally but as an advocate for learning, political action, and health care availability, to highlight only a few endeavors; Gardena Police Department's crime scene analyst, Kimberle Swobodzinski, has been a trailblazer, professionally and in mentorship. Her training and education have culminated in her development of a 'mapping system' to enable efficient evaluation of crimes and trends. She is advocate for the Explorer's Program, an active recruiter and fundraiser for the worthwhile program; Laura Walters, L.A. County Fire Department Community representative, has 12 years with the Gardena-based Fire Station 158, her public education programs and volunteerism adds so much to the Fire Department community. Her advocacy has been instrumental in creating a Community Emergency Response Team (CERT) in Gardena and adjacent communities; Michelle Villanueva, Gardena DCH Honda general administrative assistant, a professional in every aspect of the word , with 15 years in the automotive field, her knowledge is amazing. She is currently involved in promoting the Students Against Destructive Decisions (SADD), DCH Gardena Honda's outreach to our youth at the high school level; Sheila Doerschel, president of Gardena General Insurance, has the distinction of being the owner of the second oldest business in Gardena. Her community service and volunteerism exemplify her life's code of 'paying it forward';  Stephanie Workman, Starbucks Redondo Beach Boulevard general manager provides the morning java for Gardena's business community. Her community volunteerism has manifested itself in her self- started program of donating the coffee grounds to local gardeners, the 'Grounds for Gardeners' program has become so popular she is lagging behind demand; Sharon Carver, Sam's Club of Gardena general manager, with 22 years in retail business, she applies this experience in her current position at Sam's Club. Not only does she promote volunteering and community responsibility among her peers, she has recently managed to navigate her employees through the remodeling of the Gardena Sam's Club, what a very resilient women; Summer McBride, graphic artist, is a unique talent. This woman has brought the information age to a new dimension. She balances this with her commitment to being a stay at home mother, supportive wife, and involved participant in pursuing her spiritual endeavors; Valeria Sandu, CH Labs Managing Director promotes health in many avenues from vitamins to beauty products she is a pioneer. Proactive volunteerism on her part by sending vitamins to Haiti, after the earthquake, and supplements to Japan after the tsunami, acts that show her international outreach efforts. Like-minded local endeavors live on her resume, too; G. Yvonne Mallory, Economic Development manager for the City of Gardena, tirelessly works to boost the amenities of the City, and cultivates avenues for the betterment of the business community in Gardena. With her able navigation, she has garnered millions of dollars in grant funds for the benefit of Gardena, especially in the Brownfield Program. Her endeavors in negotiating to obtain and rehabilitate the 9.22 acre former Brownfield site resulted in the current location of the Gardena Municipal Bus Operations, a feather in the cap, for this outstanding woman.
The complete biographies for these honorees will be posted on the Gardena Valley Chamber of Commerce website at www.gardenachamber.org. You can appreciate the entire scope of these 'Outstanding Women' that the Gardena Valley Chamber honors. We are proud to have you in our community. Hope you were at the event, it was wonderful. Like all of life, you get out of it what you put in. Let these wonderful women know that you met them through the Gardena Valley Chamber of Commerce.
Gardena Valley Chamber of Commerce would benefit your business in innumerable ways. One is by meeting some of these members of the Gardena community that were honored at the event on May 6. The 'Outstanding Women Awards' Luncheon was an opportunity for you to meet these unique personalities that we have in our community. The best business is local business. Call the Chamber office at 310-532-9905, or go on the website to join. We will love to see you and promote your business, along with you, in our vibrant community.