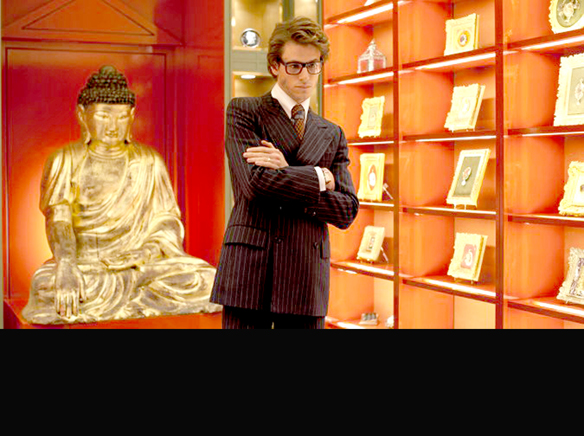 What do you think Walt Disney, Vincent Van Gogh and fashion designer Yves Saint Laurent had in common?

What do you think Walt Disney, Vincent Van Gogh and fashion designer Yves Saint Laurent had in common? One answer: they were all innovators with artistic vision and talent. A second shared element in their lives is the fact that each was aided by the financial prowess of someone close to them. Disney, for example, was able to give life to "Snow White," "Dumbo," "Bambi" and countless other animated fairytale characters thanks to his brother Roy. Tortured and often penniless, Van Gogh was given monetary and emotional strength from his brother Theo; the significant stabilizer for Yves Saint Laurent was his business partner, Pierre Berge.
Roy, Theo and Pierre made it possible for each of these gifted, yet often troubled geniuses to release their unique creations into the universe. Now all three artists are gone, but their undiminished legacy lives on.
In Sony Pictures Classics "Saint Laurent," director and co-writer Bertrand Bonello brings the designer to life, focusing on 10 pivotal years in his life—1967 to 1976. The film was featured in "Entertainment Weekly's" popular "Must List" and was France's official submission for Best Foreign Language Film for the 87th Academy Awards.
It was an official selection at the 2014 Cannes and New York Film Festivals, was a 2015 Cesar Award winner for Best Costume Design and was nominated for numerous other Cesar Awards including Best Film, Best Actor (Gaspard Ulliel) and Best Supporting Actors (Jeremie Renier, Louis Garrel).
In the film, the viewer gets the chance to examine the color and lush textures of St. Laurent's extraordinary life and see what it was like to be a part of the glamour and decadence of the European Fashion world at that time.
St. Laurent was born in Algeria in 1936 and died 72 years later of brain cancer in Paris. But in between that time line he led an amazing, oft times decadent life as one of the world's greatest fashion designers. His world was filled with success, defeat, glamour, drugs, booze and art.
His desire to design began in his youth when he created paper figures and dressed them in lovely gowns of his own deign. For his youthful inspirations he devoured his mother's fashion magazines. He was shy and often bullied, but eventually he, like the proverbial butterfly, emerged from his cocoon to create haute couture fashion designs that dazzled the world. They were innovative, classy and classic.
Throughout his life he gazed at the world through signature dark-rimmed glasses and by age 21 he took on the fashion house of Dior. When he was called up for military duty he was replaced at Dior. As a result he fell apart and wound up in a mental hospital. In 1958 he met Pierre Berge (Jeremie Renier), who became not only a lover, but his trusted business partner, friend and guardian of the Yves Saint Laurent brand and worldwide reputation.
While Laurent's life seemed like a fashion fairy tale, filled with color and glamour, it was also a life tinged by substance abuse and self-doubt. Now, due to this film and a documentary filmed by David Teboul, the truth of his often-tortured life comes to the big screen.
Gasbard Ulliel, who plays Saint Laurent in the Sony Classics film, "Saint Laurent," describes the man as "an artist, not just a designer." Actor Jeremie Renier (Pierre) sees the icon as "A visionary" in many ways.
"Saint Laurent" debuts on Blu-ray, DVD and Digital HD on Sept. 22. It is rated R for graphic nudity, strong sexual situations, substance abuse throughout and some language. The film, in French with English subtitles, has a running time of approximately 150 minutes.
**
On Sept. 15,Disney will release three DVDs for family film fun: "Cinderella," "DisneyNature Monkey Kingdom" and "Lego Star Wars: The New Yoda Chronicles."
Years ago Walt Disney created a delightful animated version of the classic fairytale "Cinderella." Now, many years later, Cinderella returns in a live action film version of the story, staring Lily James (TV's "Downton Abbey") in the title role with Cate Blanchett as her domineering stepmother. The DVD features over 12 minutes of additional scenes including an alternate opening, plus the "Frozen Fever" theatrical short. Rated PG.
"DisneyNature Monkey Kingdom," a playful documentary about a clever and resourceful monkey named Maya, Is set among ancient ruins in the jungles of South Asia. Maya's world changes dramatically when she welcomes her son Kip into her colorful extended monkey family. Their adventures will make you laugh as Maya's world changes for the better. The upbeat nature documentary is narrated with zest by Tina Fey. Note: DisneyNature will donate a portion of the first-week sales to Conservation International to help protect endangered species in their natural habitats. Bonus features include: "Tales From the Kingdom," "On the Set of Monkey Kingdom with Jane Goodall and Wolfgang Dittus," "DisneyNature Monkey Kingdom: The Conservation Story," a music video performed by Jacquie Lee and more. Rated G.
Your favorite Lego Star Wars heroes are back with four complete episodes: Escape from the JedI Temple, Race for the Holocrons, Raid on Coruscant and Clash of the Skywalkers with a bonus feature, an alternate ending for Clash of the Skywalkers.
After headstrong Luke nearly delivers the good guys into Palpatine's clutches, Master Yoda and the ghost of Obi-Wan Kenobi unearth the Holocrons–last remnants of the secrets of the JedI–to further Luke's training. But Darth Vader also seeks the Holocrons and will stop at nothing to get them first. Total running time is approximately 92 minutes. Rated G. For more information visit DisneyDVD.com.