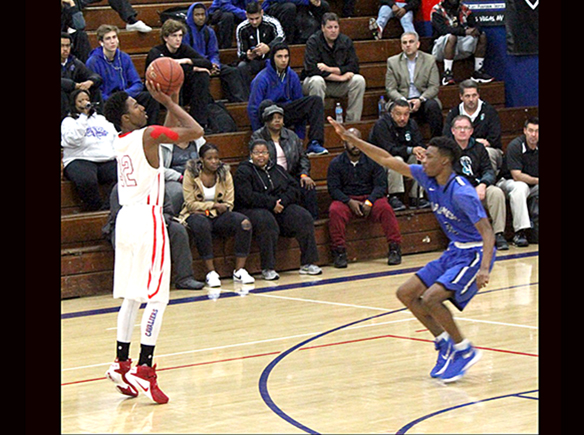 Serra High's boys' basketball team hosted its own Cavalier Extravaganza Classic and faced Diamond Ranch High from Pomona last Saturday.
The Panthers, behind 7-foot center Roman Silva and guard Ryan Haywood, jumped quickly on the Cavaliers then held on for a 55-53 victory.
Serra High's boys' basketball team hosted its own Cavalier Extravaganza Classic and faced Diamond Ranch High from Pomona last Saturday.
The Panthers, behind 7-foot center Roman Silva and guard Ryan Haywood, jumped quickly on the Cavaliers then held on for a 55-53 victory.
Diamond Ranch, which improved to 12-4, took leads of 21-4 after the first quarter, 33-12 at halftime, then led 41-15 midway in the third period before Serra finally solved the Panthers. The Cavaliers proceeded to finish the third quarter outscoring Diamond Ranch 19-5 to cut the Panthers' lead to 46-34. In the fourth, the Cavaliers finished off their 36-12 run getting within 53-51 on a basket by Chinoso Opara. A critical foul, though, enabled Diamond Ranch to put the game away on two free throws from Tyler McLeon. Opora finished the scoring with a basket with one second left.
"The kids showed a lot of poise and effort," Serra head coach Dwan Hurt said. "I wished we would have had that in the first half."
Michah Dykes led the Cavaliers, who fell to 7-8, with 20 points, 16 of those in the second half. Darien Guyton added 10 points. Kobe Smith chipped in eight points.
The Panthers were led by Haywood with 20 points. Silva contributed 14 points, but just two in the second half.
In a non-league game at Inglewood on Jan. 6, the Cavaliers fell to the Sentinels 56-46. Serra fell behind 18-6 after the first quarter and 45-27 after three periods and saw that too big of a hole to dig from.
Inglewood, which is 12-4, is one of the top contenders for the Bay League title, along with Redondo, which is currently ranked fifth in the CIF-Southern Section Division IAA and fifth in California.
Sophomore Kobe Smith stood out with Serra's football team last fall, but he showed that he can be just as good in basketball. Smith led the Cavaliers with a game-high 38 points, including five three-point baskets, as Serra topped host North Torrance 93-80 on Jan. 5 at North.
The Saxons love to use their fast pace run-and-gun offense, along with a full-court press defense, but the Cavaliers proved very effective against them. Serra surged out to a 32-13 lead early in the second quarter after a three-point play from Smith.
North, one of the top contenders for the Pioneer League title along with Lawndale Leuzinger and Torrance, was able to climb within three points (56-53) midway in the third period after Will Ezeani was fouled and converted on two free throws.
Serra got its lead back up to nine (73-64) as Smith converted on three three-pointers in the third quarter.
North, again, got close and trailed 75-71 with seven minutes remaining when Chris Anyiam scored on a layup, but the Cavaliers came back on an 11-2 run behind a 12-foot jump shot by Guyton, a three-pointer from Smith and another basket by Jhanale Gayle. Serra continued its comfortable lead from there.
Guyton added 21 points for the Cavaliers. Five of those were three-pointers, all in the first half.
The Saxons, who fell to 8-7, were led by Anyiam with 16 points, followed closely by Deon Montgomery with 15. Alex Brooks had 11 points. North forced 13 turnovers on Serra in the first half.
Serra began the Del Rey League at home against one of California's top teams in Bishop Montgomery, currently rated second (behind No. 1 Chino Hills who is also the top team in the United States) in the state, on Wednesday. The Cavaliers host Cantwell-Sacred Heart from Montebello Friday at 7 p.m.
The Saxons defeated host South Torrance in their Pioneer League opener last Thursday.
After hosting Centennial High from Compton Wednesday, North visits West Torrance in league play Friday at 7:30 p.m. North is at Torrance in what is expected to be a key contest next Wednesday at the same time.
__________________________________
Lady Cavaliers fall to 2 top opponents
By Joe Snyder
Sports Editor
Entering this season, Serra High's girls' basketball team was expected to be one of the top contenders for the CIF-State Open or Division I championship.
Injuries and playing a rigid preseason schedule, though, is making things tough for the Lady Cavaliers. Serra saw its record fall to 9-7 with losses to two highly regarded teams on the road against Etiwanda and Sierra Canyon in Chatsworth.
Last Thursday, the Cavaliers fell short of the Eagles 51-46. In the Sierra Canyon Showcase, Serra was unable to hold off the Trailblazers in a 63-55 loss.
Against California State Open Division power Etiwanda, the Cavaliers had a cold shooting first half, mustering only 16 points in trailing the Eagles 29-16. Things got better for Serra as it outscored Etiwanda 30-22 but could not quite get over the hump.
Brooke Bayman led the Cavaliers with 16 points, followed by Briana Johnson with 10.
Against Sierra Canyon, things looked good for Serra as it took a 36-27 halftime lead. The Cavaliers still led by two (46-44) after three quarters but the Trailblazers outscored Serra 19-9 in the fourth period for the win.
Johnson led Serra with 15 points, while Bayman chipped in 10.
"We're playing a tough schedule," Serra head coach McKenzie Hadley said. "We also have some players out with injuries."
One Cavalier player out the whole season is Camille Hailey with a torn ACL.
Serra's next game will be in the St. Genevieve Showcase against Coronado High from Henderson, Nevada. Coronado is one of the top teams in Nevada.
The Cavaliers host their own Martin Luther King, Jr. Showcase on Monday but do not play. The classic, however, includes such powers as Long Beach Poly, Long Beach St. Anthony, defending CIF-Southern Section Division IIIAA champion North Torrance, defending IA champion West Torrance, defending IIAA champion Redondo, defending IVAA champion Torrance Bishop Montgomery and several other top teams.
Last Tuesday, the Cavaliers began the rigorous Del Rey League at St. Paul High in Santa Fe Springs. Serra visits Bishop Amat in La Puente next Tuesday at 7 p.m. before coming home to take on rival Bishop Montgomery next Thursday at 5 p.m.
____________________________________
Sports Scoop
Gardena High loses 3 of 4 at Kennedy
By Joe Snyder
Sports Editor
Last season, Gardena High's boys' basketball team won all four games in the Kennedy High Round Robin Tournament in Granada Hills.
Last week, things were not as successful as the Panthers lost three of four. Gardena began with a 55-46 win over Chatsworth on Jan. 4. A day later, the Panthers fell short of North Hollywood 47-45.  On Jan. 6, Gardena lost another heartbreaker to West Los Angeles University 50-48 and closed out with a 56-47 loss to Van Nuys Grant 56-47.
Against North Hollywood, the Panthers, who fell to 11-7, took a 16-8 first quarter lead, only to see the Huskies outscore Gardena 20-9 in the second period to take a 28-25 halftime lead. The second half was mostly even.
Clarence Bookman led Gardena with 18 points against North Hollywood.
The Panthers began the Marine League at Carson on Wednesday. Gardena hosts King-Drew Medical Magnet Friday at 7 p.m. Gardena will play in the Los Osos Martin Luther King, Jr. Classic against a team to be decided next Monday in Rancho Cucamonga before resuming league at Narbonne next Wednesday at 5:30 p.m.
Baseball Hall of Fame: Recently, former Los Angeles Dodger, New York Met and Chicago Cub standout Mike Piazza and another standout Ken Griffey, Jr. were both voted into the Baseball Hall of Fame.
They will be inducted next summer.
Following the Dodgers during the 1990's, Piazza was a definitely a key and one of the best hitting catchers in modern Major League Baseball history. With a sizzling .331 lifetime batting average and winning some Gold Gloves on defense, Piazza was a big superstar. He led the Dodgers to National League Western Division titles in 1994, 1995 and 1996.
Griffey spent most of his Major League Baseball career with the Seattle Mariners and he was an outstanding hitter and outfielder.
Knights are young and incredible: Bishop Montgomery High's boys' basketball team appears to be unbeatable.
Last week, the Knights, who are now 16-0, had little trouble winning at Narbonne 80-46. In the Westchester Extravaganza Showcase last Saturday, Bishop Montgomery downed Long Beach Poly 59-47. The Knights won all three of their tournaments, including the Westchester Tip-Off Classic with a 57-52 win over the host Comets, the Mission Prep Tournament from Dec. 19-23 and the D1 Bound Classic by rolling over Calabasas 73-38 on Dec. 30 at Dorsey High.
On top of that, Bishop Montgomery starts two premiere juniors in Ethan Thompson and Jordan Schakel, and a sophomore in David Singleton. Sources are that the Knights start another sophomore and one senior.
Schakel led Bishop Montgomery with 23 points in its easy win over the Gauchos.  Thompson added 22 points.
Jamal Hicks led Narbonne, which appears to be favored to win its third consecutive Marine League title, with 14 points.
One can put something in for Jan. 30 at 7 p.m. That's when the Knights will take on Chino Hills in the Fairfax State Preview Classic. Bishop Montgomery is currently ranked second in California, while the Huskies are No. 1 in the state and the nation. This could be a big preview for the CIF-Southern Section and Southern California Open Division championships. Of course, don't count out always powerful Santa Ana Mater Dei, Long Beach Poly, Corona Centennial, Redondo, along with top L.A. City Section teams in Westchester and Fairfax.
Unfortunately, Redondo, ranked fifth in California, is not on Bishop Montgomery's schedule this season.  The Sea Hawks are 12-3 overall after downing Cerritos Gahr 65-45 in the Westchester Showcase last Saturday. All of Redondo's losses were to nationally ranked teams, Las Vegas Bishop Gorman, Plano, Texas Prestonwood Christian and Chino Hills. The Sea Hawks avenged their loss with a 77-69 semifinal victory over Bishop Gorman in the Maxpreps Holiday Classic semifinals on Dec. 29 at Rancho Mirage High in Palm Springs. Redondo lost the championship game of that tournament to the Huskies 96-80 on Dec. 30. There is a good chance that the two teams could square off in the Southern Section or/and Southern California Regional playoffs. The two teams played each other over the past several seasons. Last year, the Knights downed the Sea Hawks 71-58 in the Jordan Brand Take Flight Classic at the Jordan Hanger in Playa Vista. Two years ago, Redondo defeated Bishop Montgomery 63-56 to win the Redondo Sea Hawk Classic. In the 2012-13 season, the Knights edged Redondo 60-58.