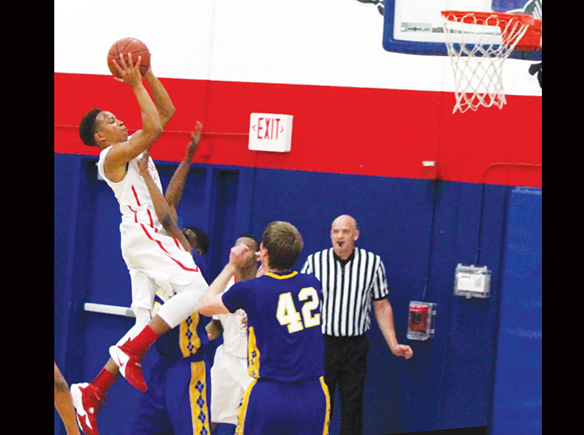 After capturing the CIF-Southern Section Division IVAA championship with a 53-50 win over Notre Dame High from Sherman Oaks on March 5 at Azusa-Pacific University, the red hot Serra High boys' basketball team is seeking more.
After capturing the CIF-Southern Section Division IVAA championship with a 53-50 win over Notre Dame High from Sherman Oaks on March 5 at Azusa-Pacific University, the red hot Serra High boys' basketball team is seeking more.
The Cavaliers won their first two games of the Southern California Regional Division IV playoffs over Venice on March 9 and Grossmont last Saturday; both games at home. The third seeded Cavaliers began with an easy 77-48 victory over CIF-Los Angeles City Section Division II runner-up Venice. Serra followed that with a 65-50 win over CIF-San Diego Section Division III champion Grossmont.
Unlike the final two wins in the Southern Section Division IVAA playoffs where the Cavaliers rallied from double digit deficits to top host San Gabriel Academy in overtime in the semifinals and the championship victory over the Knights, Serra led the entire way in its first two games. On Saturday, the Foothillers, led by 6-foot-10 senior center Tom Rutherford, stayed close as they trailed the Cavaliers, who improved to 18-14 overall with their eighth straight victory, 13-10 after the first quarter and 30-25 at halftime. From there, Serra took advantage of its depth and quickness to pull away.
The Cavaliers had four players score in double figures, behind Mason Chipley with 18 points and 11 steals. Ray Knight, Jr., a junior who has been on a tear in the playoffs, added 16 points. Micah Dykes and Kobe Smith each chipped in 10 points.
Rutherford led all scorers with 32 points for Grossmont but the rest of the Foothillers totaled only 18 additional points.
"We wanted to stop the rest of the team (besides Rutherford)," Chipley said.
Against the Gondoliers, a member of the Western League with CIF-L.A. City Open Division champion Westchester, Serra blew the game open with a 31-14 third period.
Junior Darian Guyton led the Cavaliers with a game-high 21 points, including 11 in the third quarter.
Serra moved on to host Harvard-Westlake at a site to be determined last Tuesday. The seventh seed Wolverines upset host and No. 2 seed West Hills Chaminade 57-47 in their quarterfinal last Saturday. Both are members of the Mission League.
____________________________________________
Serra Girls' Basketball
Lady Cavs get nosed out by Vista Murrieta
By Joe Snyder
Sports Editor
Serra High's girls' basketball team will not be able to have any shot at winning the California State Division I championship after it fell short of host Vista Murrieta 69-66 in the Southern California Regional quarterfinals last Saturday.
The game was close virtually all of the way. The Cavaliers trailed Vista 41-39 at halftime and held a 56-54 edge after three quarters. Vista, however, was able to pull out to lead for good with about three minutes to play.
Delauna Thomas led Serra, which ended its season at 22-10, with 14 points. Brooke Bayman added 13 points and Briana Johnson chipped in 11.
In the first round on March 9 at Serra, the Cavaliers topped CIF-Los Angeles City Open Division semifinalist Fairfax 63-55.
Serra had a 43-33 lead midway in the third quarter behind two baskets by Johnson and two more from Brijaye Brackett before the Lions, led by senior Dominique Dotson, got within two points on Taylor Johnson's basket with five seconds left in the third period. Dotson led Fairfax with 22 points.
The Lions caught the Cavaliers with a 47-47 tie with 7:29 remaining when Fatou Semebene converted on two free throws. Johnson, though, came back with back-to-back baskets to give Serra a 51-47 lead with 6:32 to go and the Cavaliers never trailed from there. Serra converted on 12 of 15 free throws to put the game away. Defensively, Serra held Fairfax without a field goal in the fourth quarter.
____________________________________________
Serra-Gardena Baseball
Serra goes 4-1 at El Segundo Tournament; Gardena crushes Jefferson
By Joe Snyder
Sports Editor
Serra High's baseball team had a fine showing in the always highly competitive El Segundo Tournament, winning four of five.
After wins over Shalhevet and Palos Verdes two weeks ago, the Cavaliers won their third straight contest over San Pedro 2-1 on March 9 at Serra. The Cavaliers, then, were routed by eventual Blue Division Tournament champion Redondo 17-1 last Thursday at Serra. In a consolation game last Saturday at Peninsula, the Cavaliers rolled over the Panthers 8-1.
Winning pitcher Cardinal Fernandezees allowed just one unearned run against Peninsula.
Despite losing to the Sea Hawks on Thursday, Serra managed to be the only team to score a run against them. The Cavaliers scored in the bottom of the fourth after Redondo (5-0 and top ranked in the CIF-Southern Section Division III after winning it last season) built a 9-0 lead. The Sea Hawks added four runs apiece in the top of the fifth and sixth. Redondo won the division by blanking Simi Valley Royal 6-0 Saturday at El Segundo Recreation Park's Stevenson Field. The Sea Hawks also recorded shutouts against Long Beach Cabrillo (23-0), West Torrance (4-0) and Whittier California (4-0), where senior pitcher Max Riley tossed a no-hitter.
Redondo's big rival, Manhattan Beach Mira Costa, won the Gold Division by defeating Bellflower 4-1 Saturday at Recreation Park.
The Cavaliers began the Del Rey League against Pasadena La Salle High last Tuesday at Arcadia County Park and hosted Lynwood on Wednesday. Serra visits La Mirada in the first round of the St. Paul Tournament Friday at 3 p.m. The Cavaliers host St. Paul from Santa Fe Springs in tournament play next Tuesday and St. Francis of La Canada on Wednesday, both starting at 3:15 p.m.
Gardena improved to 3-0 by routing Jefferson 30-2 on March 9 at Gardena. The Panthers started fast on the Democrats, scoring 21 runs in the bottom of the first inning. Gardena added nine more runs in the third.
_____________________________________
Sports Scoop
Prep and College March Madness goes on
By Joe Snyder
Sports Editor
The high school basketball March Madness already got its start with it currently in the Southern California Regional playoffs and the colleges begin this week.
The PAC 12 sent seven teams to the 72-team dance and University of Southern California is one of them. Unfortunately, UCLA experienced a losing season at 15-17 and finished 10th in conference with a 6-12 mark, then was routed by the Trojans 95-71 in the first round of the conference tournament on March 9 in Las Vegas. The Bruins are definitely looking to next year with most of their team back, plus some premiere freshmen that will include Chino Hills all-American Lonzo Ball, who has the Huskies flying at 34-0 and ranked No. 1 in the United States after opening the regional Open Division classic with a 103-71 rout of Central Section school Immanuel last Friday at Chino Hills.
USC begins the East Regional as the No. 8 seed as it faces No. 9 Providence from Rhode Island tonight at 6:50 p.m. (Pacific Daylight Time) in Raleigh, North Carolina. If the Trojans win, they could face top seed North Carolina in the second round on Saturday.
PAC 12 champion Oregon is the top seed in the Western Regionals. The Ducks, who won the first NCAA men's basketball title in 1939, will face the First Four game winner between Holy Cross from Massachusetts and Southern Friday at 4:27 p.m. in Spokane, Wash. Oregon State is also in the Western Regionals. The Beavers are seeded seventh as they begin Friday at 10:30 a.m. against Virginia Commonwealth University.
California is seeded fourth in the South region as it opens against University of Hawaii Friday at 11 a.m. in Spokane. Arizona is sixth and the Wildcats are in Providence where they take on either Vanderbilt or Wichita State tonight at 6:20 p.m. Top seed is the No. 1 team overall in Kansas. The Jayhawks (30-4) take on No. 16 Austin-Peavey.
Utah is in the Midwest Regional and is seeded third. The Uhtes open against No. 14 Fresno State today at 4:27 p.m. Top seed is Virginia which faces Hampton today at 12:10 p.m.
The high schools continue to be no pushover. Torrance Bishop Montgomery, the No. 3 seed, began its Southern California Regional Open Division playoffs last Friday with a 72-58 overtime win over South Bay rival Westchester at Bishop Montgomery.
The Knights have not played in about a week and a half as they saw the CIF-Los Angeles City Open Division Comets jump off to an early 9-3 lead but Bishop Montgomery scored eight unanswered points to grab an 11-9 lead with three minutes left in the first quarter.
Westchester lost Fresno State-bound Kevin Fisher with 1:27 remaining the game, due to an ankle injury but the Comets would not go away. The Knights held a 56-47 lead in the fourth quarter after Ethan Thompson made two free throws but Westchester went on a 9-0 run capped by Marquis Moore's layup to tie the game at 56. Each team traded baskets as regulation ended in a 58-all deadlock. Bishop Montgomery, then, shut out the worn down Comets 14-0 in the four-minute period.
The Knights were led by premiere sophomore David Singleton with a game-high 27 points.
Bishop Montgomery went on to play San Diego Cathedral, which upset No. 2 seed Chatsworth Sierra Canyon last Friday, on Tuesday at a site to be determined.  If the Knights win, they have hopes set on a rematch with Chino Hills on Saturday at 8 p.m. at the Cal State Long Beach Pyramid.
Narbonne High's boys, meanwhile, visited Redondo in a South Bay showdown in the Division I semifinals on Tuesday. The Gauchos had a pair of close wins over Compton 56-54 on March 9 at and 72-70 in overtime against Mission Hills Alemany Saturday, both at Narbonne. The Gauchos, who were L.A. City Open Division runner-ups to Westchester where they lost 51-42 on March 5 at Cal State Dominguez Hills, are seeking to punch their ticket for a 6 p.m. regional championship final Saturday at the Pyramid. The Sea Hawks have regional wins over Clovis North (86-73) and Lake Balboa Birmingham (84-72).
In girls' basketball action, the local teams were ousted in the regional Division I quarterfinals. Serra's girls lost to host Vista Murrieta 69-66 and West Torrance fell to host Harvard-Westlake 57-38.
Serra's boys, though, are alive and well after wins over Venice (77-48 on March 9) and El Cajon Grossmont (65-50 last Saturday) in home games. The Cavaliers remained at home, thanks to Harvard-Westlake's 57-47 upset win of No. 2 West Hills Chaminade on Saturday. After an 11-14 regular season, the Cavaliers won the Southern Section Division IVAA title and are seeking their third state crown. Serra won the California Division IV championship in 1993 and Division III in 2010.