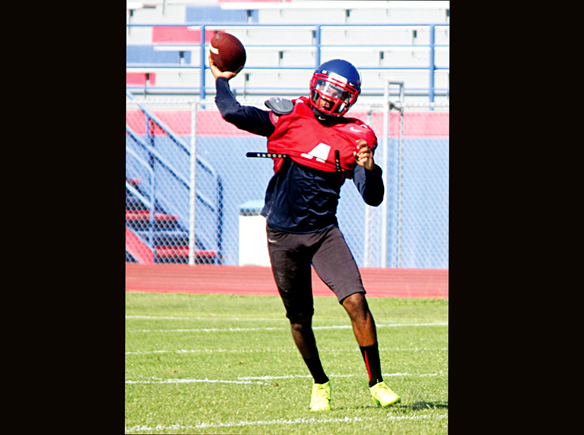 Serra High's football team enjoyed a lot of success in recent years and it will begin its season with a bang this year.
Serra High's football team enjoyed a lot of success in recent years and it will begin its season with a bang this year.
The mostly young and inexperienced Cavaliers will start with three defending state champions. They begin earlier than a large majority of California teams on Friday at Saguaro in Scottsdale, Arizona. The game at 7 p.m. will be against a squad that already, according to head coach Scott Altenberg, won four consecutive Arizona State Division I championships. Last season, Saguaro ended the season ranked ninth in the United States by Maxpreps. On the following week, which is called Zero Week by the State CIF, Serra will host 2015 CIF-State Division IA and CIF-Los Angeles City Division I champion Narbonne at El Camino College's new stadium. Game time is also 7 p.m. Last year, the Cavaliers outlasted the Gauchos 41-40 in overtime, one of two losses by Narbonne. On Sept. 3, the Cavaliers will travel to Mission Viejo High to take on New Jersey State champion St. Joseph Regional in one of five Honor Bowl games that start at noon. Serra finishes non-league at home against another L.A. City power Dorsey on Sept. 9 at home. The Cavaliers continue to play in the highly competitive Mission League that includes Chaminade, Loyola, Sherman Oaks Notre Dame, La Puente Bishop Amat, Crespi and Alemany.
"It will be a great and fun year," Altenberg said. "We have the talent to beat anybody. Saguaro is loaded. We will travel a long way to do it. It will also be hot at more than 100 degrees." Scottsdale is located next to Arizona state capital Phoenix to the west.
The Cavaliers will have a lot of talent, as usual, but may not quite have the experience it had in most of their previous years. Serra, which tied for the Mission League title over the past two seasons, will be led by returning all-Mission League and Daily Breeze all-South Bay linebacker Marlin Robertson. Another key linebacker back is senior Tyson Parker, who Altenberg feels should be an NCAA Division I prospect.
Serra will also have a promising sophomore cornerback-wide receiver in Max Williams, who was freshman all-American last season. Junior Kobe Smith is also a top returning starter. In the 2015-16 school year, Smith was Cal Hi's California State grid-hoops Athlete of the Year. He keyed the Cavaliers' boys' basketball team to the CIF-Southern Section Division IVAA crown and their football squad to the league crown and the quarterfinals of the Southern Section PAC Five playoffs, where Serra was edged out by Santa Ana Mater Dei 28-27. Smith, a wide receiver, was Division IVAA Player of the Year in basketball and first team all-Mission in football.
Returning all-league defensive tackle Cordell Ross is a top returning starter, as is guard Tevish Taialaria. Taialaria is a third year starting varsity player.
"We're young," Altenberg said of his team. We have good underclassmen. We lack experience. We can be a special team. We hope to get through it."
This season, the Southern Section will have a different playoff system as it will rely on the ability of a school; not by leagues. Serra, which was in the prestigious PAC Five the past two seasons, will continue to play in Division I, equivalent to the PAC Five, this year. Serra will be with the likes of 2015 PAC Five and Southern California Open Division champion Centennial High from Corona, 2014 PAC Five and California state champion Bellflower St. John Bosco, Mater Dei and Long Beach Poly.
_________________
Incident causes early
end to Bantam final
By Joe Snyder
Sports Editor
A near violent incident by a fan caused an early end to last Saturday's Gardena Parks and Recreation Bantam Baseball Championship between the Thornberg Park Dodgers and the Mas Fukai White Sox at Freeman Park.
It was started in the top of the third inning by a dispute from the White Sox concerning a strike called by an umpire, which led to a spectator yelling at the umpire.
"That guy was heckling during all the game," White Sox coach Guy Alford said. "He was threatening the umpires. My kids were being intimidated. He threatened to spit at someone."
The person left the scene, but threatened to continue his tirade at umpires and other officials. He made a few profane remarks and even some threatening words.
Before the incident occurred, the Dodgers were leading the White Sox 6-3.
According to Dodger assistant coach Niko Vega, a brother of head coach Arthur, the game was canceled and nobody won.
Whether the game will be resumed, the Dodgers, who were ahead, will be crowned the champions or, possibly, the Dodgers and White Sox could be co-champion was remained to be determined. Gardena Parks and Recreation officials, led by supervisor James Kimmons, planned to make a decision earlier this week.
"It's unfortunate the way the game ended," Gardena League chairman Romero Gutierrez said. "It's unfortunate the way the game ended. It's the kids' safety that matters. We plan to meet with Simmons and make a decision. We want to make it environmental. Fireworks outside just can't continue the game."
For the Dodgers, Ben Gonzalez led with a three-run triple and a home run to drive in five of their six runs.
_________________________________
North Saxons begin season at home against Banning
By Joe Snyder
Sports Editor
The defending Pioneer League champion North Torrance High football team kicks off its 2016 season at home against CIF-Los Angeles City school Banning High from Wilmington on Aug. 26 at 3 p.m.
Gone from the Saxons is all-around player Mique Juarez, whose moved on to playing at UCLA as a linebacker.
North, though, has a few key players back behind wide receiver-cornerback Malik Welch, an all-league running back last year. Most of the rest of the Saxons will be young but have promise to repeat as league champions. Last season, North tied cross town rival West Torrance for the Pioneer title, although the Saxons won the head-to-head competition over the Warriors 35-17. North's regular season ending 35-17 loss to rival South Torrance threw West into the title tie after its league ending win over Torrance.
The Saxons' schedule will be different then what it was the past few seasons, when they opened with their first two contests against Bay League teams Redondo and Rolling Hills Estates Peninsula. They dropped them. North, though, will be at home for its first three games and four of its first five contests. After beginning against the Pilots from the always brutal Marine League, the Saxons will host Aliso Niguel from Aliso Viejo on Sept. 2. North, then, hosts Bishop Montgomery on Sept. 9 before its only non-league away game at Culver City on Sept. 16. The Saxons finish their preseason at home against Inglewood Morningside on Sept. 23.
North begins league against rival West on Oct. 7. Other Pioneer games for the Saxons include Lawndale Leuzinger (Oct. 14), at Compton Centennial (Oct. 21), Torrance (Oct. 28) and South (Nov. 4).
Behind returning senior quarterback Drake Peabody, son of Long Beach City College head football coach Brett Peabody, West appears to be the league favorite. The Warriors start their season on Sept. 2 at home against Culver City. West has other non-league games against Lancaster Eastside (Sept. 9), at Redondo (Sept. 16), Manhattan Beach Mira Costa (Sept. 23) and at Carson (Sept. 30).
The Warriors begin the Pioneer at North on Oct. 7. Other league games are Centennial (Oct. 14), South (Oct. 21), at Leuzinger (Oct. 28) and Torrance (Nov. 4).
South Torrance starts its season on Sept. 2 at Lawndale. The Spartans, then, host Hawthorne on Sept. 9. Other non-league games for South include Santa Fe (Sept. 16), at Santa Monica (Sept. 23) and at El Segundo (Sept. 30).
The Spartans begin the Pioneer at home against Leuzinger. Other league games for South are at Torrance (Oct. 14), at West (Oct. 21), Centennial (Oct. 28) and at North (Nov. 4).
Torrance, which had a rough season last year but returns most of its top players for 2016, will have a tough opener at home against Mira Costa on Sept. 2. The Tartars will visit Culver City on Sept. 9. Torrance's other non-league games includes at Peninsula on Sept. 16 at 3 p.m., at El Segundo (Sept. 23) and Lawndale (Sept. 30).
Pioneer League games for Torrance are at Centennial (Oct. 7), South (Oct. 14), Leuzinger (Nov. 21), at North (Oct. 28) and at West (Nov. 4).
Bishop Montgomery, the defending South Catholic League champion, will start its season at home against CIF-L.A. City School Marquez on Sept. 1. The Knights' remaining non-league schedule includes at North (Sept. 9), Bellflower (Sept. 16), at Mary Star in San Pedro (Sept. 23) and Panorama City St. Genevieve (Sept. 30).
Bishop Montgomery begins league at home against southeast L.A. Verbum Dei on Oct. 7. The Knights' other league games include at St. Anthony in Long Beach (Oct. 14), at St. Bernard in Playa del Rey (Oct. 21), at Bosco Tech in Rosemead (Oct. 28) and Montebello Cantwell-Sacred Heart (Nov. 4).
All games begin at 7 p.m. unless indicated.
______________________
Sports Scoop
Rams begin Los Angeles stint with come-from-behind win
By Joe Snyder
Sports Editor
It was a 22-year-wait for Los Angeles football fans to see the National Football League finally come back and last Saturday's exhibition game between the L.A. Rams and the Dallas Cowboys at the Coliseum was a sweet one.
It did not look good for the first half but the Rams rallied from a 24-7 halftime deficit to top Dallas 28-24.
The Rams took their only lead when expected third string quarterback Sean Mannion threw a 9-yard touchdown pass to running back Aaron Green with 1:54 left in the game. From there, L.A.'s defense was able to shut down the Cowboys to make its local fans go home happy with the great start.
Of course, it was only an exhibition game. The Rams start their regular season on Sept. 11 against the San Francisco 49'ers at Levi's Stadium in Santa Clara before their regular season home opener against the Seattle Seahawks on Sept. 18 at the Coliseum. The Coliseum, which the Rams played their home games at from 1946-79 before playing their next 15 seasons at Anaheim Stadium (now Angel Stadium) and their next 21 in St. Louis, is the Rams' home from 2016-18. Starting in 2019, L.A. will play at the new Inglewood Stadium located on the former site of the Hollywood Park horse racing site.
Despite the expensive prices of the game, there were a total of 89,140 fans. According to sources, at least for league games, the minimum costs for tickets were expected to be around $250.
The Rams play another home game against the Kansas City Chiefs Saturday at 6 p.m. and the game will be broadcasted on KCBS Channel 2.
Phelps Smashes Olympic Record: Swimming sensation Michael Phelps finally closed out his five Olympic career by smashing some records.
He had 28 total medals, including 23 gold. He has 14 more golds then the second most. Among those was 1972 Olympic sensational swimmer Mark Spitz and track and field's long jumper-sprinter Carl Lewis during the 1980's and early 1990's. Phelps' final gold came last Saturday in Rio de Janiero, Brazil with the United States 4×100-meter medley relay. Phelps swam the 100 fly in the third leg as the victorious squad that won in an Olympic record time of three minutes and 27.95 seconds, just .08 of a second above the world record time of 3:27.87. Other swimmers included Ryan Murphy, Cody Miller and Nathan Adrian.
Track and field started out well and Jamaica's Usain Bolt smoked U.S. runner-up Justin Gatlin to win the third consecutive gold medal in the 100-meter dash last Sunday. Bolt may not be quite the level as what he was when he set a world record with a time of 9.58 seconds in the 2009 world championships, but he proved that he still the world's fastest human after a 9.81 timing at the Olympics. Gatlin, who is 34, and won the gold in the 100 at the 2004 Athens Games, won the silver at 9.89.
Bolt, who swept the 100 and 200-meter dashes along with the men's 4×100 relay in Beijing (2008) and London (2012), will be seeking that again. It will give him in nine golds to tie him for second with four other Olympians. Swimmer Phelps, of course, is a runaway first with 23 golds in which he climaxed last Saturday in the 4×100 medley relay.
Not called for: Many sports fans get too serious about things and it was even down to a recreation baseball game in Saturday's Gardena Parks and Recreation Bantam (age 9-10) Championship at Freeman Park.
In the top of the third inning between the Thornberg Park Dodgers and the Mas Fukai White Sox, an angry spectator who was claimed to make numerous distractions. He left the field and threatened some people and was claimed, by the White Sox coaching staff, to heckle the young players. With his heated temper and some threats, officials decided to end the game with the Dodgers ahead of the White Sox 6-3.
It's only a fun youth baseball game. The cities have these leagues to help the youth stay occupied and these games are for them, not those over-serious and angry fans. Let the kids play and that both them, parents and other spectators have good sportsmanship; not getting an over-heated temper and even threatening other people around. It was an ugly ending in a game that may never resume or be replayed with no champion decided. Let's hope the game can resume with a champion but, also, the kids will have fun.