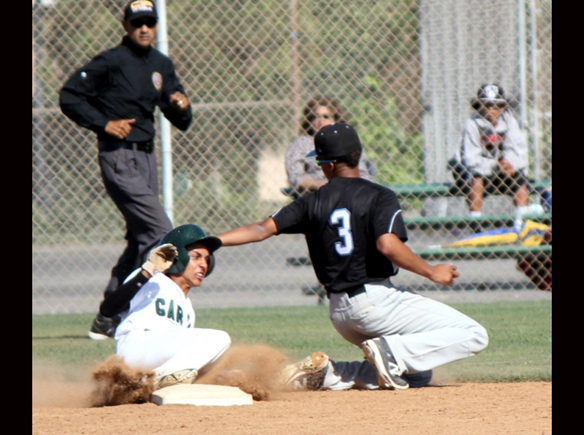 Last season, Carson High's baseball team had to forfeit its final six games, including five in the Marine League, due to an incident involved in a league game against San Pedro.
Last season, Carson High's baseball team had to forfeit its final six games, including five in the Marine League, due to an incident involved in a league game against San Pedro.
This year, the Colts are under first year head coach Chuck Berrington and they are the Marine's Cinderella team at 6-0 in league that includes two wins over defending two-time Marine champion Narbonne, which also advanced to the CIF-Los Angeles City Division I Section semifinals before losing a tough 3-2 decision to eventual champion El Camino Real from Woodland Hills. Carson is currently tied with rival Wilmington Banning for the league lead as the two teams square off in two games this week.
At Carson on April 19, the Colts used two big innings to roll over the Panthers 13-4. At Gardena last Friday, the Panthers, behind pitcher Nick Cardona, stayed with the Colts before falling 4-1.
Cardona held Carson to only a 1-0 lead through five innings before the Colts pulled out to a 3-0 advantage with two runs in the top of the sixth. Gardena, however, cut Carson's lead to 3-1 in the bottom of the sixth after Pedro Trejo doubled and scored on a double from Andy Ibarra.
The Colts, who improved to 16-10 overall with the wins, scored their fourth run in the top of the seventh. Trevor Edior had a run-scoring groundout to Cardona.
Carson pitcher Erik Herrera got the Panthers out in order in the bottom of the seventh.
"We're getting better every game," Gardena assistant coach Tom Anderson said despite the Panthers falling to 0-6 in league and 3-7 overall. "Cardona was competitive. He gave up just four hits. We had a couple of base running mistakes. We played them tough. Our offense isn't as good but we're working on it."
Cardona went 3-for-4 with two RBI's at Carson. Brian Perez had a hit and drove in a run.
In that contest, Gardena got out to a 2-0 lead in the top of the third but disaster struck as the Colts scored six runs in the bottom of the third, then added seven in the fourth. The Panthers scored one run each in the top of the fifth and seventh.
Head Panther coach Tom Fox returned to his former coaching school, Narbonne, on Tuesday. The Gauchos will play at Gardena today at 3 p.m. The Panthers visit Washington in the first game of what is billed as the "Marine League Division II Championship Series" next Tuesday at 3 p.m. That's because Gardena and the Generals are the only two teams in Division II as the other four, including Banning, Carson, Narbonne and San Pedro, are in Division I.
__________________________________
Track and Field
Macias, Carson excel in South Bay Championships
By Joe Snyder
Sports Editor
Gardena senior Christhian Macias is expected to be a strong contender for the CIF-Los Angeles City championship in the 800- and 3,200-meter runs and he had a strong performance with a pair of third place finishes in both of those events at last Saturday's South Bay Track and Field Championships at West Torrance High.
Macias began by finishing third in the Invitational 800 with a time of one minute and 57.51 seconds. Winning the race was West Torrance junior Carson Bix in a meet record time of 1:55.14. The previous meet record was 1:56.93 set in 2013 by Justin Sardo. Placing second was Redondo junior Ryan Wadhams who was also under the previous record time clocking 1:56.81 on a cold and windy night.
Macias came back and took third in the 3,200 meters in 9:40.83. Mira Costa's Michael Yaskowitz won the race in 9:35.68, followed by runner-up Bix (9:38.11).
Carson's girls proved dominant in the sprints. The Long Beach Poly-transfer studded 4×100-meter relay, behind Kaelin Roberts, won going away with a wind-aided time of 46.64. The Colts won by nearly two seconds over second place Mira Costa (48.56) and more than three seconds over third place Redondo (49.76).
The windy conditions helped the fast times as Roberts won the 100-meter dash clocking 11.57, and her teammate, Kenyla Myles, was second at 11.85, both wind-aided times. Roberts did not run the 400, in which she has California's leading time of 53.47 she did two weeks earlier at the Arcadia Invitational, but another Carson runner, Autumn Wright, was victorious at that race clocking 58.05. The Colts were first and third as Saidra Martin did a 1:00.27. Mira Costa's Jaylan Herron (59.33) was second.
Carson's boys were led by Patrick Washington who won the 110-meter high hurdles in 14.94. North Torrance's Josh Vargas finished third timing 15.2.
Serra had just one athlete in the meet in sprinter Kayla Pickens. She won her heat and tied for fourth overall with Carson's Lennedi Atkins in the 100 in 12.42. Pickens is part of the Lady Cavaliers' 4×100 relay squad that currently owns the United States' best time of 46.01 that they performed a week earlier at the Mt. San Antonio College Relays at Cerritos College.
North had a winner in the boys' triple jump by Jaye Washington at 41 feet, four inches and Torrance's Thomas Craig was victorious in the boys' discus (139-3). Narbonne's Amber Hart won the girls' shot put with a toss of 37-2.
As a team, Carson's girls finished second behind Mira Costa with 75.5 points. The Mustangs won the meet with 92.5. Redondo took third with 67. North placed eighth with 24.5.
For the boys, Redondo, behind junior Tate Curran who won the pole vault with a meet record height of 15-6 and is one of the tops in the state at the event, captured the team title with 59 points to 53 for co-runner ups Mira Costa and West Torrance. Torrance finished fourth with 44, followed by North (fifth, 42), Bishop Montgomery (sixth, 41) and Carson (seventh, 40).
________________________________
Sports Scoop
After Laker miseries, Scott is fired
By Joe Snyder
Sports Editor
With just the legendary Kobe Bryant playing with a bunch of young players, the Los Angeles Lakers are just not the same.
Since their last National Basketball Association playoff appearance that saw them lose in the first round of the 2012-13 season, the Lakers suffered three consecutive losing seasons including their two worst ever, going 21-61 in 2014-15 and 17-65 this past season. In 2015-16, the Lakers were at the bottom of the Western Conference and the second worst, only ahead of the 10-72 Philadelphia 76'ers, overall.
That resulted into the firing of Byron Scott, who suffered through the two miserable years going 38-126 combined. The Lakers decided against Scott's final two options as his tenure with the team ended. Scott also played for the Lakers from 1983-1998 and was a part of their show time squad that was led by Ervin "Magic" Johnson, James Worthy and Kareem Jabbar during the 1980's that saw the Lakers win NBA crowns in 1980, 1982, 1985, 1987 and 1988. Scott played high school basketball locally with Morningside High in Inglewood, where he graduated in 1979. He went on to play at Arizona State University before beginning in the NBA.
Could it be Scott's fault? He was faced with several obstacles. It was four years ago in January that saw the passing of legendary owner Jerry Buss as his children, daughter Jeanie and son Jim, took control of the franchise. Since then, there has been a family feud between Jeanie and Jim on who runs the team as Jim assumes the chores as the team's president. Many fans and other observers put a lot of blames on the front office. A lot feel that Jeanie might be better than Jim on running the team and many others believe that they should sell the franchise.
Scott was also faced with, not only an inexperienced squad with Bryant but a rash of injuries that included Bryant out in numerous games with a very sore right shoulder. Bryant played 66 games averaging 17.6 points with a career low 35.8 percent shooting percentage. Even though the legendary Bryant had his grand finale 60 points on April 13 that led the Lakers to a dramatic come-from-behind 101-96 victory over the Utah Jazz at the Staples Center, Bryant shot just 44 percent (22-for-50) from the floor. He did make five three-point baskets. He finished his 20-year career with a bang.
Some had blamed Scott on his handling of the young players, that including taking the starting spots away from promising players De'Angelo Russell and Julius Randle.
In a lot of ways, it is both Scott and the front office's fault. Scott started his coaching career with success with the New Jersey (now Brooklyn) Nets in guiding them to back-to-back NBA finals where they lost to the Lakers in the 2001-02 season and the San Antonio Spurs in 2002-03. After that, he was faced with inexperience squads. He took over the Cleveland Cavaliers after premiere player La Bron James was taken in the free agency by the Miami Heat in the 2010-11 season. James played four seasons with the Heat before returning to Cleveland in another free agent move to start the 2014-15 season. In 2010-11, the Cavaliers lost 26 consecutive games, an NBA record at that time. That record would be evened by the 76'ers in 2013-14 and Philadelphia broke the mark and overall major pro sports record at 28 by losing the final 10 games of the 2014-15 year and the first 18 of this past season. The 76'ers ended the skid with a 103-91 home win over the Lakers in late November. In hope for improvement, Scott was chosen to take over the Lakers to start the 2014-15 season but just could not get them back up.
The confusion on the Busses on who wants to be the main person to run the franchise is another problem. Jim, in particular, made numerous poor decisions as the franchise was left in confusion. It appears that it might be best for Jim and Jean to sell the team to someone, a group of persons or a corporation that will know how to make the right moves to bring the Lakers back to their old winning ways that saw them win 16 NBA crowns, second only behind 17 by the Boston Celtics. Many feel that former Laker Jerry West, now president of the powerful Golden State Warriors, might be interested in coming back. We'll see.
Top considerations for the next Laker coach could be current Warrior assistant and recent interim head coach for Golden State, former Laker Luke Walton, ex-Houston Rockets and New York Knicks mentor  Jeff Van Gundy, University of Connecticut coach Kevin Ollie and San Antonio Spurs assistant Ettore Messina.
Walton might be the best choice. He did an outstanding job as an interim for the Warriors as he took over for head coach Steven Curr earlier in the season and might just be interested in returning to his former team. Sources are, though, that Walton might join team president Phil Jackson with the New York Knicks. Messina seems like another good choice.
Regardless, it will still take time for the Lakers to return to their winning ways. They will get a new coach but they appear to need a new owner, or, at least, that Jeanie takes over the franchise and Jim gets demoted to a lower executive position. Of course, the Boston Celtics have a young team that went 25-57 two years ago but made the playoffs this and last season. The Celtics are evened at two games apiece with the Atlanta Hawks in their first round playoff series and just might surprise observers. If the Lakers can get that right combination of coaching and front office, they, too, can get back in contention and, maybe, win more championships. On top of that, they will get the No. 2 pick, behind the 76'ers, in the June NBA draft hoping to pick up one of the top NCAA players of the 2015-16 season.