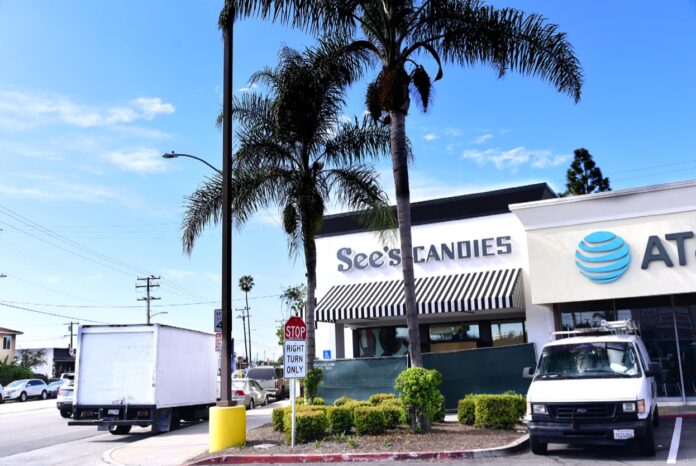 By Brett Callwood
Beloved Southern Californian chocolatier See's Candies is opening a new location in Gardena, located at 2229 W. Redondo Beach Blvd.
See's Candies was founded in 1921 when Charles A. See relocated his family to Los Angeles and opened his first store at 135 West Avenue North, selling chocolates made from his mother Mary's recipe.
By 1925 there were a dozen See's Candies stores in the L.A. area, and by the end of the 1950's, that had expanded to 124. Now, there are over 240 stores across America and, according to the company's website, "many of Mary See's original candies are still made today: Peanut Brittle, Chocolate Walnut Fudge, Victoria Toffee, hand-dipped Bon Bons and Maple Walnut Creams."
The new location takes over a corner spot previously taken by AT&T. The telecommunications company has moved over to the spot previously taken by Supertcuts, freeing See's Candy to take the empty corner. Between the '70s and the mid '90s, the spot was taken by the Grace's Pastries chain, so this will see a return of sweet treats to the location. 
"We are thrilled to be opening in Gardena," said See's Candies in an email to the News. "The city has an active community, and our location is at a busy intersection with great neighboring tenants like Ralphs and Target. The city of Gardena has been so welcoming, and we look forward to bringing the joy of See's to both new and longtime customers."
"I'm really excited that See's Candy chose Gardena for their new store," said Mayor Tasha Cerda. "We're really looking forward to patronizing them and making them feel welcome."
See's Candies is a welcome addition to Gardena's business community. The grand is on Saturday, March 11 at 9:30 a.m. Susan Portman, See's Candies senior manager of PR, said that there will be a ribbon cutting ceremony, free samples, and "sweet-stakes" to win free candy for a year.