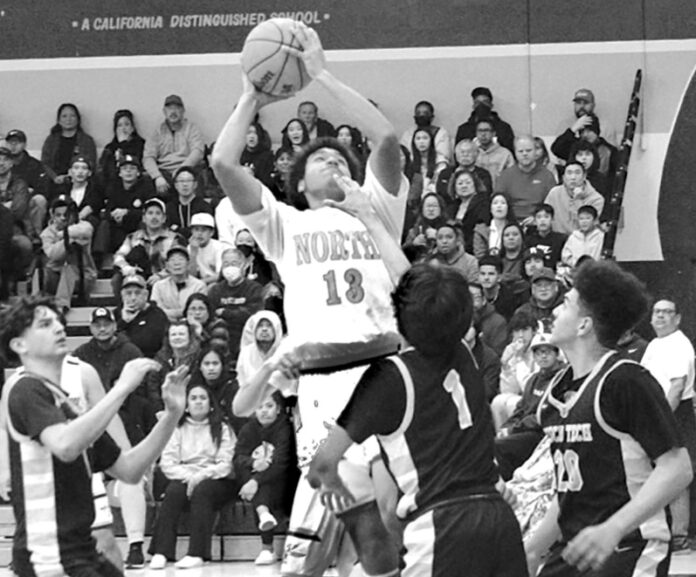 By Joe Snyder
Throughout this season, North Torrance High's boys' basketball team thrived on its stingy defense en route to its best season since the 1960s.
Many of the games the Saxons were involved in were low scores and last Friday's CIF-Southern Section Division VAA semifinal against Don Bosco Tech from Rosemead was no exception. After winning 25 games, though, the contest against the Tigers was on the other side. In important situations, North's basket attempts were unable to fall through and the Saxons fell on the short end of a 52-47 score.
The game was close almost the entire way and see-saw through the first half as the Tigers held a 26-25 halftime edge. Bosco Tech, however, was able to use some good passing and clutch baskets to inch away to a six-point lead (42-36) after three quarters. In the fourth period, the Tigers led by as much as eight points but the Saxons had some key baskets by Elliot Langston and Kai Bradley to cut the Bosco Tech's lead to 46-45 with about 1:30 left in the game.
Behind Jaden Erami, who led Bosco Tech with a game-high 23 points, the Tigers put the game away. Down 50-47, North's Kobe Carr attempted a three-point basket in attempt to tie the game but it fell short. In the closing seconds, Erami made both free throws to finish off the Saxons.
"Those kids are young who play with a lot of confidence," North head coach Wai Sett said of Bosco Tech. "They made timely baskets. Our kids, win or lose, brought things out. It just took too long to get things going. We had no timely baskets."
The Saxons had only one player score in double figures in Alton Jimmerson with 15 points. Langston and Carr each added eight points.
The Tigers moved on to the CIF-Southern Section Division VAA finals where they face top- seeded Lynwood Saturday at 2 p.m. at Edison High in Huntington Beach. Lynwood proved dominant in its Division VAA games with a 93-46 home semi-final rout of Whitney High from Cerritos last Friday. North was seeded second in the playoffs, while Bosco Tech was third.
In the quarterfinals between the Saxons on Feb. 14 at Loara High in Fullerton, the Saxons continued their outstanding defense in routing the home team 61-27.
In the first three playoff games, North allowed a total of just 91 points (an average of 30.3 per contest) combined. The Saxons outscored those first three opponents, Santa Monica New Roads, Rancho Cucamonga United Christian Academy and Loara, a total score of 186-91, an average score of 62-30.
North came off winning the Pioneer League, its first league crown since 2012. It was just the fourth time in the program's 68-year history that the Saxons reached the Southern Section semifinals; the other three being in 1964- 65, 1967-68 and 2017-18. North made one final in 1964-65 where it lost to Long Beach Poly 90-48 in the Class 4A final. In that year, the Saxons reached that final after upsetting nationally ranked Redondo 54-49. The Sea Hawks entered that contest after going 26-0.
The season, though, is not over for North. Due to reaching the semifinals, the Saxons will play in the CIF-State Southern California Regional Division V playoffs beginning next Tuesday.
Lady Panthers enter Div. III semis
Gardena High's girls' soccer team made the CIF-Los Angeles City Section Division III semifinals after outlasting Stella High Academy 3-2 last Thursday at Gardena.
The win moved the Lady Panthers to the semifinals at home against Santee High from Downtown L.A. last Tuesday. The Falcons, number-seven seed, came off upsetting No. 2 ranked Sun Valley Magnet 1-0 last Thursday at Sun Valley. If Gardena defeats Santee, it will play for the championship on Saturday at L.A. Valley College in Van Nuys, weather permitting. A large arctic storm was forecasted that was expected to begin last Tuesday night and lasting through this weekend. L.A. Girls' Academic Leadership Academy was the top seed while the Panthers are seeded third.
It is the fourth consecutive time that Gardena made the semifinals. The Lady Panthers won back-to-back championships in 2020 (Division V) and 2021 (Division IV). Last season, host Gardena lost to South L.A. Jefferson 2-1 in the Division IV semifinals.
In the CIF-L.A. City Section Division II boys' soccer, Gardena won its first round game at home against Robert F. Kenne- dy Community High 1-0 on Feb. 15 but fell in the quarterfinals to host and top seed Garfield High 3-0 last Friday in East L.A.
Against Kennedy, located on the site of the former Ambassador Hotel (where Robert F. Kennedy was assassinated during his L.A. presidential campaign
in 1968), Fernando Martinez scored the game's only goal. Goalkeeper Salvador Tojil recorded the shutout with seven saves.
Tojil had eight saves against Garfield but the Bulldogs proved too much for the Panthers.
Carson, meanwhile, advanced to the Division II semifinals after a 5-1 win over host Santee last Friday. Manual Hernandez, Andrew Gonzalez, Bernardo Canul, Francisco Bravo and Gabriel Amayu each had one goal for the Colts.
GHS baseball begins season with Santee win
Gardena High's baseball team is off to a good start after hanging on to top host Santee High 11-10 last Friday in Downtown Los Angeles.
The Panthers had a well- balanced offensive attack led by sophomore Anthony Garcia who went 2-for-5 with two runs batted in and two runs scored. Included in his hitting were RBI (run batted in) double and triple. Nathan Guzman also had two hits in four-at bat, driving in two runs and scoring once. Both of his hits were run-scoring doubles. Adrian Altamurano went 2-for-3 with one RBI and two runs. Eric Romo added a two-run double and Robert Velardez drove in two runs with a single.
Winning pitcher Garcia started and finished the game for Gardena. He allowed three runs but none were earned. Romo and Joseph Chavez also pitched in relief between Garcia's stints. Out of the 11 hits that Gardena had, five were for extra bases. The Panther pitching gave up 10 runs on five hits but three errors, nine walks and two hit batsmen helped the Falcons score most of their runs. Five of Santee's runs were unearned.
Weather permitting, the Panthers visit Harbor Teacher Prep at L.A. Harbor College in Wilmington today at 3 p.m. The conflict will be due to a large arctic storm forecasted that was expected to start last Tuesday evening and last, at least, through this weekend. Gardena hosts Sotomayer next Tuesday and South L.A. Fremont next Thursday. Both of these non-league games also begin at 3 p.m.
Serra High's baseball team, which is expected to be a strong contender for the Del Rey League and CIF-Southern Section Division III championships this season, is off to a 2-1 start.
On Feb. 11 at Serra, the Cavaliers split a double header against Fontana Jurupa Hills. The Cavaliers began with a 14-2 win before losing the nightcap 3-2. On Feb. 14, Serra shut out Hamilton High from the L.A.- Palms District 6-0 as its pitching allowed only one hit to the Yankees.
Serra hosted defending Bay League champion Palos Verdes last Tuesday and visit San Pedro in El Segundo Tournament play Friday at 3 p.m. On Saturday, the Cavaliers return home to face Redondo beginning at 1 p.m. before visiting South Torrance next Tuesday at 3 p.m.
North Torrance is off to a slow start at 1-3. At North on Feb. 11, the Saxons fell to Rolling Hills Estates Peninsula 6-3. On Feb. 14 at North, the Saxons edged Culver City 3-2. Last Thursday, North was shut out by the host Centaurs 1-0. In the first game of the El Segundo Tournament last Saturday at Royal High in Simi Valley, North lost in eight innings to the Highlanders 5-4.
The Saxons hosted Citrus Valley from Redlands last Tuesday. North visits Peninsula in a El Segundo Tournament game Friday at 3:30 p.m. The Saxons, then, host Culver City in a doubleheader Saturday at 10 a.m. and 3:30 p.m. before meeting visiting El Segundo next Tuesday at 3:30 p.m.