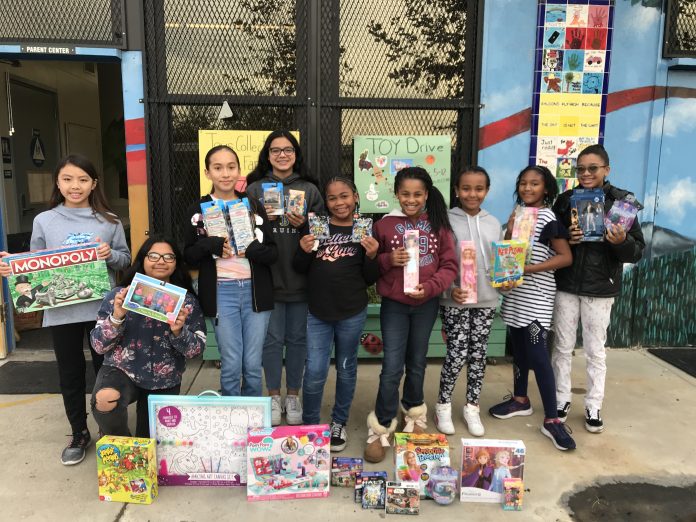 The 156th Street Elementary School's student council is running its annual holiday toy drive from Dec. 5-12, which is a fundraiser that encourages students to donate toys and has been undertaken annually for more than 10 years.
Philanthropy isn't something that is typically introduced to young kids, but 156th Street Elementary, a school that consists of students from pre-kindergarten to 6th grade, embraces the humanitarian concept every winter through this annual toy drive.
But how does philanthropy seem to the eyes of young kids? To Roy Hayashida, teacher and supervisor of the school's student council (along with Christina North), the kids truly look forward to giving back, observing their delight when the tally in front of the school that keeps track of how many toys are donated goes up.
"Today, for example, there's 70 toys collected so far and the kids get really excited," Hayashida said. "They like to see that yesterday it was only 20, now it's up to 50, or now it's 70…they like to see that they're having an impact."
The whole process of the toy drive is an organized procedure. The student council itself is an elected group of students that is comprised of 3rd to 6th graders.
The students are elected into council after a campaign process that includes designing a poster, presenting a speech, and the students then vote on who they want to represent them.
During the toy drive, posters are made, announcements are made at weekly assemblies, and some student council members even visit classrooms and give speeches about the toy drive.
At the end of it all, the toys collected are picked up by the Gardena Police Department, an opportunity for the students to interact with local police officers and see their hard work go forward.
The types of toys that are donated vary, with some examples from this year including Monopoly, stuffed animals, toy trucks, slime, Frozen 2 items, and a badminton set – all things that will soon be enjoyed by another student in need.