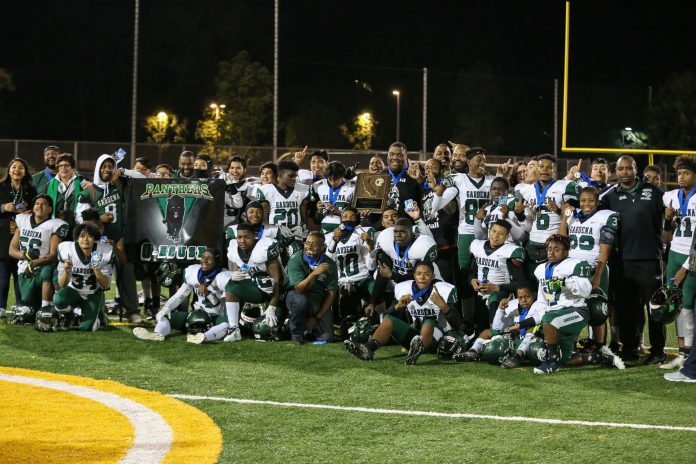 Gardena High's football team is just one win away from its first ever CIF-State Division VIIAA championship after adding a CIF-Southern California Regional Bowl championship win of 27-13 over host Frances Parker High last Friday night in San Diego.
The Panthers, who improved to 11-4 overall just two years after suffering their second consecutive 0-10 season, will look to win their first ever California state title when they travel to San Francisco to take on Lincoln High Saturday at 6 p.m. Lincoln, last season's CIF-State Division VIA champion, defeated Mariposa County High 21-14 for its Northern California crown Friday in San Francisco.
Against Parker, the CIF-San Diego Section Division V champion, the CIF-Los Angeles City Section Division III champion Panthers played a strong defensive game to hold Parker to just one touchdown and two field goals.
"Parker uses a very effective Double Wing T offense," Gardena head coach Jim McElroy, Jr. said. "They are tough to stop. We stopped them on critical fourth down plays and what they were good at. On offense, we made some big plays."
Parker scored first on a 26-yard field goal by Cito Miller, but on the kickoff, Kwanta Pugh took the ball at the Gardena 3-yard line and sprinted on the left sidelines 97 yards for the touchdown to give the Panthers the lead for good.
In the second quarter, Gardena upped its lead to 13-3 when quarterback Daquan Paul threw a 22-yard touchdown pass to wide receiver Adrian Wallace.
Later in the period, Paul found Andre Lawson for a 32-yard TD pass upping the Panthers' lead to 20-3. Gardena led 20-6 at halftime shortly after Miller's second field goal from 31 yards out.
With approximately six minutes left in the game, Pugh scored his second touchdown on a 52-yard run upping the Panthers' lead to 27-6, all but ending any hopes for a Parker comeback.
Parker managed one TD on Chris Williams' 17-yard run with about a minute to go.
According to McElroy, Lincoln is basically a power running team. It has a very good running back in Luis Contreras with a strong offensive line to support him. Lincoln also has a very good defensive line, as well. Lincoln is 12-1 after defeating Mariposa County.