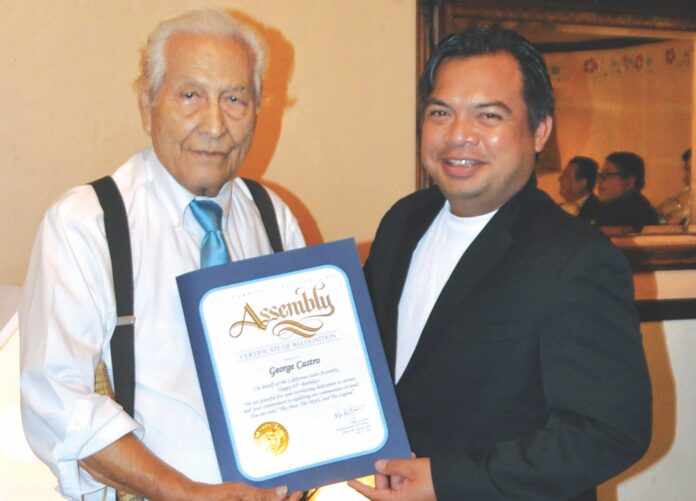 Longtime Gardenan George Castro celebrates milestone with fam., friends
By Brett Callwood
Local photographer and life- long Gardenan George Castro recently celebrated his 95th birthday with a joyful party attended by many members of his family and friends on July 17 at the Green Onion in San Pedro.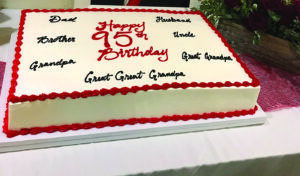 Castro's family photo studio on Gardena Blvd. has been a local fixture for many years, and he still goes to work every day. His wife Edith Morgan and daughter Barbara are sadly no longer with us, though he's surrounded by his daughters Cheri, Toni, Christina and Theresa, 10 grandchildren and, at the last count, 15 great-grandchildren and three great-great-grandchildren. He lost his sister in 2014, but his brother is still with is, living in senior care.
"I was born in Lake Valley, NM (a small mining town population six families) in 1927," Castro told the News. "My childhood was poverty up to when FDR was elected. The only time we had candy or an apple was when the school gave out the Christmas stockings. The ranchers would give us some of their old clothes and boots. We played baseball using an old 2×4 for a bat. I went with my mom everywhere she went, to get water from a well about a quarter of a mile away. I helped bring in the wood for the stove and, as I got older, I ventured out into the hills more to hunt rabbits, etc."
It was in 1957 that Castro's interest in photography developed (pun intended).
"I wanted to buy a professional camera so I went to the pawn shops downtown, but didn't have the $127.00 to buy it," he said. "I was working at Douglas Aircraft full time, and I got a part-time job at a car wash in Hollywood on weekends and at Mas & Isamu Mobil gas station on Compton (Marine now) and Normandy until I made enough money to buy it."
Castro set about practicing with his wife, taking pictures whenever and wherever possible.
"Anyone I could talk into posing for me – neighbors' children, wives, entire families, girls at work (one was a former model she help me a lot)," he said. "I'd talk photography with anyone that would listen. In 1962 I attended the Gardena Photo Day put on by the Gardena Camera Club at Recreation Park (Mas Fukia now) with a lot of photographers and models from different clubs. They had a contest for Miss Photogenic and Print contest for best photo for photographers. I entered the print contest, with a print I took of the girl that won Miss Photogenic, and won first place."
His skill and knowledge kept increasing with his experience, and it made sense that he would open his own studio, which he still maintains to this day. Castro truly is a Gardena success story, and he deserves the happiest of birthdays.