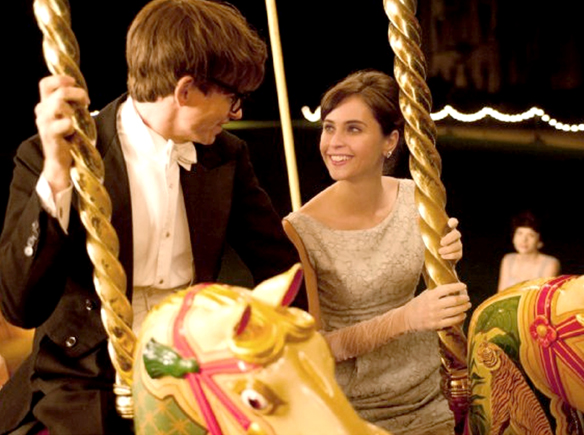 The 87th Academy Awards Ceremony is now history. This year's ceremony had star power as well as controversy, much of it stirred up by some reporters and critics who were shocked by the fact that no black actors were nominated. "Where are the black actors?" they cried. These writers seemed to forget that last year "12 Years a Slave" was the big winner as Best Picture of the year and the very lovely Lupita Nuong'o was also a big winner, taking home the Oscar for her performance in the film. And speaking of Lupita, she was a demure vision this year in her pearl laden gown. Gweneth Paltrow was also a knockout in her elegant pink dress with a large pink shoulder rose. Equally stunning was Scarlet Johansen in green with a matching green necklace that bought the entire ensemble to life. And Best Actress winner Julianne Moore, star of "Still Alice," was beautiful in her bejeweled white gown. Seeing the stars in all their finery was all part of the event which began as the stars strolled down the red carpet.

Eight films were nominated: "Boyhood," Birdman" (the big winner of the evening), "American Sniper" (the box office winner, earning well over $300 million, more than all the other films combined),"The Grand Budapest Hotel" (which won for best costumes and scenic design), "The Imitation Game" (winner for Best Adapted Screenplay),"Selma" (about Martin Luther King),"The Theory of Everything" and "Whiplash."

Neil Patrick Harris started the evening off with a bang in a lavish musical production number about the movies, but as the show progressed the humor and excitement, like the weather outside, seemed somewhat dampened. Where, we wondered, were all those really funny scripted lines of past shows, which prompted my husband to quip: "Okay, maybe they left out the blacks, but where are the Jews?"
Perhaps the funniest bit of the evening paired John Travolta with Idina Menzel. They reminisced about his boo- boo from last year when he called her 'Adele Dazeem:'
And speaking of humor, the bit where host Harris came out only in his 'tightey whiteys' was more cringe inducing than laugh producing.

Another disappointment, to me at least, was the choice for Best Documentary. "Citizenfour" took home the prize, but "Virunga," was far more deserving if you love the earth and want to preserve the creatures that dwell on this planet. The population of the mountain gorilla has dwindled to a mere 880 due to poaching and greed. Producer Leonardo DiCaprio along with Jane Goodall are to be commended for their efforts to bring this tragic situation to our attention. Swift action must be taken to protect these magnificent beasts before they are wiped off the face of the earth.
One of the highlights of the evening was hearing Lady Gaga sing songs from the movie musical "The Sound of Music," which won for Best Picture 50 years ago. This was followed by the appearance of Julie Andrews, still radiant and beautiful. Andrews, like the rest of us, appreciated the beautiful vocal tribute. Fortunately music was a big part of the evening. "Glory," from "Selma," with music and lyrics by John Stevens and Lonnie Lynn (a.k.a. John Legend and Common) took home the gold for their original song. Tim McGraw's vocals on the song "I'm Not Gonna Miss You" by Glen Campbell and Julian Raymond from the movie "Glen Campbell…I'll Be Me" was also moving and beautiful. It made us aware of the tragedy caused by Alzheimer's Disease as does the film "Still Alice." The Oscar for Best Musical Score went to Alexandre Desplat for "The Grand Budapest Hotel." Desplat was in competition with himself in this category, being also nominated for his score for "The Imitation Game."

Another plus for the viewer was hearing stars pay tribute to their families. Best Actor, Eddie Redmayne ("The Theory of Everything"), was not only thrilled over winning his Oscar, he was exuberant about his recent marriage as was newlywed Benedict Cumberbatch who was nominated for his stellar performance as Alan Turing in the brilliant film "The Imitation Game." J.K. Simmons won his Oscar for his supporting role as the terrifying teacher in "Whiplash." In his gracious acceptance speech he paid tribute to his wife, his exceptional children and his parents, urging us all to "pick up the phone and call your parents." Good advice for all of us– call while you still can.

Another moving speech was given by writer Graham Moore who won the award for his adapted screenplay for "The Imitation Game." Like the heroic Alan Turing, Moore also felt very different and alone as an adolescent. He revealed that things were so dark, he considered suicide as a teenager. In his speech he urged all of those out there who consider themselves weird, to hang on and hang in because one day they too could be standing in the spotlight for who they are.

Also moving was the final tribute to all who died in the past year. The list was far too long and included such notables as Robin Williams, Lauren Bacall, Louis Jordan, Eli Wallach, Ruby Dee, and so many others in the film industry from writers and directors to producers and stars. One name brought tears to my eyes since I had the pleasure of interviewing him for a national Catholic newspaper. "Twin Circle." That man was Los Angeles Times film critic, Charles Champlin. He wrote beautifully about film and even invited me to take a course he taught on the art of being a film critic. He is a part of my life every time I sit down to write a film review. He and all the others who left us this past year will be missed.
Also missing from the tribute was the bold, brash and funny Joan Rivers. She wasn't a movie star, but she was ever present on the Oscars red carpet.
Disney was the big winner in the animation department, receiving an Oscar for their full-length animated feature, "Big Hero 6." Disney also won an Oscar for their animated short entitled "Feast."